This evening's show on Channel 4:
Grand Designs - Episode Guide - Channel 4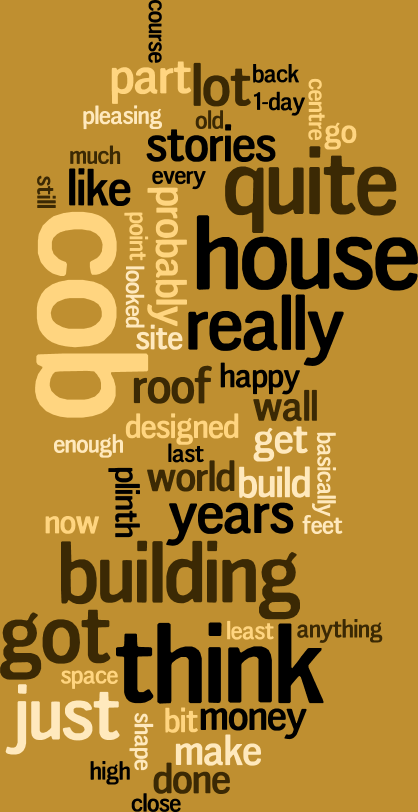 First Earth | interview with Kevin McCabe
Build Something Beautiful


This small company in East Devon is indeed building beautiful things! Kevin Macabe, a Traditional Cob Building Specialist, has over 20 years experience in constructing and repairing cob buildings.
Kevin He has been mixing cob with the aid of a gigantic tractor called the JCBCX. Some of the cob walls he has created are 3 feet thick! His buildings are both beautiful and fantasic. Very high quality!
You can see many of his projects on his website www.buildsomethingbeautiful.com »
I Love Cob! ∞ Build Something Beautiful
It's becoming 'hot property'...
Cob houses made from mud and straw - Telegraph
If walls could talk: a cob house in construction by Kevin McCabe - The Independent
And is definitely about 'development for sustainability'...
LILI - cob building
Currently it is estimated that one half of the world's population – approximately three billion people on six continents – lives or works in buildings constructed of earth -
COB — Ground House
See also:
Futures Forum: Self-build
Futures Forum: Eco-housing ten years on
.
.
.