Granby Four Streets in Toxteth, Liverpool has been doing great things - as a community taking control of its own living space:
Futures Forum: Community Land Trusts and affordable housing: part two: taking control

This has obviously impressed - to the extent that the project is now up for an art prize of all things:
Turner Prize 2015: Shortlist includes Toxteth housing estate - BBC News
Residents of Granby Four Streets in Toxteth celebrate Turner Prize nomination for community regeneration project - Home News - UK - The Independent
Spruced-up council estate is one of this year's Turner Prize hopefuls | Daily Mail Online
This is from Anna Minton writing in last weekend's Observer:
What art can tell us about Britain's housing problems
It has taken the Turner prize to highlight that there is an alternative to replacing low-income housing with expensive flats
Assemble's work on Toxteth's Granby streets has been nominated for the Turner prize. Photograph: Assemble/Tate Britain/PA
Sunday 17 May 2015
00.05 BST
But consider the context: for years, tens of thousands of homes in streets like this, in towns and cities across the north of England, were emptied of their residents and "tinned up". A few brave residents remained and launched legal battles to save their homes; some succeeded, but it was a pyrrhic victory as communities were disbanded and effectively destroyed. Elderly people in their 70s and 80s, including those who had owned their homes for 50 years or more, were forced to move. Many became ill and died.
Just as Pathfinder aimed to demolish existing homes in low-income areas and rebuild more expensive properties, a number of London councils are spearheading plans to demolish estates of low-income housing, replacing them with far more expensive apartments. The consequence is that, while the capital faces an ever more acute housing affordability crisis, thousands of homes for people on low incomes are being demolished.
It's taken an art prize to highlight that, occasionally, alternative plans for development can take off, although even then the experience of those on the ground is that such alternatives are rare and precious and more often than not face obstacles at every turn.
Amid the wreckage wreaked by housing market renewal policies, it seems there is at least a little potential for rebirth. But surely we should be doing everything we can to avoid that devastation in the first place, rather than allowing out-of-control property markets to raze our communities, which then slowly and painstakingly have to pick up the pieces.
What art can tell us about Britain's housing problems | Anna Minton | Comment is free | The Guardian
And this is from the Guardian's architecture correspondent, Oliver Wainwright:
The street that might win the Turner prize: how Assemble are transforming Toxteth
It's not quite a pickled calf – but the rebirth of a troubled Toxteth community might be art. The story of the street and the young architects succeeding where every official plan has failed has caught the art world's attention
Cairns Street in Toxteth, which Assemble have helped to transform after decades of 'managed decline'. Photograph: Andrew Teebay/Liverpool Echo
In the back yard of one of the houses, a couple of the group are pouring pigmented concrete to make a series of fireplace surrounds, beautifully cast in moulds made of debris collected from one of the derelict properties. Indoors, others are convening a meeting with future residents to present options for their new floors and front doors, around a group of intricately crafted doll's house-sized models.
"Assemble are the only ones who have ever sat and listened to the residents, and then translated their vision into drawings and models, and now into reality," says Erika Rushton, chair of the community land trust that has been working with the designers during the last couple of years to bring these neglected houses back to life.
It is a moment that has been sorely awaited. Since the 1981 riots, which saw buildings torched and 500 people arrested, Toxteth has suffered from decades of "managed decline", with life inexorably drained from its streets. Eleanor Lee has lived here since 1976 and seen most of her neighbours leave.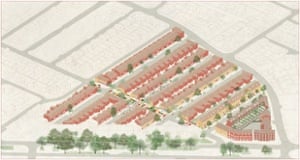 "After the riots, an invisible red line was drawn around the area," she told me when I first visited the area in November last year. "It was an unspoken policy of no maintenance and no investment. Once houses are boarded up, it sends a signal." Bins weren't collected, streets weren't swept, and Granby became a no-go area.
There are now just 70 residents clinging on in an area of 200 homes, a post-apocalyptic statistic that is the result not of some great environmental disaster or mass industrial collapse, but of a series of failed regeneration plans. New Labour's Housing Market Renewal Pathfinders is one of the most recent of such schemes that have systematically eviscerated the communities here to make way for promised visions that never arrive.
"Everyone just offered a total solution," says Rushton. "Every house would be done, with no recognition of what people have crafted into their individual homes, or the value that people had invested in the street with planting and building furniture.
"Regeneration is always this blunt, abstract, over-professionalised thing," she adds. "But Assemble have shown how it can be done differently, by making things that people can see, touch, understand and put together for themselves."
"We want to celebrate the idiosyncrasies of the existing derelict buildings," says Assemble's Lewis Jones. "If a floor is missing, why not leave it out and have a double-height space? There isn't the usual pressure to extract the maximum possible value from the site and put profit before people."
As part of a second phase of work, Assemble has imagined a spectacular winter garden within the empty brick shell of a gutted house – an idea that might form part of their installation for the Turner show at the Tramway in Glasgow later this year.
"I just love their attitude," says Lee. "They are so bold and fearless in their designs, and their vision for housing isn't limited to the usual cream-coloured boxes. They are architects working truly as artists."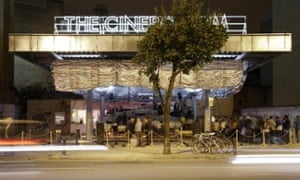 Assemble have never claimed to be artists – and their shortlisting has no doubt raised some eyebrows in the rarified realms of the gallery world – but in both their approach to materials and the collaborative process by which their projects are made, their work transcends the norms of conventional architectural practice.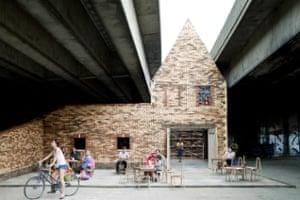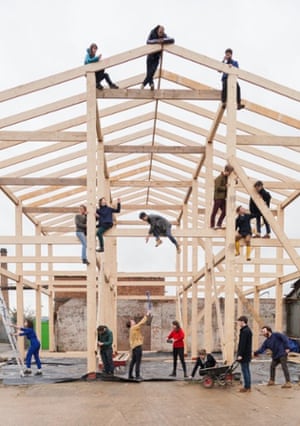 Such things might make their projects sound like fleeting designer stage-sets or marketing-friendly "pop-ups" produced by agents of gentrification. But that would miss the point that Assemble's work is founded in an interest in issues, and sites that go way beyond constructing pretty scenography in gritty industrial locations. It is about engaging with people on their own terms, driven, as they put it, by "a belief in the importance of addressing the typical disconnection between the public and the process by which spaces are made".
Their plain-speaking approach seems to go down well with their clients, too. Countless are the architects who talk of engaging with communities, wielding Post-it notes and collaborative board games, but Assemble do it for real, often embedding themselves in places for months at a time.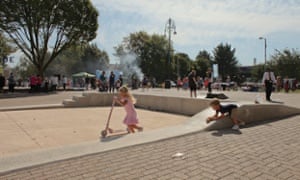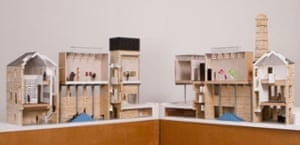 Receiving the phonecall from Penelope Curtis last week – an occurrence met with equal bafflement – Assemble's first reaction was to call the Granby residents. If the community didn't want the attention, they wouldn't accept the nomination.
"They were very conscious that the residents had been battling to save their the street for 25 years," says Rushton. "It had been a gradual process, beginning with the community doing guerilla gardening and setting up a monthly street market, which gradually changed the reputation of the place and started to bring people back during the last five years. It's not something that's happened overnight."
Back in Granby, the residents couldn't be prouder of the Turner prize news.
"It's just a fantastic boost for the whole area," says Delucia Emina, 31, who set up the Baby Dolls beauty salon on Granby Street last year, the first new sign of life the high street had seen in a decade, where most of the units remain boarded up. Born on Granby Street, Emina moved away at age eight, but recently returned, buoyed by the fresh shoots of optimism poking up through the pavement cracks. Since she set up in July last year, a kebab shop has sprung up next door, and she's planning to expand across the street.
Whether any of this is of interest to the Turner prize judges is neither here nor there. Assemble's work with the residents is thankfully bereft of any of the pretensions that the bestowal of such a gong implies. But if the prize wants to look outwards and engage with the real world, then its arbiters need look no further.
The street that might win the Turner prize: how Assemble are transforming Toxteth | Art and design | The Guardian
This has caught the attention of the world's media:
L'arte pubblica sfonda al Turner Prize - Vita.it
Shortlist do Prémio Turner inclui uma urbanização social em Liverpool - PÚBLICO
La crítica: trabajo colectivo - Grupo Milenio
.
.
.