The Devon Cycling Strategy is out for consultation:
Devon praised for encouraging cycling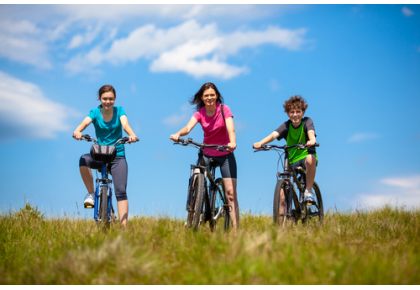 Published by

George Dawson

Posted:
25/04/13
Devon has been highlighted in the All Party Parliamentary Group's

"Get Britain Cycling"

inquiry report.
Devon County Council's Head of Highways Lester Willmington

addressed the inquiry in Westminster in February to detail how more people have been encouraged to cycle in Devon.
Devon County Council features in the report for helping to encourage around a 15% growth in average daily cycle trips across the whole county, and over 40% growth in Exeter over the past five years. During this time, countywide traffic levels fell by 1.5% and in Exeter they fell by 5.4%.
One of Devon's flagship routes, the

Exe Estuary Trail

, has seen annual cycle trips increase from around 70,000 in 2009 to more than 110,000 by 2012, an increase of 59%. Since 2007 over 20,000 children across Devon have received

Bikeability training

in the county and funding for 2013 will enable a further 7,000 children to receive training which improves their skills and confidence.
Through its

Devon Cycling Strategy

, the County Council has also committed to a further £13.9 million investment programme to 2015 to continue development of key cycle routes.
Zsolt Schuller, Devon County Council's Strategic Sustainable Travel Officer

, said: "Investing in cycling makes sense on so many levels. It improves health, its non-polluting, helps ease congestion in our built up areas and boosts the economy. There is a real momentum behind cycling and we're pleased that the improvements made across Devon have been successful in getting more people cycling more often, and that is recognised in this report.
"There is still, however, a considerable amount of work to do and we are continuing to work with communities to provide new routes and facilities so that more and more people can choose cycling for everyday journeys and for leisure."
And from last year:
Cycling vision for Devon
A vision for the future of cycling in Devon was approved by Devon County Council's Cabinet today. (Wednesday 11 July)
Councillors confirmed their commitment to cycling by supporting the key priorities and future proposals of the

Devon Cycling Strategy.
The report considered by Cabinet today set out a number of recommendations, which were all approved by members.
These included:
> Agreement in principle to continued investment in important strategic infrastructure projects, subject to future budget considerations;
>
Supporting the promotion of cycling to encourage greater use of the county's cycling assets;
>
In principle agreement to continue investment in events, such as the

Tour of Britain

and Dartmoor Classic, which are of economic benefit to Devon.
The Devon Cycling Strategy will plan for continued investment over the next five years.

Consultation

on the document is due to start later this month to enable the public and relevant bodies to contribute to the aims of the strategy before it is published later this year.
.
The Council is already investing £13.9million on cycle infrastructure to 2015, supplemented with additional funding through the

Local Sustainable Transport Fund

, developer contributions and other grants. The draft programme of schemes includes

links from Sidford to Sidbury

, Knowle to Willingcott in Barnstaple and Newton Abbot to Torbay and Bovey Tracey.
The Cabinet report highlighted cycling's positive impact on the county's economy – with Devon recognised as a prime destination for cycling holidays and breaks. Cycling in Devon is promoted through the Tour of Britain, which showcases the county to a worldwide TV audience and helps to inspire local people to take up cycling. Last year alone saw the event bring more than £3million into the local economy.
It is also championing cycling at a senior level of the authority, with

Devon County Council's Cabinet Member for Highways and Transportation Councillor Stuart Hughes,

responsible for cycling.
Councillor Hughes said: "We are already demonstrating that we are a leading authority when it comes to cycling and cycle safety, with a commitment from officers and members. The aim of the Devon Cycling Strategy is to build on our foundations to create a first class environment for cycling, where people of all ages and abilities have the opportunity to enjoy cycling safely whether it's for their health, leisure or everyday journeys. Cycling has positive impacts on the local economy, improving health, reducing carbon emissions and protecting the environment."
.
.
.