Ecuador is currently undergoing a transition:
Buen Conocer | Hacia una pachamama del conocimiento común y abierto
As explained by one of the founders of the P2P Foundation:
Published on Feb 18, 2014
" This is the first time in history that a state is walking this way, so this is an historical project."
Rosa Roig interviews Michel Bauwens, research director for FLOKSociety.org. FLOKSociety is a research project for the government of Ecuador that aims to create a policy and legal framework for the transition towards a social knowledge economy or a "open commons-based knowledge society".
Michel Bauwens on the FLOKSociety project - YouTube
FLOK Society Project - P2P Foundation
Free/Libre Open Knowledge Society, designing a world for the commons. Welcome to FLOK Society, the project proposed by the National Institute of Advanced Studies, the Coordinating Ministry of Knowledge and Human Talent and the National Secretary for Science and Innovation, in order to change the productive matrix based on free knowledge towards a Social Economy of Knowledge.
FLOK Society (EN)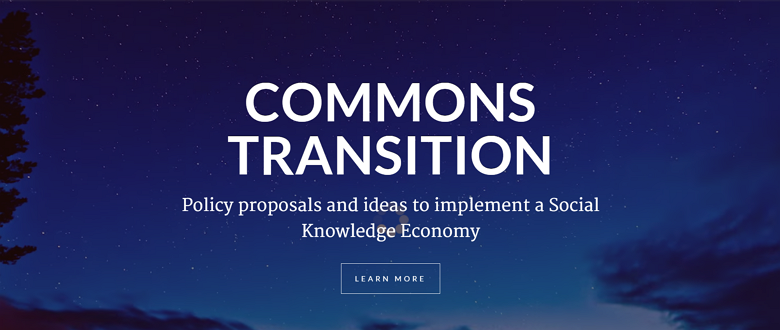 Commons Transition Plan - P2P Foundation
CT Home - Commons TransitionCommons Transition
This is from the website promoting the ideas behind the FLOK Society:
WHAT IS COMMONS TRANSITION?
What do we mean by a "Commons Transition" and how can we achieve it? A special introduction by Michel Bauwens and John Restakis. Read more
A COMMONS TRANSITION PLAN
The Commons Transition Plan is based on the analysis and observation of existing commons-based processes and economies and describes how a generative, commons-producing civil society can lead to a new market and state. Keep reading
PUBLIC POLICY FOR A SOCIAL KNOWLEDGE ECONOMY
A report on the radical democratization of the state and the mobilization and expansion of the social/solidarity economy through the creation of public-commons partnerships. Keep reading
OPEN DESIGN COMMONS AND DISTRIBUTED MANUFACTURING
A report on the application of social knowledge economy principles to the secondary economic sector, with an emphasis on manufacturing. Keep reading
TOWARDS A PARTNER STATE: ELEMENTS FOR A COMMONS TRANSITION
Strategic proposals for building an alternative economy to provide a livelihood to those contributing to the shared commons - the heart of a Commons Transition.
COMMONS BASED RECIPROCITY LICENSES
Solving the paradox of peer production— where the more communistic the sharing license, the more capitalistic the practice — with a new type of license. Find out more
OPEN COOPERATIVISM
Suggestions for new cooperative enterprise forms which retain the internal democracy of traditional coops, but replace their competitive mentality with a transnational commons orientation. Find out more
BLUEPRINT FOR A PARTNER STATE
Occupying a reduced role compared to the classic state, the new peer to peer state will find many of its functions met by civil society associations, fostering commons development interlinked with processes of global governance. Find out more
COMMONS TRANSITION PROJECTS:
PAST, PRESENT AND FUTURE
Information and resources for past, present and future Commons Transition Plans.
ECUADOR'S FLOK SOCIETY PLAN
Ecuador's FLOK Society (Free-Libre, Open Knowledge) project marked the first time a nation state commissioned a practical plan to transition to a mature Peer to Peer Economy. It was initiated to "fundamentally re-imagine Ecuador", based on the principles of open networks, peer production and a commons of knowledge. Read more
THE CATALAN INTEGRAL COOPERATIVE'S
COMMONS TRANSITION PLAN
The Catalan Integral Cooperative (or CIC) is a political project seeking to unite consumer and labor initiatives. The CIC's objective is to generate a self-managed post-capitalist society based on P2P principles and environmental and social realities. Read more
Fairness and the Commons, an Interview with Enric Duran - Commons Transition
Interview at Commons Transition | FairCoop
COMMONS TRANSITION NETWORK
Related transition-oriented projects sharing knowledge in the form of commons