This blog has considered the notion of 'corporate welfare' before: for example:
Futures Forum: Crony capitalism and lemon socialism in East Devon........ The costs of "substantial growth and expanding business"
Futures Forum: A history of the East Devon Business Forum, part two....... "It mostly represents a number of businesss that councillors and ex-councillors are involved in and those where councillors and ex-councillors own where land which was permitted to be changed from agricultural land to industrial land."
Futures Forum: "Statistics show us that small and medium-size businesses (including those in tourism) are our life blood."
Futures Forum: Investing in roads in East Devon: who pays ... and who benefits?
The Telegraph has looked at the issue over time:
The faulty logic behind George Osborne's living wage - Telegraph
Taxpayers give train firms half a billion a year to top–up profits - Telegraph
The Guardian has looked at the subject in some detail this week:
Direct aid, subsidies, tax breaks – the hidden welfare budget we don't debate | Politics | The Guardian
Britain's corporate welfare is out of control – increasing it makes no sense | Kevin Farnsworth | Comment is free | The Guardian
The £93bn handshake: businesses pocket huge subsidies and tax breaks | Politics | The Guardian
Here's a piece from last year in the Exeter Daily:
Who gets the most in benefits?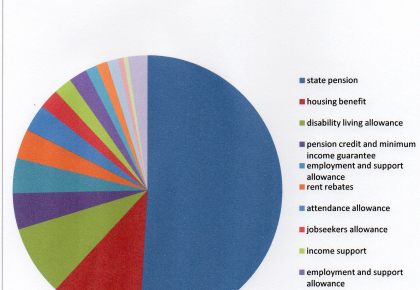 Who gets the most in benefits?
Who really benefits most from welfare spending? A lot of people think that it's the unemployed. So then, what percentage of welfare spending do you think goes to the unemployed, through Jobseekers Allowance - 50%, 25% or 10%?
The answer, according to the Department for Work and Pensions Annual Report for 2013-14, is just 2.34%. Of an overall annual expenditure of £163 billion, Jobseekers Allowance gets £3.81 billion. However, over half (50.93%) of DWP benefit money goes to those who receive the State Pension - £83.14 billion...
What about other forms of government expenditure? In The Guardian newspaper on 7th October an article appeared with the title 'Cut benefits? Yes, let's start with our £85bn corporate welfare handout'. This reported the findings of Kevin Farnsworth, a senior lecturer in social policy at the University of York, who claimed that in 2011-12 the subsidies and grants paid directly to businesses amounted to £14 billion – nearly three times as much as was paid out that year through Jobseekers Allowance. Of course, such expenditure is intended to and may actually succeed in preserving or creating jobs. However, it also subsidises company profits and may lead to rewards for their shareholders - you may already have heard about Amazon having paid less in corporation tax than it had received in government grants. Overall, Farnworth claims that state benefits of various kinds provided for or paid to corporations each year amount to just less than £85 billion a year – more than the total cost of State Pensions.
So the next time you hear those on low incomes, and particularly the unemployed, being blamed for the deficit just tell them where the benefits really go!
Who gets the most in benefits? | The Exeter Daily
Here is a substantial analysis of the condition, from a couple of years ago:
Renewal | Kevin Farnsworth | The British corporate welfare state
At the same time, calls were made around farming subsidies in the Westcountry:
Scrap 'corporate welfare': CAP payments for small farms not corporations
A new report from the South West Green Party exposes the fact that massive payments to large corporations are being made under the Common Agricultural Policy (CAP). Analysis of Defra data by the Green Party on CAP payments has revealed that sizeable sums of money are being diverted away from smaller farms towards large corporations.
In particular, the Green Party points to a payment of nearly £2 million last year to Serco Regional Services for 'supporting a step change in the international performance of companies in Cornwall and the Isles of Scilly'. The Serco Group is currently the subject of a criminal investigation following allegations they billed the Ministry of Justice for monitoring 3000 non-existent offenders on a lucrative electronic tagging contract. [1]
Professor Molly Scott Cato, lead Green Party European candidate in the South West and the Party's finance speaker, said
The public might be somewhat surprised or even shocked by the fact that huge amounts of EU funds, portrayed as supporting rural agricultural incomes, are in fact being directed towards public bodies and dubious corporations such as Serco. This amounts to nothing less than corporate welfare.
The Green Party believes such revelations make the need for radical reform of the CAP payments' system even more urgent. Whilst accepting and supporting the use of EU subsidies for farming, the Green Party is calling for a new Green vision for the agricultural sector. In a new report outliningthis vision [2], the Green Party proposes a maximum limit of €300,000 on individual and corporate CAP payments and to use the subsidy system to support smaller farms that use organic and less intensive systems of production.
Devon farmer, Andy Bragg, who manages an organic farm near Exeter, said
The potential for European policy to create positive change is enormous. Political directives drive farming and a greener agriculture policy across the 28 European countries would be a massive improvement for the world.
Greens believe that EU subsidy payments need to be used to create agricultural jobs through supporting food delivery systems that reduce food miles and connect local producers and consumers.
Dr Scott Cato concluded
Its time to cap the CAP and allocate farm subsidies more equitably so they can be used to support cooperation between small farmers, help community farming and provide better access to land and training in sustainable practices. Fundamentally, we need to place a duty on farmers to use the land for the common good.
NOTES
[1] Independent: 'Cheats' Serco and G4S forced to face a grilling from powerful group of MPs http://ind.pn/19un7nF
South West Green Party | Scrap 'corporate welfare': CAP payments for small farms not corporations
Scrap 'corporate welfare': CAP payments should go to small farms not corporations
Public versus Corporate welfare – not very fair at all! | Vote Green in 2015 for Camborne, Redruth and Hayle
There are plenty of other subsidies being handed out in the Westcountry:
South West Water profits soar by 10.8% | Western Morning News
See comment:
Corporate welfare - the truth about who benefits from our taxes - Claire Wright
This report from Anna Minton from 2013 focussed on the 'East Devon mafia':
New report: Scaring the living daylights out of people
www.annaminton.com/Scaring The Living Daylights March 27th 13.pdf
.
.
.