It's not just a question of how we are going to produce electricity:
Futures Forum: What are the most efficient forms of energy.. at a local level?
Futures Forum: What are the most efficient forms of energy? another look at nuclear...
It's also a question of where are we going to produce electricity - and local communities are increasingly having to answer this question:
Futures Forum: Balcombe: making a community self-sufficient in electricity
Futures Forum: Building resilience in local communities and economies: the Transition Town movement today
How about a nice coal-fired power station...
An article in last week's Guardian asked the question of how we have our cake and eat it when it comes to making electricity:
Electricity – isn't it wonderful? But we don't want to see where it's made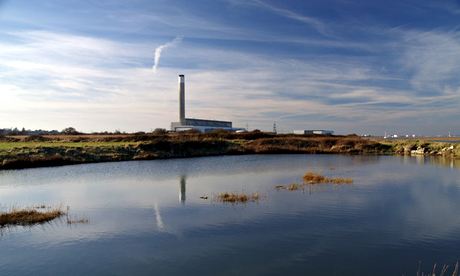 Photograph: Guardian

This is where electricity comes from. Isn't it wonderful?

Unlike Battersea or Bankside, Fawley is too suburban, odd and huge to ever become useful for something economically gainful today – property development, art museums.
The aesthetic revulsion against wind turbines and oil-fired power stations, or the closure and redevelopment of the sufficiently iconic coal-fired stations, come from a similar impulse – not wanting to know where it all comes from, how it all happens.
Magic is less uncomfortable than electricity.
Electricity – isn't it wonderful? But we don't want to see where it's made | Owen Hatherley | Comment is free | theguardian.com
Traditionally, great ugly power stations are positioned well away from population centres:
Climate change protesters arrested over Didcot power station demonstration - Telegraph
... unless it's an 'iconic' brick Victorian structure on the Thames: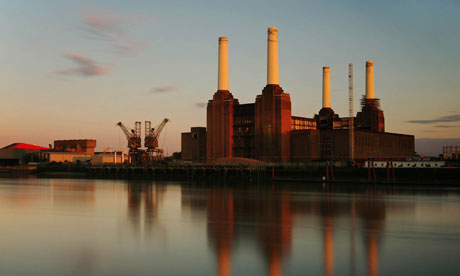 Battersea power station, consumed by the march of London's luxury linear city | Owen Hatherley | Comment is free | theguardian.com
But we cannot escape the reality that if we want electricity, it needs to be produced somewhere.
The British and French seem comfortable next to a nuclear power station, though:
Why we love living next to a nuclear power plant | Environment | The Guardian
... whereas the Germans do not:
Nuclear Nimbyism: Germans Oppose New Plants Next Door - SPIEGEL ONLINE
The response, generally, is NIMBYist - across Europe:
Green energy — but not in my back yard!
6 May 2011 IL POST MILAN Filippo Zuliani




A wind farm in Plouarzel (Brittany, France).AFP

Odd as it may seem, the main victims of environmental conservation appeals are not nuclear power plants or incinerators, but the hydroelectric power stations, solar energy installations and wind farms much-loved by the Green and ecologically minded
The English have dubbed this phenomenon "the NIMBY syndrome (NIMBY being an acronym for 'not in my back yard'). The Italian government's recent about-turn on its plan to re-introduce nuclear power – which took place only a few days ago – is a text book case of NIMBY syndrome. In plain English, the difficulties at Fukushima showed that nuclear power stations remain vulnerable to the risk of serious accidents, prompting a wave of public hostility. Not in my back yard! Build them elsewhere. Everywhere else. Only not here, because we don't trust them!

The trouble is that NIMBY syndrome not only affects nuclear power plants and incinerators. According to the Nimby Forum, which monitors the extent of the NIMBY syndrome in Italy, 70 percent of appeals lodged to block the construction of power stations concern infrastructure that makes use of hydroelectric, biomass, wind and solar energies – projects that aim to promote the use of renewables, which could reduce our dependence on fossil fuels. Nonetheless, these installations are opposed by ad hoc committees, mayors and municipal councils as often, or even more often – there is no denying that we are up to our necks in contradictions – than industrial infrastructure and installations, which have a 20 percent chance of being targeted by an appeal.

Citizens' electoral lists, which cut across traditional political divisions, are the acclaimed champions of NIMBY and responsible for 60 percent of NIMBY appeals. Their motives are obvious: concern for the public interest, fear, a desire to combat disinformation, a distrust of the political establishment, but also – and most importantly – the quest for popularity in the short term. NIMBY syndrome is an easy vote winner, and some of its exponents can and do hit the jackpot.

Paradoxical as it may seem, it is now easier to construct a nuclear power station in Italy than it is to build wind farms with an equivalent power generation capacity.

The reason for this is quite simple: in order to obtain the capacity that would be generated by three or four nuclear power stations, we would have to build thousands of wind turbines at sites all over the country – in Italy today wind power is the only option that can compete with nuclear in quantitative and economic terms. The figures speak for themselves: the four 1600MW nuclear power stations, which were planned by the government would have produced 44 TWh per year, the equivalent of 15 percent of the electricity generated in Italy.

To generate the same quantity of energy with wind power, we would have to construct 12,000 turbines: bear in mind that these are 100-metre high towers, equipped with blades that are 75 metres in diameter, each requiring 1,100 tonnes of concrete steel and aluminium. And even if we only installed half of this number, and sought to make up the shortfall with biomass, solar and energy conservation, we would still have to build 6,000 towers.

That means more than 7 million tonnes of concrete and steel. When you consider that the Empire State Building weighs 275,000 tonnes, we would have to build the equivalent of 25 of these, which would be spread over the 2,400km2 of eligible sites, mainly located in Sicily, Sardinia and Puglia which are the regions with the best potential.

Problems posed by the environmental impact of wind turbines are also a concern for other countries. In Denmark, the installation of 150 metre high turbines in Copenhagen's North Harbour provoked a furious reaction from the deputy mayor and residents of the local area of Gentofte. In other words, it is certainly possible for us to live using only renewable energy, but this is subject to two caveats: we will have to plan on using much less energy – i.e. a major adjustment and not just the removal of two or three bulbs – or we will have to accept the environmental consequences of wind turbines, solar panels, and biomass power stations etc. In short, we will have to get over our NIMBY syndrome and accept that renewable energies have disadvantages as well as advantages.

If this does not happen, future governments regardless of their political hue will be forced to fight an unending series of battles with mayors, deputy mayors, environmentalists, regional presidents and other local smart alecs to install every one of the thousands of wind turbines, solar panels and biomass power stations that we will need. In a regionalist country like ours and in the absence of a national plan with strict rules on energy production, an arduous process like this could quite simply take thousands of years.
Environment: Green energy — but not in my back yard! | Presseurop.eu: European news, cartoons and press reviews
Such is the reaction in the UK to wind farms, that the Conservative Party have committed themselves to scaling them back:
David Cameron could make manifesto pledge to get 'rid' of wind farms - Telegraph
Tory chairman signals anti-wind farm manifesto pledge | Western Morning News
The Conservatives' onshore wind sums are all at sea | Chris Huhne | Comment is free | The Guardian
Tories plan new attack on windfarms | Environment | The Guardian
In Cornwall, there is a real debate going on:
Windfarms have the power to change communities and political allegiances | Environment | The Guardian
WMN Letters: No more turbines is a vote winner for Tories | Western Morning News
And yet there are real contradictions: people are still not sure:
Wind turbines: A blight on Britain's skyline or the future of energy? | Metro News
And a new poll finds windfarms are not the worst evil:
Wind farms more popular than fracking, UK study suggests - FT.com
Poll: two-thirds of Britons favour wind power over fracking - Blue and Green Tomorrow
And they need not pose a threat to tourism:
Wind farms do not impact Welsh tourism, report finds - Blue and Green Tomorrow
There are many situated in the West Country:
Where are the UK's windfarms? | News | theguardian.com
But the notion of putting windfarms 'offshore' is not necessarily an option...
In 2008, proposals for such a facility in Lyme Bay was taken off the agenda:
Fishermen's fears over wind farm
Offshore wind farms have divided opinion in the South West
Wednesday, 4 June 2008 19:08 UK
Plans for two offshore wind farms off the Devon and Cornwall coasts have received a mixed reaction.
Some will go up off north Cornwall, with more proposed for south Devon and Lyme Bay off Dorset where fishermen fear it will ruin their industry.
However one wildlife group has welcomed the idea.
The government wants to put up a total of 7,000 new turbines around the UK by 2020, trebling wind power to meet EU renewable energy targets.
Areas off north Cornwall and Lyme Bay were earmarked in a group of 11 sites around the British coastline.
They are seen as the most economically suited for their levels of wind, water depth and potential connection to the grid.
Jim Portus, of the South West Fisher Producers Association, said he feared that the fishing industry in south Devon would be ruined.
"Lyme Bay is virtually the entire fish production for south Devon," he said.
"It is a multi-million pound industry that happens to coincide with this area."
Energy Minister Malcolm Wicks said: "There is potential in Lyme Bay, but this is the first chapter and we shall look at the interests of fishermen before any decisions are made."
Consultations by the Crown Estates which owns the land should be concluded by the first half of 2009.
The development of offshore wind capacity is regarded by some as central to the delivery of the UK's share of the EU target for providing 20% of its energy requirements through renewable resources by 2020.
Paul Gompertz, director of Devon Wildlife Trust, which has been campaigning to protect a reef in Lyme Bay, said Crown Estates had already indicated that it would avoid the reef.
He said: "In principal we are supportive of any form of renewable energy.
We are seeing a change in society's needs.
The first is to protect the planet's life support systems- the really rich bits like the reef.
The second has to be to get renewable energy wherever we can."
BBC NEWS | England | Devon | Fishermen's fears over wind farm
PLANNING HISTORY: POOLE & CHRISTCHURCH BAYS ASSOCIATION
Crown Estate did not tell locals about huge off-shore windfarm - Telegraph
regensw.s3.amazonaws.com/1278415502_606.pdf
FAQ - Navitus Bay wind farm information, See proposed offshore wind turbines
So, where are we going to produce our electricity?
Small-scale and locally-controlled production offers less visual impact:
Futures Forum: SidEnergy launch: more event reports
Futures Forum: "Community energy offers a long-lasting solution that protects against 'big six' price rises and pumps money back into local areas."
Futures Forum: Community Energy in Exeter
Futures Forum: "Many people are beginning to realise that locally produced gas is a transition fuel that can live alongside and not replace renewables..."
Futures Forum: What are the most efficient forms of energy.. at a local level?
Futures Forum: District heating systems run on waste... from Scandanavia
Futures Forum: Solar, wind, fracking: "We seem simultaneously to be mismanaging the exploitation of three key decentralised energy sources."
Futures Forum: Community Energy Strategy
And yet most of the solar farms in the area are not small-scale and locally-controlled:
Futures Forum: Solar farms in East Devon: the approvals... and the debate...
Futures Forum: Solar farms in East Devon..... an approval at Exmouth... and a new application at Sidbury.....
Futures Forum: Solar farms and community sweeteners
Futures Forum: Solar Plan for Sidmouth: a second application fails
.
.
.