The District Council is considering putting its own housing company together:
Futures Forum: District Council sets up its own Local Housing Company
As reported in the local press:
EDDC plans for housing company - View News
The national press is reporting on other councils' plans:
How one council is beating Britain's housing crisis
Fancy a three-bed semi with a garden for £152,000? Or rent at less than £500 per month? Sheffield is showing other local authorities how to build again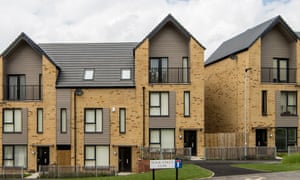 Shirley Eckhardt, who lives in Cutler's View (pictured), says of her new house: 'It's so modern – all the units are fitted, the cooker, freezer. The back garden is very large.' Photograph: Persuasion PR






Julia Kollewe Saturday 25 March 2017

In 2015, England's local authorities built fewer than 3,000 new homes, just a tiny fraction of the estimated 250,000 new homes needed every year to meet demand. But one council has begun building again in volume, in what some see as a model for tackling the housing crisis.

On the outskirts of Sheffield, hundreds of new homes are springing up, built by the council to space standards that have all but disappeared in the private sector. New residents – the majority are 25-35 year olds – say they are impressed by the designs and spaciousness, and enjoy their close proximity to the city.

But this is not a return to the era of 1950s and 1960s council building. What Sheffield Housing Company (SHC) is doing is partnering with contractors to build low-cost homes for first-time buyers and families alongside houses and flats to rent at affordable prices, and with tenants better protected.

People have already moved into homes at Cutler's View, and Brearley Springs and Brearley Forge, named after Harry Brearley, the inventor of stainless steel. Of 325 completed homes, 237 have been sold so far. The semi-detached houses – all with gardens – are selling from £99,995 for a two-bed, £152,00 for a three-bed and just over £200,000 for a four-bed, with 88 of them for affordable rent or shared ownership. There are plans for 24 apartments.

Affordable rent is based on 80% of market value – for example, a three-bedroom semi-detached house with drive and large back garden is around £115 per week. There are no letting fees, and tenants' rights are the same as for traditional council tenants. Allocation is based on housing needs.

Sheffield has managed to do what the private sector, on its own, failed to do: build low-cost housing in areas that until now have been regarded as derelict or run-down.
How one council is beating Britain's housing crisis | Money | The Guardian
However, it does not look as though East Devon's new housing company will actually deliver on affordable housing:
Futures Forum: Local Housing Companies >>> 'It is early days for this new model of house-building, but with their seeming commitment to quality design, the omens are promising for architects seeking work in the sector. Whether this model can bridge the gap in affordable housing provision remains to be seen."
Because, not only will the District Council be entering the housing market to make profits to fill its empty coffers - but that market is full of potential risk:



'EDDC housing company could develop anywhere in country', warns Sidmouth councillor



PUBLISHED: 09:31 21 March 2017

Stephen Sumner

A housing company that could allow council bosses to better respond to market pressures has received early support – but a Sidmouth councillor argues there are 'huge risks' to taxpayers that need to be tightly controlled.

Agenda papers say an East Devon District Council-owned (EDDC) company, free from red tape, could play a key role in increasing supply of homes and meeting demand when private developers fall short.

However, Councillor Cathy Gardner raised concerns that it is not a 'local' housing company and will in fact be able to develop anywhere in the country.

She said: "EDDC has been good at looking after its council houses, but this isn't about developing council houses. They may decide they want to build elsewhere in the country where they can make more profit. That might be all right if it was limited to building 'affordable' housing here, but that's not written into the terms.

"It needs to answer so many questions – is the company being set up to meet housing needs in East Devon or is it more about profit, because it can take that money into its general funds? Where is the money coming from to set it up? EDDC may have fantastically good intentions, but the devil is in the details."

Cllr Gardner also voiced concerns about the 'huge risk' in speculating on the property market and said it is dependent on house prices remaining high.

Cabinet members backed the creation of East Devon Homes last week and officers will now prepare an initial business plan, identify the first projects and report back to the council.

If approved, the company will be financed by EDDC and any profits would come back to the authority. It could sell land to the company at market value – or potentially gift it – and then borrow money to finance projects.

The report says the company, run by a board of directors, will be able to operate on commercial terms, free of the 'continual interference' from central government.

Supporting the proposals, Councillor Jill Elson, EDDC's portfolio holder for homes and communities, said: "This presents a wonderful opportunity for the council to play a more active part in the local housing market.

"We have researched the proposal carefully and fully, looked at the risks and rewards, and decided that the local housing company model is a suitable model for the council to deliver its housing ambitions.

"We are seeing high levels of demand for housing in the area and see this as a way of increasing supply consistent with the Government's growth agenda."
'EDDC housing company could develop anywhere in country', warns Sidmouth councillor - News - Sidmouth Herald
.
.
.