We are all aware of promises made before the referendum two years ago:
Futures Forum: Brexit: and 'Can we have our £350m for the NHS, please?'
Futures Forum: Brexit: and post truth politics: no extra money for the NHS
Futures Forum: Brexit: and "a bonus for the NHS"
Futures Forum: Brexit: and the future of healthcare
Futures Forum: Brexit: and £350million for Devon's hospitals
This has been one of the hottest Brexit topics...
The Foreign Secretary was asking for the 'dividend' back in January:
"We've been conned a lot over the past few years, but Boris Johnson trying to set himself up as the great defender of the NHS? Surely no one - but no one - is going to swallow that," tweeted former Telegraph diarist Tim Walker. "BREAKING: Boris Johnson is urging the government to pump an additional £100m into his chances of becoming prime minister," added playwright Dan Rebellato.
Why Boris Johnson's '£100m-a-week Brexit NHS dividend' is a cynical sham | Latest Brexit news and top stories - The New European
Liam Fox backs Boris Johnson's call to use Brexit dividend to increase NHS funding - Telegraph
But the Chancellor was having none of it:
Economic confidence is suffering due to the UK's impending withdrawal from the EU, Philip Hammond has said, as he pointedly knocked down demands from Boris Johnson for a "Brexit dividend" for the NHS.
Hammond dismisses Johnson's talk of post-Brexit NHS dividend | Politics | The Guardian
Others were equally sceptical:
Will there be a Brexit dividend for Britain's National Health Service? Judging by a report from the think-tank UK in a Changing Europe, the answer is a categorical "no".
Brexit and the 'NHS dividend' | Financial Times
It seems, though, that we are going to get it after all, as announced this weekend:
The Prime Minister will boost NHS funding by around 3 per cent a year as part of a "multi-year" settlement to mark its 70th anniversary. She is expected to say that the rise will be funded in part by a "Brexit dividend" - one of the Leave campaign's central pledges during the EU referendum.
Theresa May poised to give NHS £4bn-a-year boost funded by Brexit dividend, borrowing and income tax - Telegraph
Despite Brexit, Theresa May is doing the right thing by boosting NHS spending | The Independent
Not everyone is impressed, though
- including the independent member of the County Council's health committee:
The so-called Brexit dividend… and other outrageous half-truths, mistruths, myths .... - Claire Wright
Cllr Wright has been campaigning for some time for health provision in the county:
Motion to go before next month's full council on protecting community hospital buildings - Claire Wright
Health scrutiny Conservative cllrs block vote down proposal to protect Devon community hospitals - Claire Wright
Health Scrutiny: Future of community hospitals, carers, local NHS deficit and GP appt delays .... - Claire Wright
The MP for Totnes has also been concerned about the future of health services - and is also not impressed by the latest promises:
May's claim of 'Brexit dividend' for NHS dismissed as 'tosh'
A Conservative MP says the term "treats the public as fools", as the PM's pledge of more money for the NHS comes under scrutiny.
Sunday 17 June 2018
By Alan McGuinness, political reporter

The prime minister said the NHS will receive an extra £20bn a year in real terms funding (once inflation is taken into account) by 2024, an average increase of 3.4% every year for the next five years.

But the government's decision to link part of the extra money to the infamous Vote Leave pledge to spend the money Britain sends to European Union on the NHS instead has provoked much comment. The totemic claim - widely questioned by experts during the 2016 referendum - that we send £350m a week to the EU formed an integral part of the Brexit campaign's clarion call to "take back control" from Brussels.

Analysis: Perfect storm over 'Brexit dividend'
Theresa May has little option but to deliver some form of Brexit dividend for the NHS, but in reality it is just political spin.

Mrs May told the BBC's Andrew Marr Show: "Some people may remember seeing a figure on the side of a bus a while back of £350m a week in cash. Well, I can tell you what I am announcing will mean that in 2023-24, there will be about £600m a week in cash, more in cash, going into the NHS."

While many have welcomed news of the extra money, critics - including some within the PM's own party - poured scorn on the "Brexit dividend" characterisation, saying there was no such thing. They argue the economic damage of leaving the EU will far outweigh any money we save in payments to Brussels.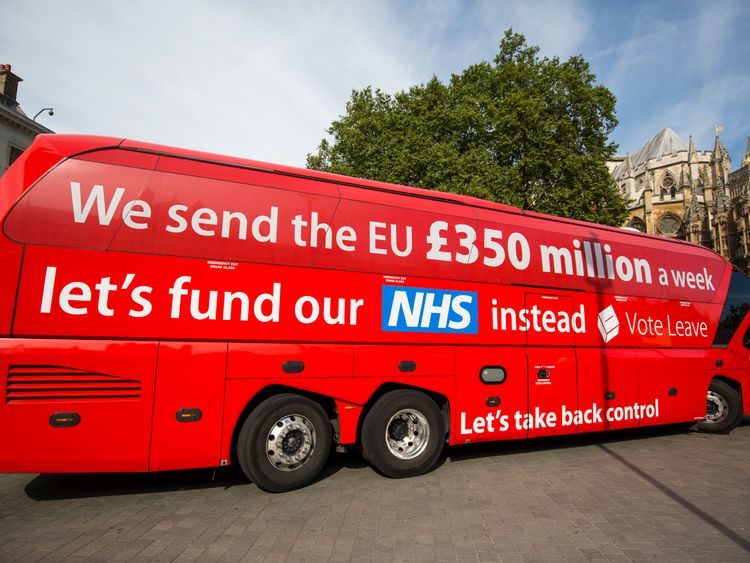 The Vote Leave battle bus bearing the NHS claim

One Tory MP was particularly scathing in her assessment, labelling the claim "tosh". Sarah Wollaston, who is chair of the health and social care select committee and a former GP, said it "treats the public as fools". She added: "Sad to see Govt slide to populist arguments rather than evidence on such an important issue. This will make it harder to have a rational debate about the 'who & how' of funding & sharing this fairly."

A fiscal watchdog also dismissed the term. Paul Johnson, director of the Institute for Fiscal Studies, told Sky News: "There is not something called a 'Brexit dividend' to pay for it. In the short run, arithmetically there isn't because we're going to continue giving money to the EU and spending money on farmers and so on through to 2023 - there's literally no money there. In the longer run, the government has accepted that the economy will be smaller and tax revenues will be lower as a result of Brexit."

Labour's shadow housing secretary John Healey told Sky's Sophy Ridge on Sunday programme: "Claiming some bogus Brexit dividend is clearly something that doesn't exist - and she's only saying that because she's got her arm twisted up her back by her Cabinet Brexit hardliners."

There have also been calls for more details on how the pledge will be paid for. Labour's John McDonnell said it was "nowhere near good enough".

"This falls far short of the 4% that experts say the NHS needs, it is just a standstill, and the Tories are refusing to say where the money will come from," the shadow chancellor said.
17 June 2018
PESTON'S POLITICS ROBERT PESTON


Three points on what the prime minister has revealed today on the planned NHS spending increase that she will set out in detail tomorrow.

1) A rise of £20bn "real" over five years implies annual increments of 3.7% - which takes us back roughly to where spending was before the Blair/Brown bonanza from 2002 to 2010.

But the pressures of an ageing population were much less then. The extra money is no bonanza for the NHS.

2) The idea of a Brexit dividend, as articulated by the PM today, is dubious. UK growth has slowed significantly since the Brexit vote, at a time when global growth has significantly accelerated.

If this does not represent a Brexit drag on growth, it is very difficult to know what it is. And UK growth is forecast, even by the government, to limp along at 1 to 1.5% for years to come, a cut of roughly a third from pre-Brexit forecasts.

Lower growth cuts tax revenues more than we pay net to the EU budget.

3) To remind you, our net contribution to the EU budget, after money we get back from the EU in various forms, is nearer £150m a week than the £350m that was on the bus.

So even if you believe the reduction in UK economic growth is temporary and that there really will be a Brexit dividend, the PM's promise of £600m extra in cash for the NHS in 2023/24 still means our taxes and government borrowing are set to rise by £450m a week.

NHS to get £20bn boost by 2024 partly funded by 'Brexit dividend'
Is May's money for NHS really a Brexit 'dividend'? - ITV News
.
.
.