This time last year, there were worries about strawberries:
Futures Forum: Brexit: and strawberries
This is just one part of the bigger picture:
Futures Forum: Brexit: and struggling to recruit skilled labour in the food and drink industry
Because, what do we mean by 'British-grown strawberries'?
As noted by someone on the Lidl's website a couple of years ago:
I just saw the ad live. Good ad but don't think the farmer really picks his own strawberries. Having watched country file (i think it was last week), they showed some super fast strawberry pickers that were Eastern European - I could not believe how fast they were, was really a skill there.
Behind the scenes of our latest advert: Strawberries - My Lidl
Last year, Devon Live reported from Cornwall that most of the pickers are indeed migrant labour:
Minette Batters, the deputy president of the NFU, told an audience in Cornwall: "The NFU's labour survey for horticulture has shown that the number of EU seasonal workers coming to the UK was down consistently between 13% and 17% over this summer's harvest period, so it is critical a seasonal workers scheme is re-introduced." Without this, increased mechanisation would not be much help. "We have the technology to pick a strawberry, but who will invest in it?" she said.
Looming migrant worker crisis as Devon gets ready for EU worker shortage - Devon Live
Meanwhile, in Kent:
It's a sign of labor shortages in U.K. agriculture that the English family farm which has fed Wimbledon tennis crowds with strawberries for more than 20 years translates job listings on its website into Romanian and Bulgarian. Set amid the rolling Kentish countryside known as the garden of England, Hugh Lowe Farms brings in workers from central and eastern Europe to produce the 28 metric tons of strawberries eaten every summer at the British tennis championships. It isn't alone.

"We do rely on non-U.K. nationals, generally from countries which have higher rates of unemployment and lower wage" rates, said Nicholas Marston at Tonbridge, Kent-based Berry Gardens, a marketing cooperative that counts Hugh Lowe Farms as a founding member. About half the jobs in the 600 million-pound ($800 million) berry industry are seasonal and "not attractive to U.K. nationals," he said.

Farm workers' average hourly wages including those of managers were two-thirds the level for all U.K. industries, a survey published by Farmers Weekly in 2014 showed. In addition, much manual work is temporary, based on growing seasons. In 2013, the U.K. scrapped the Agricultural Wages Board for England and Wales that had regulated minimum pay rates and overtime.
Perhaps, then, it is a question of raising wages to attract local labour, as the Express suggests:
BREXITEER Alp Mehmet tore apart James McGrory's argument in favour of remaining in the EU single market to safeguard British jobs given to EU nationals, pointing out five million Britons would be ready to take their place post-Brexit.

PUBLISHED: 09:17, Sat, May 26, 2018
Speaking on TalkRadio, James McGrory, Executive Director of Open Britain, argued leaving the single market post-Brexit would create an employment vacuum in key low-paid British industries like farming and hospitality.

Mr McGrory said: "We have a lot of unskilled jobs in this country that need doing. "Talk to anybody in the agricultural industry, in the hospitality industry, these aren't hugely paid jobs but they need doing. The farming industry is a cracking example in that we want to grow food in this country, we want to pick it and we want to eat it on our dinner table.
BBC Brexit news: Alp Mehmet tears apart James McGrory's argument in favour of freedom of movement

"Now, I'm afraid the vast, vast majority of that work is done by migrants from countries like Romania."

Asked whether such jobs should be paid more to encourage British people to do them, he replied: "That's always the argument put forward but if you do that you increase the price of food on people's plates. Do people want to pay more for their food?"

But Former British Ambassador Alp Mehmet hit back at the young Remainer claiming a lot of unemployed Britons could easily fill the gap.

He said: "James, I'm very sorry, but that's absolutely no excuse for mass immigration. Are you saying to me that if you want a bowl of strawberries on your table you've got to go to Romania or wherever to get the labour to come here and lie here and live their lives here forevermore?

"In order to provide you with those strawberries? That is absolute nonsense.
"


"If you pay enough, and the Migration Advisory Committee itself said, if you pay enough you will get the workers. There's plenty of spare capacity. I know we've got, in theory, full employment, but there's anything up to five million people frankly who could work more if the jobs were there. But where employers can bring in people at cheaper rates, lower rates, they're going to continue to do so."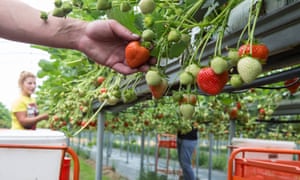 The good news is that, despite the terrible spring weather, there should be a bumper harvest this summer. A nation breathes a collective sigh of relief. "The crop's looking very good," said Nicholas Marston, chairman of British Summer Fruits. "It's a little later than last year, which, seeing that Wimbledon is a little late, is not a bad thing."

But the bigger picture in the strawberry fields of Britain this year is far from rosy. Whether growers will have anyone to pick the ripe berries is now a critical issue, one that has profound implications for the UK's food security, the health of its population and the sustainability of its countryside economy.

"Normally we have 10 people being interviewed by our agency for every job," said Stephanie Maurel, the chief executive of Concordia which supplies around 10,000 foreign workers to 200 farms in the UK each year.

"As of a month ago we are putting three or four job offers in front of each seasonal worker from Bulgaria and Romania. They are picking and choosing the ones they will come to. There has been a total switch around in 12 months. We've never had this before."
The temptation is to link the shortage of workers to
Brexit
. And, certainly, the UK's decision to leave has not helped matters. "The morning after the vote, we had a pretty depressed workforce," said Alastair Brooks who grows strawberries and raspberries near Faversham in Kent for supermarkets and employs around 200 Bulgarian and Romanian workers. "There were a few nasty incidents in town. People saying 'you'll have to go home now'. It brought out the worst in being British."
But other factors are at play. "The big problem isn't so much the referendum as the fact that unemployment in countries like Romania is falling very rapidly," Marston said. "Clearly, a full-time job in your own country is more attractive than a seasonal job in another country, so the whole pool of seasonal labour within the European Union is reducing annually."

So, just how acute is the problem?

Evidence submitted by English Apples and Pears Limited to the Department for Food and Rural Affairs (Defra) select committee suggests that almost a third of its members are scaling back as a result of the shortage. Some said they would be removing orchards, a troubling scenario given that more than 60% of the country's traditional orchards are estimated to have disappeared since the 1950s.

"Urgent action is needed now to avoid crops being left unpicked, food wastage, food inflation and displacement by imported foods," the submission stated.

The Association of Labour Providers was equally gloomy. It said 49% of labour providers do not expect to be able to source and supply sufficient seasonal agricultural workers this year and added: "Currently an average of 60% of agriculture and horticulture businesses are experiencing shortages in low and unskilled roles, with one in eight in crisis."
...

The labour shortage saw labour costs rise by between 9 and 12% last year. A similar rise is predicted this year. "If this continues we will see businesses start to disinvest," Capper said. "It's really bad news because fruit and veg is the success story of British agriculture. If we can produce it here it's going to be of better, nutritional value. Why would we want to diminish our investment in our food chain that delivers the greatest benefit in health terms?"

The roots of the crisis can be traced back to the government's decision in 2013 to end the Seasonal Agricultural Workers Scheme. Set up after the second world war to help Czech and Polish soldiers who had fought for Britain find work in the country, it has mutated down the years to allow workers from countries such as Belarus, Ukraine and Russia to come to the UK on seasonal visas. At its end, it was confined to Romanian and Bulgarian workers.

Taking the decision to scrap it, the government argued that with Romania and Bulgaria joining the EU there would be no shortage of migrant labour to work on the UK's farms. Indeed, figures released last week show that there are 2.3 million EU nationals now working in the UK, 2.4% more than there were in the immediate pre-referendum period. More than 400,000 of these are Romanian.

"But we didn't forsee that the whole of Europe would now be short of people to do this work," said Brooks whose employees earn in one week what they earn in four back home.

Many of the young, educated, English-speaking workers from eastern Europe have moved on to jobs in other sectors which offer full-time work or to countries such as Germany which are closer to home. In Britain's fields today seasonal workers from eastern Europe are now more likely to be in their forties, to speak little English and to find picking physically tougher than their younger predecessors.

The situation has become so bad that Concordia is currently recruiting workers from Moldova where a third of the population have Romanian or Bulgarian passports.

Other European countries are bringing in workers from outside the EU. Brooks said Poland was using workers from North Korea while Portugal was relying on migrant labour from Thailand. "Here's the irony," Brooks said. "We are the only country in Europe that has a European worker only policy. Everywhere else is recruiting from outside the EU."

Sunder Katwala, director of the thinktank British Future, said the majority of people accepted that Britain needed to bring in migrant labour if its food supply was to be maintained. "The public recognises that we need to find people to do these jobs if we want our strawberries to be picked," he said.

"The Seasonal Agricultural Workers Scheme helped fill these vacancies until it was scrapped in 2013. It did the job well and we may need something similar again – a well-managed scheme that brings in the workers we need and makes employers take responsibility for the local impacts of migration, such as on housing."

But the government appears to be in denial over the issue. In early 2017 it told the Defra committee that foreign labour shortage reports were anecdotal. Then, this February, Defra secretary Michael Gove seemed to signal a volte face, telling an NFU conference a scheme would be announced "shortly".

The previous home secretary, Amber Rudd, dropped a similar hint, but No 10 is said to be against the plan, perhaps fearing the headlines if it starts issuing visas to non-EU nationals. The fact that prime minister Theresa May was home secretary when the original scheme was scrapped may also be a reason, some growers believe. Few in the horticultural sector now expect anything to happen before the autumn when a government-commissioned report is published and the potential to offer temporary visas to overseas workers can be used as a bargaining chip in Brexit negotiations.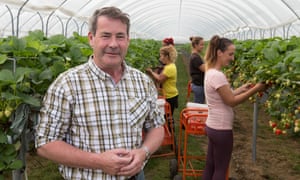 Soft fruit farmer Alistair Brooks, owner of Langdon Manor farm, fears the shortage of workers could be 'catastrophic' for his industry. Photograph: Andy Hall for the Observer

A Home Office spokesman defended its position. "The government places great value on the UK's food and farming industries, both as crucial components of the UK economy and of the fabric of rural Britain. Up until the end of the implementation period in December 2020, employers in these sectors will be free to recruit EU citizens to fill vacancies and those arriving to work will be able to stay in the UK afterwards."

Capper accused the government of allowing the issue of seasonal workers "to get tied up in the politics of immigration". "A scheme that brings workers in to pick and pack fruit and veg and them sends them home again has got nothing to do with immigration," she said.

Maurel said her organisation had been contacted twice last week by Border Force officials asking questions about the workers it was bringing into the UK – "the first time this had happened".

Brooks said similar questions had been asked of his employees. "We haven't had this sort of thing in 20 years. You do feel uneasy now as to where we are heading as a nation. We were all deeply shocked and embarrassed by the Windrush scandal but maybe that's indicative of where the Home Office is.

"If that's truly the case then that's a big problem for the UK economy."

And this is before the UK actually leaves Europe. Some 90,000 workers are needed this summer on UK farms. Of these, 35,000 are on seasonal contracts. "As we get closer to a cliff edge the government say we're going to have a transition deal but we don't know that," Capper said. "If we do crash out of Europe next year I won't have access to EU workers."

"That would be a calamity," said Brooks who is proud of the fact that, during the summer, 99% of Britain's strawberries and raspberries come from within its shores.

Could UK workers plug the gap? Unlikely. Attempts to recruit them have been "an unmitigated disaster", Maurel suggested.

"There is no appetite. We ring a bell in the office when a UK worker applies. We put jobs on Jobcentre Plus. Absolutely nothing happens. We've had two applications this year in five months."|