Politicians seem to like to work with grandiose schemes:
Futures Forum: Knowle relocation project: and the Skypark fly-through: "Many a contentious proposal has shimmied through the planning process (and on to the sales office) on the back of a series of CGIs, gleaming evocations that are liable to be slight on detail and heavy on seductive gleam."
And there is always the promise of 'growth', of 'jobs', of 'homes':
Futures Forum: "The new build for the western growth area of the district will provide much-needed business and employment for the young families as they set up new homes."
There have been a few hiccoughs, however:
Futures Forum: Knowle relocation project: volte face: the District Council will not be moving to Skypark: "Development at Knowle and changes to destination to be considered by cabinet"
In particular, the promise at the 'growth point' in the western part of the District has not been fulfilled:
Futures Forum: The Exeter Gateway intermodal logistics site ... "Sainsbury's confirms it will not progress with huge distribution centre near Exeter."
This had been part of the District Council's 'Inter-modal Facility' in its draft Local Plan.
It is justifies on the grounds that it will 'reduce the carbon load on the environment' - although how a warehouse on a motorway will do that is not clear:
3 Vision for East Devon to 2026
3.5 Our close working relationship with Exeter is creating not only a new town at Cranbrook but a critically important cluster of employment land, Science Park and airport with multimodal freight terminal to reduce the carbon load on the environment.
The District Council talks about its huge greenfield site destined for supermarket warehousing in the same paragraph as 'encouraging high technology industries':
3.8 East Devon will play its part in boosting the economy of the Exeter sub-region by encouraging significant growth within the West End of the District through:
a) continuing to encourage growth at Cranbrook, a prototype 'eco-town' new community, plus urban extensions East of Exeter;
b) promoting the Exeter Science Park, Skypark, an inter-modal rail freight depot, and the expansion of Exeter Airport; encouraging high technology industries and opening up our market and coastal communities to the latest technological innovations; and
c) facilitating the change to a low carbon economy and supporting an advanced public transport system to connect the main employment sites with established and new communities.
Interestingly, the 'unique nature' of this 'strategic allocation' means that the 'intermodal interchange' is 'not counted as an employment site':
6 Spatial Strategy:
West End
The Intermodal interchange covers a site area of around 44 hectares but on account of its unique nature as part of the transport infrastructure is not counted as an employment site/in employment land calculations.
There is a definition of 'intermodal freight depot':
7 Development of East Devon's West End
Strategy 9 - Major Development at East Devon's West End:
7. Multi-modal Interchange - Facility for interchange of goods and distribution centre;
There is talk of railway transport being at the heart of the interchange. But who would be responsible for paying for this infrastructure? And would any takers for the site be contractually bound to use rail?
West End Intermodal Interchange Facility
7.36 The East Devon Local Plan includes policy for the development of an Intermodal interchange. This proposal will ultimately allow for a major siding or railhead on the Exeter to Waterloo railway line that will accommodate the transfer of goods between rail and road. There will also be open space and buildings for the storage of goods awaiting transfer and some scope for road vehicle to road vehicle transfer.
Moreover, the promise of 'jobs' is just not there:
The unusual and substantial nature of this scheme, and the fact that it is transport related and provides low job numbers per hectare of development, is such that we do not count the land take of this scheme in employment land assessments. At November 2012 a large part of the site was being developed for a freight distribution depot for Sainsbury
The New East Devon Local Plan2006–26Proposed Submission (Publication)November 2012
However, things are moving rapidly on the ground: where Sainsbury's is failing to deliver the goods, Lidl's steps in.
The East Devon Watch blog has just pointed to a BBC story:

SAINSBURY'S GROWTH POINT SITE TO BE SOLD TO LIDL?

7 AUG 2015

http://www.bbc.co.uk/news/uk-england-devon-33804365

With what implications for the "inter-modal freight depot" one wonders?
Sainsbury's Growth Point site to be sold to Lidl? | East Devon Watch
And here is the full story:
Sainsbury's plans to sell Exeter depot site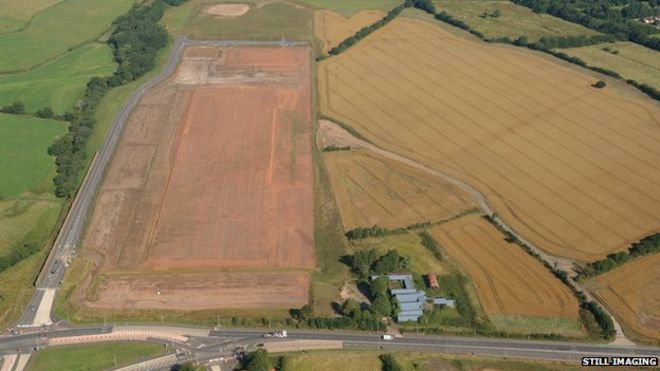 Supermarket giant Sainsbury's is in talks about about selling a site which it had planned to use for a depot.
The BBC understands the firm has been in talks with rival Lidl about the site near Exeter Airport.
Sainsbury's said in 2014 it was postponing plans for a depot on the site employing up to 450 people.
The firm admitted it was now talking to "a number of interested businesses and was working to bring the site back into use at the earliest opportunity".

Analysis: Simon Hall, BBC South West home affairs correspondent
The supermarket depot would be an important asset for the Exeter and East Devon growth point.
It would be a flagship employer, but it is not just be a question of creating jobs.
The depot would also generate significant publicity and business confidence, which could be effective in helping to tempt other companies to invest there.

Lidl said: "As part of our ongoing expansion plans we are continuously exploring opportunities across the UK.
With regards to this region we will provide further information as and when we have any updates."
Tim Jones, chairman of the Devon and Cornwall business Council, said: "This would be a great lift for the economy of the growth point, and the area. It's a beacon for investment."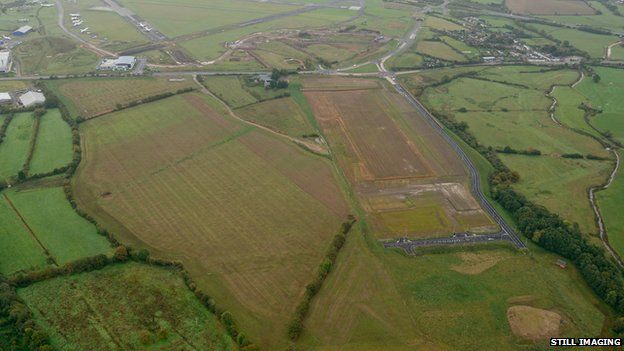 Sainsbury's plans to sell Exeter depot site - BBC News
See also:
Futures Forum: Crony capitalism and lemon socialism in East Devon........ The costs of "substantial growth and expanding business"
Meanwhile, what of the 'employment site' at Sidford?
Futures Forum: Questions remain about the Sidford business park
.
.
.