The District Council has committed itself to 'good design':
East Devon Design Review Panel
Our Design Review Panel provides feedback to the council and planning service on design and design related matters by scrutinising developments that have been approved and implemented.
To raise the importance of good design and demonstrate its value.

To learn from good practice and highlight areas of improvement in terms of design
Design Review Panel - East Devon
East Devon Announces New Leader and Cabinet Team
Thursday, 26 May 2011

Turning to his own vision for the future and his style of leadership, Councillor Diviani said: "Some call it Safe, Clean and Green – to which I would add Seen.

"Safe comes through good design at the planning stage...
Trinitymatters.co.uk website of Cllr Ian Thomas EDDC - East Devon Announces New Leader and Cabinet Team
The planners of
'Britain's first eco-town' Cranbrook committed themselves to 'good design':
Cranbrook will showcase 'eco-towns initiative'
Friday 27th July 2007 - 11:44am
The new community to be built at Cranbrook in East Devon will serve as a prototype for the new Eco-towns that Prime Minister Gordon Brown wants to see built in future.
And in pressing for the highest possible standards of sustainability and renewable energy usage on the green-field development near Rockbeare, with its own railway station, East Devon District Council is "blazing the trail, with challenging targets for energy efficiency and rail links into Exeter".
That's according to Richard McCarthy, Director General of Programmes, Policy and Innovation at the Department for Communities and Local Government, at a Growth Summit following this week's launch of the Government Green Paper on Housing.
Mr McCarthy told an audience of 300 delegates from central and local government with a special interest in regeneration and housing provision:"We must not overlook the need for good design of both homes and communities, the urgent need for the highest environmental standards and lifestyles, and an innovative approach to transport provision.
"Some of you are already making great progress in these areas. East Devon District Council are blazing the trail with the Cranbrook development east of Exeter, which will serve as a prototype of the new eco-towns which the Prime Minister has announced, with challenging targets for energy efficiency and rail links into Exeter".
Cranbrook will showcase 'eco-towns initiative' » Environment » 24dash.com
This is from a piece in the Telegraph, also from 2007:
Eco-town or eco-spin?

Developers are battling it out to win the contract to build Britain's first eco-village, which will serve as a prototype for the five eco-towns proposed by the government in May. Is this the beginning of a green building revolution or an empty marketing ploy, asks Jimmy Lee Shreeve

The battle is on for Britain's builders to show how green they are.
The former RAF Oakington airbase, five minutes north west of Cambridge, is one site earmarked for development into a 9,500 home eco-town called Northstowe. Another is Cranbrook, which will be built on former farmland six miles east of Exeter in Devon. Both towns were planned before climate change topped the political agenda, but both are in line with Government thinking on how to increase housing stock in a more eco-friendly manner.

Cranbrook is considered a blueprint for such developments. The Government's Eco Towns Prospectus, released in July, states: "Cranbrook will be designed to high environmental standards above current building regulations. The first phase includes providing 16.7 percent of energy from renewable sources, with its use of biomass boilers to heat schools, commercial buildings and community facilities. The steps they are taking will provide many useful lessons for eco-towns."

The town - which will be near Exeter Airport and a planned new "Skypark" business estate - is expected to consist of around 5,000 new homes by 2016.

Environmental campaigners, however, are unimpressed by the proposed eco-town and dismiss it as a "greenwash". They are concerned about the potential for increased carbon emissions from residents commuting to work and the fact that Cranbrook will be built near a flood plain.

"I find this eco-town claim utterly amazing," says Maurice Spurway, a spokesperson for Friends of the Earth. "Cranbrook will create a paved area close to a flood plain and its waste will probably be burned in an incinerator in Exeter, so carbon emissions would be maximised. The town is following all the wrong rules of development. This eco-town name is a marketing ploy without substance and I'm shocked the Government has fallen for it."

As far as Derek Wall, a Green Party principal speaker, is concerned, the whole eco-town idea is wrong-footed. "Even if these towns are as environmentally friendly as promised, we are still talking about building 100,000 new homes across the UK - which will have a devastating impact on the environment."
Hanham Hall: Eco-town or eco-spin? - Telegraph
With another report from the Western Morning News at the time:
How Eco are Gordon's Eco-towns
This is from a report from the New Communities Group of the Town and Country Planning Assn from 2011:
Whatever happened to ecotowns?
Ambitions to create a modal shift away from the car, provide high-quality green or open space, enhance local biodiversity, promote healthy lifestyles and reduced waste are all visible to varying degrees in the Cranbrook, Northstowe, Fareham and Lincolnshire proposals.
Whatever happened to ecotowns? - tcpa
new communities group | home
This is the design from the air:
www.architecturecentre.co.uk/assets/files/case-studies/Cranbrook_March_2010.pdf
Indeed, the plan looks very well-designed and very attractive:
New Devon town Cranbrook named in UK's top 60 developments | Western Morning News
As do the architects' drawings:
Cranbrook - Residential Development
But would you call what's actually on the ground as 'good design'?
Whether it's the
infrastructure being promised:
Spotted Cranbrook Devon | Facebook
Or the actual buildings being built:
Futures Forum: Cranbrook: What's the difference between a housing estate and an eco newtown?
Cranbrook - New Homes in Exeter | Taylor Wimpey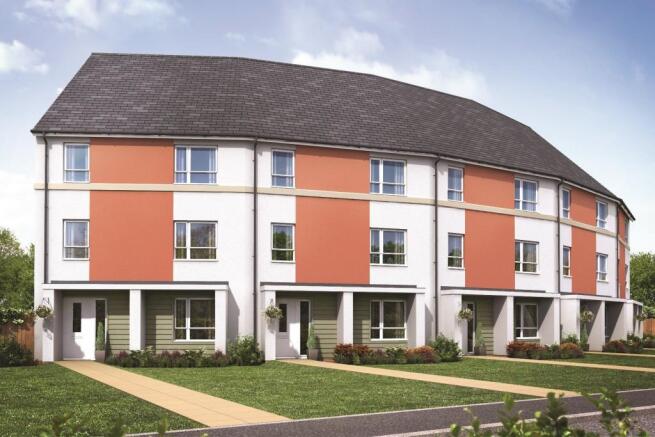 4 bedroom terraced house for sale in Cranbrook, London Road, Exeter, Devon EX5, EX5
The presenter of Grand Designs said this last year:
Builders 'churning out same old boxes', says Kevin McCloud
Grand Designs presenter criticises builders who 'churn out the same old boxes' when it comes to new housing, as he calls for 'better, greener and cheaper' self-builds
Builders are using relaxed planning rules to construct "enormous slabs of thousands of boxlike" homes in towns and villages as though they were "dropped out of a C130 Hercules", according to the presenter of the television programme Grand Designs.
Kevin McCloud intervened as the Government prepares to publish the results of a national review of architecture and the built environment tomorrow by one of Britain's leading architects.
The study by Sir Terry Farrell, who designed MI6's headquarters on the banks of the Thames, is to recommend a need for celebrity "champions" of architecture, as well as reform to the cost of training new architects.
It comes after Sir Simon Jenkins, the chairman of the National Trust, said planning decisions that have led to eyesore developments could only have happened in Sicily, the historic home of the mafia.
Mr McCloud, who runs a self-build housing business, said the recent tentative recovery in the housing market had meant builders had started to "churn out the same old boxes" that residents hate.
He told The Telegraph: "Land values are going up now and same old story, churning out the same old boxes, boxes with nothing on the front or some twiddly little Georgian columns. Either way it's the same old stuff.
"People on the whole are not anti-development, they are anti enormous slabs of thousands of boxlike units, dropped out of a C130 Hercules and parachuted into a place with no sense of place, no quality of building."
Mr McCloud, inset, said that the Coalition's new National Planning Policy Framework "bears the imprint of the Treasury all over it". The result was that many council planning departments were now being "swamped by applications from developers, from engineering companies, infrastructure companies to do all kinds of stuff", he said.
There was also "plenty of space" for developers to go in and really take advantage of the fact that only around half of councils have set up local protections making clear where building can take place, Mr McCloud added.
People near large developments were "right to be concerned about building, about wind turbines, about fracking, about all these issues that change our countryside", he said. "We are facing a period of accelerated change. Change is something that we are used to but at relatively slow and 'accomodatable' rates."
If builders took more care over architecture and design, local people would be more inclined to accept new developments, Mr McCloud said. "If a community doesn't want housing, what they really object to is c--- housing."
The high cost of land in Britain meant that "builders have had to get very good since the war at building badly, building cheaply to make stuff affordable", he added.
Mr McCloud was speaking at an event at the Houses of Parliament designed to encourage more people to build their own homes.
These so-called "self-build developments" were a better way to win support for local schemes, he said.
This month's Budget committed £150 million for 10,000 self-build plots.
Mr McCloud said: "Self-build is a very empowering process. It builds better, greener and, cheaper homes, more sustainable communities because the process of self-building alongside other people is a way of forming that magic glue which makes community.
"It employs people and I believe it builds better places."
A Department for Communities and Local Government spokesman said: "We have scrapped Whitehall targets which forced local authorities to build high-density flats rather than family homes and attractive terraces.
"Good design is vital to avoid the mistakes of the last century that led to unattractive and 'rabbit hutch' style accommodation.
"In addition, we have also abolished top-down Regional Strategies and Regional Assemblies, given more power to communities to shape where development should and shouldn't go, and introduced a range of measures to get empty buildings and brownfield land back into use.
"The level of Green Belt development has fallen to its lowest rate since modern records began."
Builders 'churning out same old boxes', says Kevin McCloud - Telegraph
See also:
Futures Forum: Cranbrook: What's the difference between a housing estate and an eco newtown?
Futures Forum: More happy news from Cranbrook... but is it all a 'con'?
.
.
.