When you consider this:
Flood information service - GOV.UK
And this:
Proposed Sidford Industrial estate – flooding issues | East Devon Watch
Here's how you'll get home tonight in Exeter, Mid and East Devon - Travel updates | Exeter Express and Echo
And this:
Wasn't Cranbrook supposed to be flood-free? | East Devon Watch
New flood warning issued for Exeter Quay and riverside properties | Exeter Express and Echo
As well as this:
Futures Forum: Knowle relocation project: dealing with flood risk from over-development is 'not technically feasible'
Overdevelopment of Knowle could cause problems for town's drains | Save Our Sidmouth
It brings us to this:
Devon worst hit by Storm Angus weather and floods – but little money for future prevention | East Devon Watch
As reported in today's Guardian:



Outcry over lack of cash for flood defences as storm hits south UK



Friends of the Earth reveals no funding earmarked for natural flood management despite ministerial pledge
Cars under flood water on Whitchurch Lane in Hartcliffe, Bristol. Photograph: Lee Gitsham/PA
Frances Perraudin @fperraudin Monday 21 November 2016

Comments1,044

The government has been accused of being "all talk and no action" on flood defences, as the first named storm of the season brought flooding and power cuts to the south of England.

Storm Angus saw gusts of up to 106mph recorded 23 miles off the coast of Margate, while gusts of 80mph hit Langdon Bay, also in Kent.

While Met Office weather warnings connected with Storm Angus expired at 1pm on Sunday as the storm moved out to the North Sea, a new series of warnings were issued for Monday and Tuesday for heavy rain in south-west England, parts of northern England and Wales.

Andy Page, chief meteorologist at the Met Office, said Devon was likely to be most affected. "Although the more persistent rain should clear from Devon by early afternoon, heavy and possibly thundery showers are likely to follow," he said.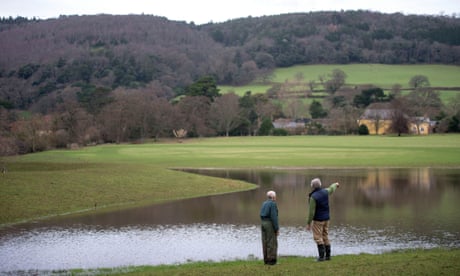 UK government not funding natural flood prevention methods

"Around 20-30mm of rain is expected fall in a three- to six-hour period in places, with as much as 40-60mm possible locally through the whole of Monday. The ground has been left very wet from Saturday night's rain and this increases the risk of further flooding."

Page added that the band of rain affecting parts of southern England and Wales on Monday would extend to parts of northern England later on Monday and into Tuesday morning.

The warnings came as the government was accused of failing to deliver on promises to fund "natural" flood management schemes such as planting trees.

A freedom of information request by the environmental group Friends of the Earth to the Department for Environment, Food and Rural Affairs (Defra) revealed that there was no funding earmarked specifically for natural flood management, despite ministers saying they would fund such measures.

Natural flood management schemes aim to slow the movement of water downstream to prevent flooding. This can involve creating water storage such as ponds, planting trees along water courses and restoring rivers to their original meandering path.

In his budget in March, then-chancellor George Osborne announced an extra £700m for "innovative flood defence measures". Friends of the Earth understands that former floods minister Rory Stewart earmarked £20m for natural flood defences before he left Defra in the June reshuffle.

In a recent letter to environmental charities, the environment secretary, Andrea Leadsom, wrote: "I fully support natural defence initiatives such as planting trees, which can slow the flow of water."

Guy Shrubsole, climate campaigner for Friends of the Earth, said last winter's floods "were a powerful reminder that we need to work with nature to reduce flood risk – and ministers wholeheartedly agreed".

"So far it's been all talk and no action," he said. "The government has failed to spend a single extra penny on natural flood management. Ministers must replace warm words with hard cash and announce a pot of at least £20m for natural flood defence in this year's autumn statement. Anything less will be a betrayal of the communities that flooded so terribly last winter."

A Defra spokesman said: "We're committed to better protecting the country from flooding and natural flood management plays an important role in our strategy. We're spending a record £2.5bn on flood defences to better protect 300,000 more homes by 2021 and many of these projects are already using natural flood management measures."

The Environment Agency also issued nine flood warnings and 57 less serious flood alerts in the south-west and parts of the north of England.

Alison Baptiste, national flood duty manager at the Environment Agency, said teams had been working through the night and were now preparing for further flooding as rain continues over the next couple of days.

"People should remember not to drive through floodwater and be aware travel may be disrupted," she said. "Environment Agency teams will clear blockages in rivers, continue to issue flood warnings and may operate flood gates and sea defences."
Outcry over lack of cash for flood defences as storm hits south UK | Environment | The Guardian
.
.
.