Four years ago, this was being said by the Chief Executive of the NHS:
We know community hospitals work. And at last, so does the NHS

Health chief Simon Stevens is right. Family care is best delivered at a local level, along with GP surgeries and social services

Fri 30 May 2014

Comments 98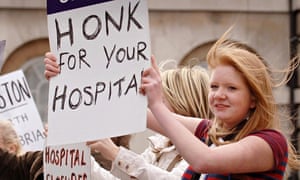 'When small hospitals are threatened with closure, this passion translates into protest.' Photograph: Rex Features

The message from the new NHS chief executive, Simon Stevens, that small hospitals have a big role to play, is important for local people who are passionate about theirs – and may be in the nick of time for some of them.

In practice, plans for the future of community hospitals vary considerably across the country, presenting a confusing picture for patients, staff and communities.

For instance, in Gloucestershire, there has been considerable investment in community hospital services and facilities, including the new hospital in Tewkesbury. In Oxfordshire, Bicester community hospital is opening this summer after two decades of public campaigning. By contrast, in Somerset, there are proposals for closing services in community hospitals, and just last week there was an announcement that Ashby hospital in Leicestershire will close.

Poltair hospital in Cornwall no longer has inpatient beds, while a "pause" on proposals to withdraw beds was successfully negotiated by the community in Swanage, Dorset and in Ashburton, Devon. Too many community hospitals have been losing their beds and services over the past few years.

Community hospitals have needed advice and a voice, and that's what the Community Hospitals Association (CHA) tries to provide. We know that local people are passionate about their local services, and see them as a vital community asset.

They are often closely involved with their service, such as through volunteering and donations, in a way that they are less so with the bigger hospitals. The financial support through a hospital's League of Friends can be considerable, funding buildings and equipment.

Local people witness the benefit of the service through their own experience or those of family and friends, and often contrast the very personal care in a small hospital with the care in larger acute hospitals. When small hospitals are threatened with closure, this passion translates into protest marches of thousands of local people, as there were recently in Millom in Cumbria, and in packed public meetings, such as in Clevedon, North Somerset.

The local community in Rye, East Sussex decided that they would take this into their own hands. They felt so strongly about safeguarding their service that they bought the hospital and land, extended it and have been managing it successfully for over 15 years. Their view was that it really mattered to local people, and that they would look after the service. Other communities have followed suit, such as in Odiham, Hampshire and Wells, Norfolk.

What makes the difference is the strong tradition of care in local community hospitals over 150 years, and the access to health and care services they provide in more remote and rural areas. The whole community benefits from services such as clinic appointments, treatment for minor injuries, physiotherapy and x-ray. Inpatient beds are predominantly used to support older people who need rehabilitation and support before going home, which is organised by local teams of staff including GPs, social workers, nurses and therapists.

It is this sensitive and appropriate local service that is so appreciated by patients and families. Patients who need palliative and end-of-life care can also be offered a local service close to their home and family. A number of hospitals carry out operations, and others have maternity units and dementia care centres. New clinical and technological developments mean that services such as kidney dialysis, ultrasound and MRI scanning can be offered in small hospitals.

A number of hospitals incorporate GP surgeries, social services and complementary therapies. The variation and diversity of service is often a response to local need, showing how far they have developed from the original cottage hospital concept. This range of service is achieved by working in partnership with the larger, more specialist hospitals and many other providers of health and social care.

When making the case for small hospitals, patients and their families often talk about the access to services in rural areas, the continuity of care by local GPs and staff, and the familiarity of the service. It is less daunting to go to your local hospital than to travel to a large district general hospital, and more manageable in terms of transport and parking. These are important considerations for frail older people and young families alike.

The community hospital network has been gearing up, and Simon Stevens's announcement has given a real boost to those who work in small hospitals. They know from their patients that their service is appreciated and is effective.

We at the CHA know that communities are engaged and enlivened by community hospital care. We know the 300 community hospitals across the country provide a different kind of care to the highly centralised care in acute hospitals. We can feel the NHS shifting in our direction, and since the announcement I have had a number of unexpectedly positive calls from commissioners. Not enough account has been taken of the community hospital sector until now. I believe, and hope, that is now changing.
We know community hospitals work. And at last, so does the NHS | Helen Tucker | Opinion | The Guardian

However, the reality is very different, as reported in the East Devon Watch today:
A SURGEON SPEAKS ON COMMUNITY HOSPITALS AND NHS PRIVATISATION



2 JUN 2018

"David Halpin FELLOW OF THE ROYAL COLLEGE OF SURGEONS knows what is needed – see his letter………

LETTER sent by DAVID HALPIN FRCS to the WESTERN MORNING NEWS

Dear Letters Editor, 25th April 2018

I reply to the letter from B Gelder (WMN April 23rd) entitled 'Cottage Hospitals ease strain on the NHS.' I have written before on this vital subject and listed their functions.

Recovery from serious illness or major operations requires loving and professional care, good nutrition and sound sleep. These were provided in good Community Hospitals. The last thing patients might get in the District General Hospital is a good night's sleep. The noise, the moving of beds and the distress of disorientated patients do not allow sleep.

This retreat, supposedly for economy, from past high standards is part of what I call the 'atomising' of all that we hold dear. The dogmas of capitalism win out all the time. 'Private good, public bad'. So with the privatisation of OUR railways under the Major government, the wheels were stupidly separated from the tracks to meet EU competition rules. There are about 3000 separate contractors working on the permanent way. There are probably more 'contractors' working in OUR NHS.

This is a sign of these shabby and confused times. Walking to Paddington Station past St Mary's Hospital where I qualified as a doctor in 1964, I saw an ambulance – 'NHS working in partnership with DHL.'

I understand that Teignmouth Community Hospital is likely to be closed completely. That catch phrase 'not fit for purpose' is being applied – 'going forward'. The Philistines who order this will know that the original hospital was bombed by the Luftwaffe. Seven patients and three nurses were killed. They do not 'remember them'. The first hospital to be built by the NHS, when the UK was on its uppers, was Teignmouth Hospital. Patients were treated for acute illness there by good GPs, nurses and physiotherapists, and others taken for further care from the big hospitals. It is being bombed again.

When this good hospital, with its views over Lyme Bay, becomes a 5 storey block of 'luxury' flats and second homes, the capital from the sale of the site will disappear in a puff of smoke. Taxpayers money is being burned in the NHS. The non-clinical staff in one Devon hospital now outnumber the clinical staff – nurses, physios, doctors etc. Watch BBC's 'Hospital' from Nottingham as a quart fails to be squeezed into a pint pot. The proliferation of managerial personnel with unusual titles is excruciating and the distress of patients likewise
."
A surgeon speaks on community hospitals and NHS privatisation | East Devon Watch
.
.
.