The picture emerging on energy prices and climate change is confusing...
There is the immediate issue of the collapse in the price of oil:
Futures Forum: Climate change: and lower oil prices
This is in the context of the current UN talks on climate change in Lima:
Futures Forum: Climate change: zero emissions target
On the one hand, there are suggestions that 'big oil' has lost its influence:
Oil's fading clout will aid climate change fight in Lima: Don Pittis - Business - CBC News
At climate talks, UN calls fossil fuels 'high risk' investment - INTERNATIONAL



Investors question forecasts from ExxonMobil and other oil companies



As climate talks wind down in Lima, investors are pressuring fossil fuel companies to account for climate change in business strategies. Yet many still forge ahead as if little has changed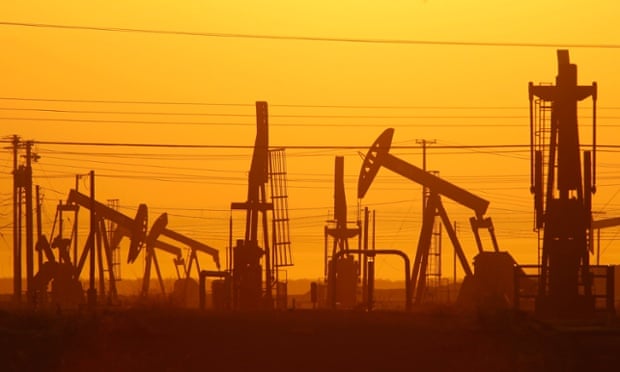 Pump jacks operate in an oil field in California, where gas and oil extraction using fracking is on the verge of a boom. Photograph: David McNew/Getty Images

A powerful storm of market forces is rippling across the fossil fuel industry: plummeting oil prices, weakening global oil demand, growing momentum for carbon-reducing regulations, and the rapid growth of renewable energy. In just the past few days, oil prices hit a five-year low of $61 a barrel and the Bank of England launched a review of the industry's stability, including the potential harmful impacts of stranded fossil fuel assets on the economy.

And all this is happening against the backdrop of international climate negotiations. As country representatives gather in Lima to build momentum towards an international climate deal next year in Paris, investors around the world are stepping up scrutiny of the fossil fuel industry.

From shareholder resolutions that have already been filed with seven companies as part of the 2015 proxy season in the US – including ExxonMobil, Hess and Marathon Oil – to filings this month with BP and Shell backed by 100 European investors, they're pressing the companies they own to address the escalating financial risks that are becoming more apparent with each passing day. Investorsare especially concerned about potentially wasteful spending to develop new fossil fuel reserves that would be unprofitable at today's oil prices.
Investors question forecasts from ExxonMobil and other oil companies | Guardian Sustainable Business | The Guardian
And there has been questioning of the hidden 'subsidy' to the oil industry:
Futures Forum: The $88bn fossil fuel bailout
Meanwhile, the Committee on Climate Change has come out with a report - one aspect of which looks at energy bills:
Futures Forum: Knowle relocation project ... the Committee on Climate Change predicts an increase in energy bills over the next 15 years of 30-45% ... the District Council predicts an increase of 400%
Low carbon policies could cut household energy costs after 2030, Committee on Climate Change says
10 Dec 2014, Mat Hope

A new report from the Committee on Climate Change (CCC) assesses the impact of the UK's low carbon policies on consumer energy bills. It expects households to pay more to decarbonise the UK's energy sector in the coming decades, but says that doing so should ultimately save people money as well as helping the UK hit its legally binding climate goals.

The committee's conclusion mirrors that of government analysis earlier this month that showed energy bills would rise significantly if the UK fails to implement climate policies.

The government is legally obligated to cut the UK's emissions, the committee points out. Some policies to cut emissions are paid for by households through a levy on their energy bills. While such levies are set to increase, decarbonisation should lower electricity prices in the long run and cut demand, meaning households save money overall, the committee says.

An average household on a dual fuel tariff could be paying about £130 more to support decarbonisation in 2030 than today, the committee projects. But the additional cost could be more than offset by the money households save by using less energy and indeirectly paying less for gas power as a consequence of the policies.

The most significant improvements need to be made around the UK's energy efficiency policies, according to the committee. For instance, the government needs to ensure all lofts and cavity walls in the UK's homes are insulated by 2022, with another 3.5 million solid walls insulated by 2030.

But decarbonising the UK's energy sector has other benefits the government may be interested in, the committee says. Supporting low carbon energy technologies can protect the UK from volatile gas prices, which the government predicts will rise between 2020 and 2030. If the government invests in renewables now, it means there will be more cheap, low carbon electricity available in the coming decades, restricting the impact of rising gas prices on household energy bills.

Nevertheless, the committee's report fits with government's own analysis that climate policies don't just have the potential to cut emissions, they could lower household energy bills, too. That might seem counter-intuitive given the current dynamic around bills, but it reflects how different the energy system will be if the government's decarbonisation project succeeds.
Low carbon policies could cut household energy costs after 2030, Committee on Climate Change says | Carbon Brief
The reality therefore is that the the idea that 'climate policies could lower household energy bills'
- in tandem with the climate change levy being paid today ...
CLIMATE CHANGE LEVY EXEMPTIONS FOR RENEWABLE ENERGY | Western Daily Press
... is indeed 'counter-intuitive
given the current dynamic around bills'
- with householders being asked to pay a 'carbon tax' on their energy bills:
Green subsidies on energy bills set to rise by four times by 2030 | Daily Mail Online
Green measures add £100 a year to energy bills | Environment | The Guardian
Green levies on household energy bills set almost to double - FT.com
And there are fears for the long-term effects on carbon emissions:

New era of cheap oil 'will destroy green revolution'
As the price of a barrel falls below $60, the long-term impact on wind, solar and hydro-power could be catastrophic for the planet
TOM BAWDEN
ENVIRONMENT EDITOR
Friday 12 December 2014
The collapsing oil price that is reshaping the global economy could derail the green energy revolution by making renewable power sources prohibitively bad value, experts have warned.
Oil tumbled below $60 a barrel for the first time in more than five years yesterday – a fall of 44 per cent since June. It is forecast to fall further.
A new "era of cheap oil" would be good news for consumers and motorists – but analysts say the consequences for politics, industry and the climate could be even more radical.
The ripple effects could help the Conservatives to remain in power at next year's general election by making voters feel richer as bills fall – while hurting Scotland's oil-reliant economy and setting back its campaign for independence.
The falling prices could damage the North Sea and fledgling fracking industries and make it harder for the UK to hit its legally binding targets to cut carbon emissions. But the biggest threat posed by falling oil and gas prices – in the UK and globally – is to the renewable energy industry dominated by wind-, solar- and hydro-power, experts say.
Solar panels around the world: 1 of 11
"Renewable energy subsidies have been mostly sold to the public on the basis of the economic benefits," said Peter Atherton, an energy analyst with Liberum Capital. "But the economic arguments hinged on the idea that fossil fuel prices would get more expensive, while expensive renewable subsidies would be able to come down over time. That's looking doubtful now."
Anne Robinson, director of consumer policy at the
uSwitch
price comparison website, said: "More subsidies are likely to be needed [for green power] as the gap between the cost of fossil fuel power and renewable power gets bigger." The extra subsidies would be borne by households in the form of higher energy bills.
Green energy technologies such as solar and wind had been banking on sharp increases in fossil fuel prices to make them increasingly competitive and help to attract the huge amount of investment required to build renewable power plants. But that "economic case" is now in danger of being lost, with the environmental argument seen by many as being insufficient to drive through high levels of green energy investment.

The oil price has tumbled in recent months as soaring US production greatly increases supply at the same time as the global economic slowdown reduces demand.

Saudi Arabia is also playing a part by preventing the Opec group of key oil producers from propping up prices by reducing production – a move that reportedly aims to deprive Russia of much-needed income and to make it uncommercial to extract US oil reserves, which are largely contained in shale and expensive to release.

A consensus is growing that oil prices will remain low for at least the next couple of years. It is looking likely that the substantial jumps that had been forecast in the 2020s and 2030s will not materialise.


Petrol prices have fallen more than 8p to 123.1p, but as oil is priced in dollars UK drivers are yet to feel the full benefitThe UK economy will benefit from cheap oil because the country is a significant net importer of oil and gas. Petrol prices are coming down, with Tesco reducing the price of petrol by a further 2p a litre yesterday, and a lid is being kept on household electricity bills. Meanwhile, a huge range of products and services are becoming cheaper as transport and energy costs fall.
"The oil price could give the economy a substantial boost, making the country materially better off. This could help the Tories get in at the next election because people will feel less concerned about the cost of living," Mr Atherton said.
But in Scotland, the consequences of the falling oil price are far more profound. "If, as we expect, oil prices remain low for some time, it would be a blow to the economic arguments for independence and call into question the optimistic fiscal forecasts upon which the case for an independent Scotland was made," said Maeve Johnston, a UK economist at Capital Economics.
The low oil and gas prices are hurting Scotland now because the North Sea is a key part of its economy and they will hit it in the future because, at these prices, it won't be commercially viable to extract many of the remaining reserves as what is left is difficult to access, making it expensive to extract.
Former SNP leader Alex Salmond famously promised to make Scotland the "Saudi Arabia of renewables" and much of its economic future is based on developing a world-leading green power industry.
"An independent Scotland would suffer quite badly if the low oil price was sustained. There would be lower growth, lower tax revenues and a much worse structural deficit. It would bring the economics of independence into question," said Professor Brian Ashcroft, of the University of Strathclyde business school. Scotland also hosts many of the renewable energy facilities threatened by the collapse in oil prices.
The falling price of fossil fuel may also damage the prospects for Britain's fledgling shale industry as fracking is a relatively expensive way to extract hydrocarbons and it may not be economic to do so, warned Dr Rob Gross, director of the Centre of Energy and Technology at Imperial College, London.
Energy boost: Potential effects of falling prices
Petrol prices
The most obvious way that falling oil prices will affect households is through cheaper petrol costs. Tesco yesterday lopped 2p off a litre of petrol and 1p off diesel. This was the latest in a series of price cuts among petrol providers in recent weeks, which have collectively knocked about 10 per cent off the price, leaving the average price for a litre at a five-year low of 119.0p.
Flights
Falling fuel prices should push down the cost of air travel because it's the airlines' biggest expense. It's also good for the airlines themselves, which have been struggling, with some going bust, because of high fuel prices. A good barometer is airline share prices – easyJet's is up more than a fifth since the beginning of September. On the downside, any boom in air travel is bad for the environment because aircraft produce colossal volumes of greenhouse gases.
Household energy bills
In theory, utility bills should be coming down as the wholesale gas price tumbles. However, the Big Six are renowned for rapidly increasing prices when wholesale prices rise and bringing them down much more slowly when they fall. This case is no exception. The drops in fossil fuel prices have yet to result in any utility bill cuts – a development the providers blame on Labour for pledging to freeze bills if it gets elected, thereby reducing scope for the Big Six to increase prices again if wholesale costs rise. But at least the falling fossil fuel prices mean utility bills haven't gone up.
Consumer prices
Falling fossil fuel prices will make a wide range of products and services cheaper as transport and energy costs reduce the cost of manufacturing and distributing them. This should feed through into higher consumer spending, which is good for the economy, not least because it will boost VAT receipts.
New era of cheap oil 'will destroy green revolution' - Environment - The Independent



Many of the 'solutions' to climate change strike as rather ... bogus:
Futures Forum: Climate change: the great carbon offsetting scam
Futures Forum: Climate change: the 'Big Fix': geoengineering solutions