There have been a lot of ideas scurrying about of late over how to be creative with the green belt:
Building on Greater Manchester's greenbelt: The case for and against - Manchester Evening News
Recently, the vision of "garden cities" was restated:
Futures Forum: Garden cities and greenfield sites
The latest idea is for "garden villages":
Futures Forum: Garden Villages ... "Empowering localism to solve the housing crisis"
Policy Exchange report calls for 'green belt deal' to boost housing supply | Planning Resource
Empower councils to build 'green villages', former Coalition planning adviser says - Telegraph
There is pressure on the greenbelt - from the left and from the right...
The view from the left: the green noose
November 6, 2014 12:00 pm
Few policies first instituted by government in 1938 survive anymore. The passage of seventy-five years, a World War, the formation of the welfare state, Thatcher's radicalism and globalisation have combined to kill off the certainties of a pretty infamous time.
There are one or two exceptions, and one of these is the green belt. First introduced for London in the year of the Munich debacle, the concept was extended by the post-war Labour government in 1947 and rolled out by their successors in 1955. It is a term that conjures up images of bucolic English countryside, full of rolling hills and copses of ancient English oaks.
That's nonsense of course. A better idea of what the green belt actually looks like can be found as you drive round the M25 and are rewarded with a vista of mostly lifeless scrub. A green belt is better characterised as a green noose, strangling our major cities (mainly – but not exclusively – London), increasing inequalities within them and exacerbating the acute housing crisis.
You do not need a degree in economics to realise that one reason why property prices in London are so high is because not enough houses – of the sort people want to live and raise families in in particular – are being built. The obvious solution is to expand London and build some of these houses on the land that is sitting there, unused and protected thanks to an edict passed by Neville Chamberlain's government.
But such sense runs into huge protests by green belt fetishists, such as
Simon Jenkins
, who lauds UKIP for apparently being the only party that cares about the British countryside. It's hardly surprising that UKIP are the loudest against any sort of development: their key constituency is the old and the fearful, so any sort of change is to be resisted, even if the voters such a message is aimed at are more likely to live in a depressed seaside town than near a green belt.
Indeed, selling the idea that we need to develop the green belt is not an easy one for any political party, mostly thanks to people like Jenkins propagating the idea that the green belt is an untouchable oasis of rural Britain. Yet eventually those so against any development are going to have to answer the question of why their children can't afford to buy a place in London to raise their grandchildren, despite their good jobs, and why their offspring keep having to pay more and more in rent to protect a scrubby field next to a major motorway.
People don't always vote for their own selfish interests. They are generally concerned to see that their children have a good life as well, a life that includes the realisation of that very British dream of owning your own house. It is not hard to make this argument, but it is vitally important. Without some acknowledgement of the need to expand our cities, green belt conservatives like Jenkins have won – and it is not the likes of him, comfortable ensconced in their own house and enjoying its huge appreciation in value over the past few years, that will suffer.
The view from the left: the green noose
Is it time to rethink Britain's green belt?
It's meant to curb sprawl and give city dwellers the benefits of the country. But some feel it protects the rich, stops houses being built and encourages commuting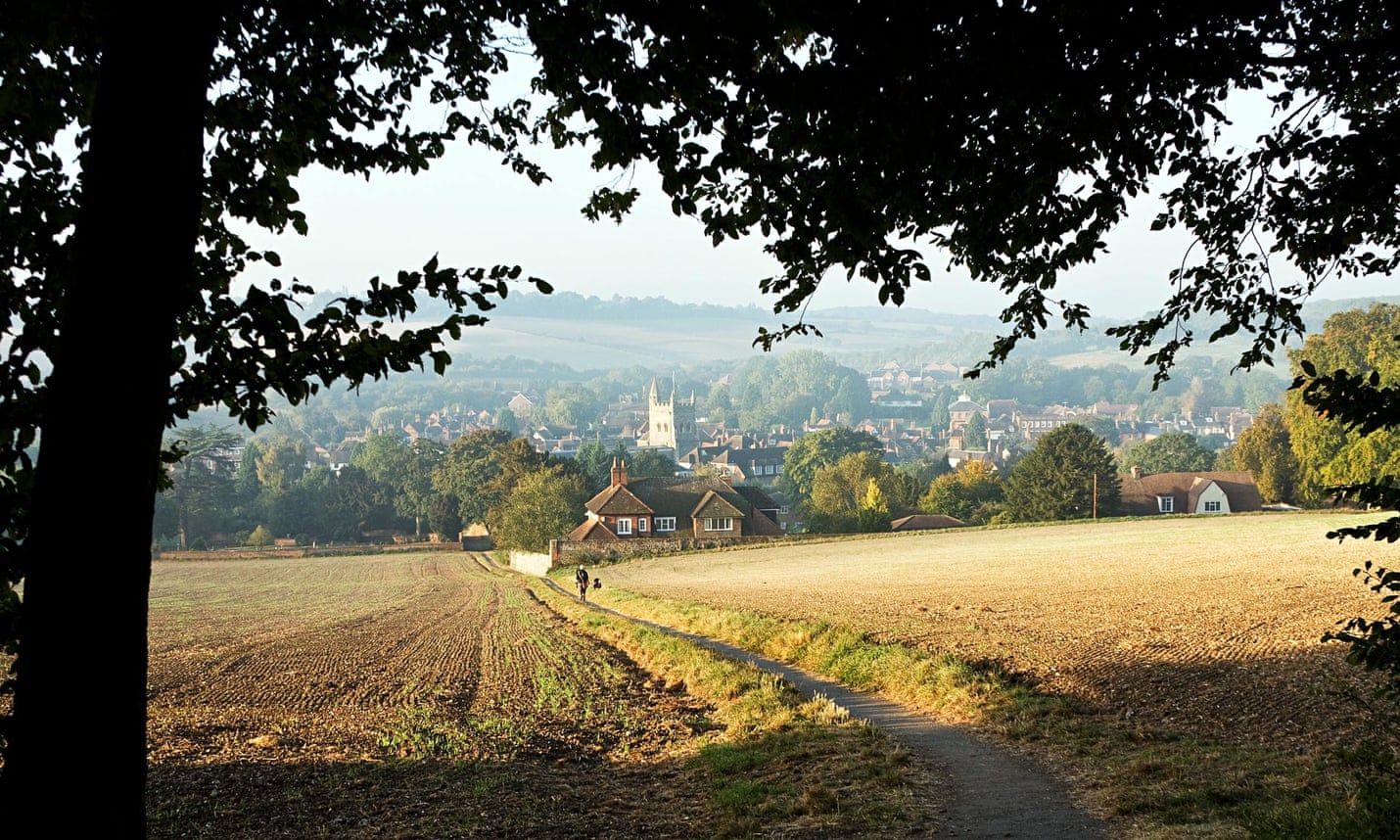 Amersham in the green belt in Buckinghamshire, 'a hybrid of idyll and unease' under threat from the proposed High Speed 2 railway line. Photograph: Alamy
In January 1914, Aston Webb, architect of the Victoria and Albert Museum, the facade of Buckingham Palace and parts of Birmingham University, had a dream. He told the London Society, a group of architects and others concerned with the improvement of the capital, how he was transported a century forward to the year 2014, where he saw "a beautiful sylvan line practically all around London", with "a certain amount of open spaces, pleasure grounds" set aside by "town planning schemes". He called it a "green belt".
As futuristic fantasies go, it was prescient. London is indeed surrounded by a green belt, as are 13 other urban areas in England and 10 in Scotland, zones that forbid new development, except, as the policy wording has it, in "very special circumstances". They occupy 13% the total land area of England, compared with the 10% that is urbanised.
Almost anyone you talk to on the subject agrees that the green belt is one of the great successes of planning, anywhere in the world. It has prevented the interminable exurbia, the light smearing of development over landscape that you get in the United States and many other countries. But it also has costs. It stops cities expanding, which had previously done so for centuries. It contributes to the scarcity and cost of decent homes in large parts of the country. It encourages bizarre and wasteful patterns of commuting. It often fails in its original aim of providing accessible recreational space for city dwellers. It is enforced with a rigidity that makes little sense, except as a sign of mistrust.
It would be naive to think that the country's housing problems would solved just by handing tracts of the green belt to developers. Something more is required, which is the ability to plan positively, to create new places as well as protect old ones, a skill this country had until relatively recently. It is not a small thing to rediscover this art, but then neither is the green belt, nor the current issues of housing. The green belt arouses strong passions, but the debates around it are about something still larger, which is the ability of a country to act together in a shared endeavour, or to subdivide into competing interests.
Is it time to rethink Britain's green belt? | Politics | The Guardian
Six reasons why we should build on the green belt
The public perception of the green belt is out of step with reality. It's not all green and pleasant land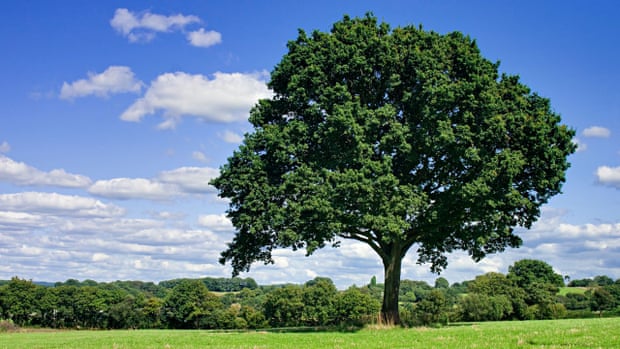 The public perception of the green belt differs greatly from the reality. Photograph: Graham Morley / Alamy/Alamy
1. It's not all green and pleasant land
Contrary to myth, the only function of the green belt is to stop urban sprawl (cities growing into one another). Green belt land has no inherent ecological or agricultural value, nor is it chosen because it has natural beauty or protected wildlife. Much of it is poor-quality scrubland or used for intensive farming, and defined as green belt purely to stop cities from growing. Most is privately owned and not accessible to the public.
2. It doesn't actually stop cities growing
The green belt has not stopped growth; it has just pushed it further out into rural areas not defined as green belt. Towns and cities grow by developing beyond their green belts and creating what we have come to term a commuter belt. The
London
commuter belt now arguably stretches from the Isle of Wight to Yorkshire.
In south Cambridgeshire, 19,000 new homes are to be built but all of them beyond the rigid green belt that surrounds the city of Cambridge. Many residents of new houses built beyond green belts will end up commuting further to work, creating more traffic and emitting more pollution. The pressure to develop homes within city boundaries also leads to more common urban areas, such as parks and playgrounds, being built over.
3. The countryside isn't being concreted over
Contrary to public perceptions, England is not being covered in concrete. Most people think that more than 50% of England is built upon, but the actual figure is 10.6%. Across the UK as a whole, it's as low as 6.8%. These figures include areas such as parks, gardens, allotments and sports pitches. By the time those have been taken out the figure
drops to just 2.27%
. The green belt, meanwhile, covers 12% of England.
4. It encourages inequality
The green belt increases social inequality by acting as a wall that confines urban dwellers at increasingly higher densities. Prof Paul Cheshire of the London School of Economics described it as "a very British form of discriminatory zoning, keeping the urban unwashed out of the home counties – and, of course, helping to turn houses into investment assets instead of places to live".
5. It worsens the housing crisis
England has a severe housing crisis and the greatest need for homes is in London and the south-east – the area that also has the most green belt land. Greater London contains 35,000 hectares (86,450 acres) of green belt land and there are another 75,000 hectares within the M25. Building on just on just a quarter of that land would provide over a million homes – enough to meet London's needs for generations to come.
6. It's partly why house prices are out of reach for so many
The green belt constricts supply and forces up land and house prices. Cities that are heavily constrained by the green belt such as Oxford, London and Cambridge have some of the most unaffordable homes in the in the country. This denies decent homes to people on low- and middle-incomes and forces people into long commutes.
Six reasons why we should build on the green belt | Housing Network | The Guardian
Building an economy upon a massive and growing distortion in the market for land is foolish
H
As usual, market distortions have large knock-on effects. Thus, a big proportion of the population have become land speculators; people who receive no help from their families are forced to live in cramped quarters or commute very long distances; the government feels forced to pay large subsidies for renting and now even house purchases; and the health of banking has come to depend on the continuation of the land scarcity. Paul Cheshire of the LSE even argues that these policies have made houses more similar to art or gold than to humble dwellings.
How can this be justified? The response is that this is how one preserves England's green and pleasant land from the blight of urbanisation. Let us leave aside the fact that the majority of people want to live in cities. The big question is whether the amenity value justifies forgoing the value revealed in the extraordinary prices of residential land.
In fact, the land in green belts alone is one and a half times greater than in all cities and towns together. Moreover, the towns are far "greener" than green belts. Gardens cover nearly half of the 10 per cent of England that is urbanised, while the dominant use of land in green belts is intensive arable farming, which is mostly hideous and offers less biodiversity than urban parks and gardens. Nor do green belts offer much if any amenity to the bulk of the population that lives in the great cities. Their value goes to the small number of people who own houses inside them.
So what is to be done? The price mechanism should rule. There should be a presumption of development in green belts, unless the cost of new infrastructure exceeds the benefits. Developers should pay a fee to local councils at least equal to the additional infrastructure costs, and ideally more than that, in order to encourage development. Some combination of fees and subsequent taxes on beneficiaries should also meet all additional cost of public services. A tax on undeveloped sites would help ensure that land was developed. Finally, those prepared to argue that a valuable amenity risked being lost should be entitled to challenge the presumption of development. But they would also need to produce evidence of value of the lost amenities.
I understand the vested interests of those with houses in or near the green belts. I understand, too, the risks of a policy that might actually lower house prices. But building an economy upon a massive and growing distortion in the market for land is foolish. We do not need to concrete over England. We do need to stop constraining the growth of the places where people really want to live. It is untrue that the green belts are areas of outstanding amenity. They are rather sources of increasing misery, as an ever-larger population is crammed into an artificially limited space.
This is a really big issue. That is, of course, why no politician dares touch it.
The Green Noose
• Despite academics, politicians, and international organisations recognising that the UK is facing a housing crisis, it is currently far less developed than many imagine, especially when compared to similar countries. Indeed, only two members of the EU 27 have less built environment per capita than the UK: the Netherlands and Cyprus. 90% of land in England remains undeveloped, and just 0.5% would be required to fulfil this decade's housing needs.
• Green Belts are not the bucolic idylls some imagine them to be; indeed, more than a third of protected Green Belt land is devoted to intensive farming, which generates net environmental costs.
• The concept of ever-expanding urban sprawl is mistaken and pernicious. In addition, Green Belts can give rise to "leap-frog development", where intermediate patches of land are left undeveloped due to restrictions, a phenomenon indistinguishable from what many understand urban sprawl to be.
• By encouraging urban densification, Green Belts take green space away from those places where it is most valued. Each hectare of city park is estimated to be of £54,000 benefit per year, compared to a mere £889 per hectare for Green Belt land on the fringe of an urban area.
• There are substantial welfare costs of Green Belts. They have made accomodation more expensive and smaller, increased costs for businesses (especially relative to other European cities), and have contributed to the volatility of house prices.
• The avenue of reform we favour is the complete abolition of the Green Belt, a step which could solve the housing crisis without the loss of any amenity or historical value – if only politicians and planners had the courage to take it.
• Failing this, we conclude that removing Green Belt designation from intensive agricultural land would also enable the building of all the housing required for the foreseeable future, and could help ameliorate the catastrophic undersupply of recent decades.
• In the short term, simply removing restrictions on land 10 minutes' walk of a railway station would allow the development of 1 million more homes within the Green Belt surrounding London alone.
The Green Noose « Adam Smith Institute
Press Release: Free up 3.7 percent of London's Green Belt to build one million new homes, says new report « Adam Smith Institute
Author of ASI report "The Green Noose" appears on the Today Programme - YouTube
Sacrifice Green Belt land near stations, recommends report - Telegraph
See also:
Futures Forum: Greenfield vs Brownfield
Futures Forum: Green Belts: the Seaton-Colyford 'green wedge'
Futures Forum: Persimmon, Sidmouth and "promoting well-designed housing that is sustainable and provides much-needed new housing..."
Futures Forum: The NPPF under pressure: building houses on green space
Futures Forum: Green Belts: the Seaton-Colyford 'green wedge'... "The shortfall in housing land supply is not so severe..."
Futures Forum: Greenfield and Brownfield
Futures Forum: CoVoP: Community Voice on Planning
Futures Forum: Greenfield vs Brownfield: part two
Futures Forum: "The village of Feniton has been targeted by speculators seeking housing developments" - but the Inspector has now rejected most of these...
Futures Forum: Feniton, development and scaremongering
Futures Forum: The solution to East Devon's housing crisis? Build on the green belt
Futures Forum: Fragoff: "The vote was seen as a referendum on Labour's plans to develop on Formby's green belt and a rejection of Labour's Local Plan."
Futures Forum: "The NPPF attaches great weight to conserving landscape and scenic beauty in AONBs."
Futures Forum: Fragoff of Community Voice on Planning: discussing housing and greenbelt on the Sunday Politics Show
Futures Forum: The pressures to build on green fields: in the Southwest - and across England
Futures Forum: The pressures to build on green fields: the NPPF... how did we get here?
Futures Forum: The pressures to build on green fields: the NPPF... where do we go from here?
Futures Forum: Of 'urban wildlife' and 'brownfield sites'...
Futures Forum: "Waste of Space" campaign to identify alternative sites: "More housing is needed in England and we support the Government's policy that brownfield land should be used for new homes."
Futures Forum: The pressures to build on green fields: in the Southwest - "The lack of a local plan for meeting housing targets does not necessarily undermine the protection that our countryside merits."
Futures Forum: The pressures to build on green fields: 'intention to build'... is not the same as 'applying for outline planning permission' ... is not the same as 'applying for full planning permission'
Futures Forum: Housing in East Devon: "I don't see it as the floodgates opening, but I do see a stampede coming."
Futures Forum: Persimmon, Sidmouth and greenfield sites
Futures Forum: UKIP and the greenbelt
Futures Forum: Independent politicians and the greenbelt... and corruption in UK local government
Futures Forum: Are you a SWIMBY? >>> Something Wonderful In My Back Yard >>>
Futures Forum: "National Trust accuses an arrogant and philistine political class of ruining some of our loveliest countryside."
Futures Forum: "Rural communities ... are being ruined by house builders 'let off the leash'"
.
.
.