Flybe has been in a serious trouble:
Futures Forum: Brexit: and Flybe's warnings
Futures Forum: Brexit: and Flybe for sale
A rescue deal has now been sorted:
'Proposed Teesside Airport operator' agrees takeover of Flybe airline with Virgin Atlantic - Teesside Live
With details from the BBC:
Flybe rescued by Virgin and Stobart

4 hours ago

Flybe is being bought for £2.2m by a consortium including Virgin Atlantic and Stobart Group. It will operate under the Virgin Atlantic brand, marking a return by Virgin to domestic flights, following a failed attempt five years ago.

Based in Exeter, Flybe carries around eight million passengers a year from airports such as Southampton, Cardiff and Aberdeen, to the UK and Europe.

The sale comes after Flybe's profits warning in October . Shareholders in Flybe will receive just 1p a share and the consortium, which also includes venture capital firm Cyrus, will inject £100m.

Christine Ourmières-Widener, Flybe's chief executive, said the industry has been suffering from higher fuel costs, currency fluctuations and "significant uncertainties" presented by Brexit. "We have been affected by all of these factors which have put pressure on short-term financial performance," she said.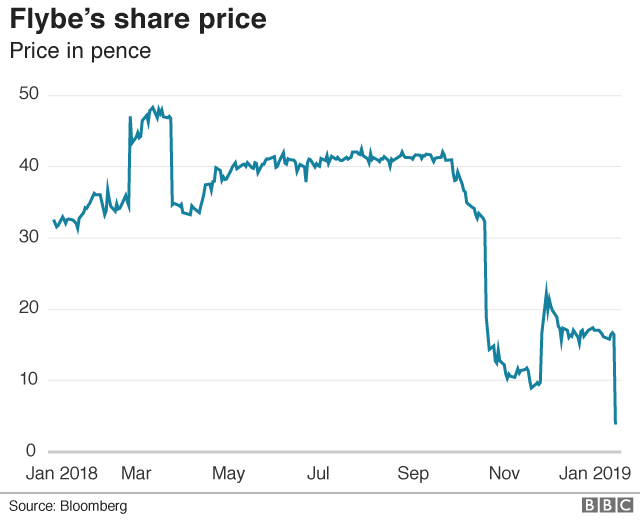 To support the on-going operations of the airline, the consortium, known as Connect Airways, will initially lend £20m to Flybe. A further £80m will be invested in Flybe, which describes itself as Europe's largest regional airline.

Connect Airways will also buy Stobart Group's regional airline and aircraft leasing business. The group said it would "create a fully-fledged UK network carrier" - an opportunity for Virgin, which currently focuses on long-haul, to expand in the UK.
Sir Richard's last attempt to launch a regional UK airline failed

Virgin, founded by Sir Richard Branson, abandoned attempts to run domestic flights in 2014 through its Little Red airline. Virgin Atlantic is now a joint venture with Delta Airlines.

Warwick Brady, chief executive of Stobart Group, said it would also be an opportunity to get more passengers to fly from Southend airport, which it owns, along with Carlisle airport.

John Strickland, director at JLS Consulting, said: "It's still a difficult part of the airline market to operate in. The regional segment is the hardest, because it is short flights where passengers are price sensitive and there's competition with rail and road."

But getting a big cash injection should help the financial performance of Flybe and maintain routes, he said. The 1p-a-share offer is well below the 295p at which they were floated in 2010 and the levels around 30p at which they were trading before October's profits warning.

Flybe's rescue comes after the collapse of Monarch Airlines and Primera Air.
Flybe rescued by Virgin and Stobart - BBC News
And further prognosis from the Independent:
FLYBE: WHAT WENT WRONG WITH THE AIRLINE AND WHAT HAPPENS NEXT?



As Virgin Atlantic and others mount a rescue bid, your questions about the UK regional airline answered

Simon Calder Travel Correspondent
@SimonCalder
1 hour ago

Regional airline Flybe has been a solidly performing carrier in its 40-year history, but this week shares nosedived by 90 per cent as a consortium led by Virgin Atlantic swooped in with a cut-price offer to buy the Exeter-based firm, which had recently begun to stall.

It is now about to undergo a radical makeover.

Here are the key questions:

Just remind us about Flybe, and its current problems?

The carrier began life as Jersey European in 1979, and has built up a busy network of services serving the UK, Ireland and continental Europe.

But there have been some serious management blunders over the years. In September 2017, Flybe decided to take on the Scottish airline, Loganair, on key links to the Northern and Western Isles. By the time Flybe threw in the towel in February 2018, both airlines had lost millions.

Before that, a failed IT systems upgrade cost Flybe millions more. The carrier is also suffering from Brexit uncertainty, which is damaging consumer and business confidence, and weakening the pound.

While Flybe earns revenue mainly in sterling, its costs are in dollars and euros.
Read more
Flybe rescued but only if investors agree to a wipe out

Two months after Flybe put itself up for sale, The Independent believes it is now losing money at a rate of £7,000 an hour.

Why is it so tough?

Everything is against the UK regional airline. Air Passenger Duty adds £26 to the cost of a domestic return ticket. Many routes can be substituted by road or rail. And as soon as the airline creates a market, one of the big boys comes in with bigger, faster planes that can offer cheaper fares. Looking at a route such as Edinburgh to City of Derry in Northern Ireland – that is natural Flybe territory, but it's been captured by Ryanair.

Who is coming to the rescue?

The loss-making regional airline is to be bailed out by a consortium of three parties, each with their own aims. Virgin Atlantic has a 30 per cent stake in the venture, and wants to feed into the Heathrow and Manchester hubs for its long-haul operations, as well as rebranding the airline; Virgin Atlantic is much more memorable than Flybe. Sir Richard Branson's airline will more than double Its fleet, with 78 Flybe aircraft to be repainted.

Stobart Group – whose Irish-based airline, Stobart Air, already operates some of its flights under the Flybe brand – wants to boost flying from the two airports it owns. And a hedge fund, Cyrus Capital Partners, has the remaining 40 per cent share, which it will presumably sell if and when the value of the airline increases.

The parlous state of Flybe is revealed in the purchase price of just £2.2m – compared with a one-time market capitalisation of £250m.

What will it mean for staff?

No-one knows. Pilots say they weren't consulted. The HQ staff in Exeter will be worried Virgin Atlantic may cut head count at the Devon airport and move some jobs to its base in Crawley, just south of Gatwick.

And passengers?

At present, all operations continue as normal.

While Virgin Atlantic (short-haul) is promising enhanced customer service, there are no promises on routes. The buyers will be looking closely at every link, assessing whether planes, pilots and cabin crew could be more profitably deployed elsewhere.

Changes could take effect as soon as the end of March, when the summer schedules begin.

Looking at the route networks, links from Edinburgh, Glasgow and Aberdeen to the southern half of England and to Belfast City in Northern Ireland look secure, and likewise Exeter and Southampton to the north and west will probably survive. But East Midlands aircraft could be re-directed to Manchester to boost frequency there.

Internationally, feeds to Amsterdam and Paris are likely to increase ahead of the Air France-KLM buy-in to Virgin Atlantic, which will see them taking 30 per cent of the airline.

Southend is likely to benefit from new aircraft and an extended European and domestic network. But some of Flybe's non-core routes – such as Cardiff to Milan, Doncaster to Alicante and Leeds Bradford to Dusseldorf – may not survive a cull if the new owners continue the current "shrink-to-success" strategy.

What about a new fleet?

It is most unlikely anything will change in the near future, beyond Flybe continuing to return Embraer jets and standardise around the Bombardier Q400 aircraft.

In time, it will depend on what path Virgin Atlantic takes with the new airline – it is possible Airbus or Boeing jets could be deployed on some routes.
Flybe: What went wrong with the airline and what happens next? | The Independent
.
.
.