At Glastonbury, revellers will be asked to drink from alternatives to the usual:
Glastonbury goes green: festival declares war on plastic water bottles
Reusable steel bottles to be distributed as 400 drinking-water taps are erected

Mark Townsend The Observer, Sunday 22 June 2014
Jump to comments (394)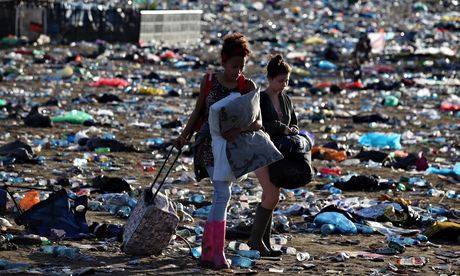 Fans leaving the 2011 Glastonbury festival. An estimated one million plastic water bottles are left behind each year. Photograph: Matt Cardy/Getty Images
Next weekend's Glastonbury festival is to combat the scourge of the plastic water bottle as part of a long-term strategy to become the world's most environmentally friendly outdoor musical event.

Festival organisers are targeting the disposable bottle – one of the most conspicuous symbols of the throwaway culture that each year leaves the 900-acre Somerset site wreathed in plastic, with an estimated one million plastic bottles being used during the festival.

Stainless-steel reusable bottles will be given to 2,000 road crew and band members, with thousands more on sale to festival-goers to stop them relying on plastic bottles. The 140,000 ticket-holders are also being urged to bring reusable bottles that they can fill at 400 drinking water taps dotted across the site.

Lucy Smith, Glastonbury's green issues organiser, said: "We have amazing water quality in the UK but everyone is obsessed with drinking bottled water." She said the initiative precedes a plan for Glastonbury 2015 to replace all plastic pint pots and cutlery with reusable items in an attempt to eradicate the legacy of plastic waste from the huge rural site.

Environmentalists estimate that 150 million tonnes of plastic waste currently litters the planet and oceans, poisoning ecosystems and killing wildlife
Glastonbury goes green: festival declares war on plastic water bottles | Music | The Observer
There are lots of alternatives out there to plastic:
HowStuffWorks "Top 5 Eco-friendly Substitutes for Plastic"
How to live without plastic:
Tips and Alternatives | Plastic Manners
Plastic-free Living Guide
The alternatives:
Life Without Plastic - Glass and Ceramic, plastic alternatives, non-plastic material, plastic substitutes
FORM AND FUNGUS
Can mushrooms help us get rid of Styrofoam?
BY IAN FRAZIER MAY 20, 2013

Gavin McIntyre, the co-inventor of a process that grows all-natural substitutes for plastic from the tissue of mushrooms, holds a pen or pencil in an unusual way. Gripping it between two fingers of his right hand, he moves his arm across the paper so that his wrist grazes the inscribed line; because of this, he uses pens with ink that doesn't smear. When he draws an explanatory diagram of the chitin molecule—chitin is the principal component of mycelium, the white, rootlike vegetative structure of fungi—he bends over his work, then looks up earnestly to see if his hearer has understood. The gesture makes him appear younger than his age, which is twenty-eight. He wears glasses and has straight black hair, dark eyes, and several piercings, with studs in his lip and ears.
Ian Frazier: Can Mushrooms Help Us Get Rid of Styrofoam? : The New Yorker