Cambridgeshire is an innovative place when it comes to planning:
Futures Forum: Busway or railway or cycleway?
The Wildlife Trusts take us to a new housing development in the county:
Housing and wildlife: examples of our work
Trumpington Meadows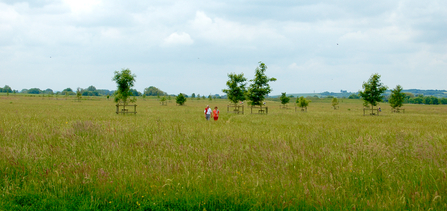 Trumpington Meadows is a meadow nature reserve that is part of a large housing development on the southern fringe of Cambridge. When the land was allocated for development, the local council required the provision of large green corridors to connect the centre of Cambridge through the new development to the countryside beyond.
Trumpington Meadows Land Company wanted to create a high-quality development and viewed a new country park as integral to this. The Wildlife Trust for Bedfordshire, Cambridgeshire & Northamptonshire helped to design and create the development's green spaces and now manage the country park.
Local play areas, swales and tree avenues are included throughout the development. The 58-hectare country park is designed to be both a space for people and a 'nature reserve'. The creation of over 40 hectares of new species-rich meadows, hedgerows, woodlands and restored floodplain meadows began before the first houses were built to allow the landscaping and habitats time to mature.
The country park sits beside the River Cam. The river habitat has been restored and the river re-connected with its floodplain meadows, reducing flood-risk downstream. A new pond with overflow area and open ditch features, slows rainwater runoff to the River Cam whilst providing additional habitat for wildlife.
Read more
Housing and wildlife - examples | The Wildlife Trusts
Here is their recent report:
Homes for peopleand wildlife- How to build housing in a nature-friendly way
From Gloucestershire Wildlife Trust: HAB Housing Scheme Uses Building with Nature Benchmark | HAB - Custom Build Homes
.
.
.