We can dispute the 'fact' that there is a 'need' for more housing:
Futures Forum: Housing crisis - what housing crisis? ... "Evidence for a UK housing shortage is hard to come by."
Futures Forum: Identifying housing 'need'
Futures Forum: Identifying housing 'need' in East Devon: "Floodgates are open for developers"
Futures Forum: Housing: "it would be impossible to build to meet demand because there is a never-ending queue of people who want to move to Devon."
When it comes to the actual building of whatever housing is 'needed', there are fundamentally two approaches:
Do we go for a completely free market to provide housing?
Futures Forum: Adam Smith and rationing housing supply
Futures Forum: A solution to our housing problems: we need more slums

Government Is Why the Rent Is Too Damn High
The reasons why should not surprise you
RANDAL OTOOLE Friday, October 30, 2015
Rising home prices and apartment rents have been in the news lately, but almost no one is looking at the real causes behind these problems. Instead, they are proposing band-aid solutions that will do little to help most people afford housing but will greatly benefit special interest groups.
Eighteen months on, things need a little pushing:

PLANNING PERMISSION DOES NOT EQUAL HOUSES BUILT
5 NOV 2015
15,000 houses given planning permission in Ebbsfleet – 350 so far built. Incredible – this is commuter belt for London and on the Eurostar route – so houses should sell like hot cakes. But developers don't want to build the infrastructure!
"Although Ebbsfleet was earmarked for major development back in 2003, and permission has been granted for 15,000 housing units, only 350 have so far been built. This is credited to a reluctance on the part of private firms to fork out for infrastructure, rather than a lack of demand. And so, accordingly, £200m of public money is being used to jumpstart the process."
England's brown and pleasant land needs protection too | Catherine Shoard | Comment is free | The Guardian
Planning permission does not equal houses built | East Devon Watch
This is the politics of 'infrastructure':
Futures Forum: "You can't take the politics out of infrastructure planning"
Futures Forum: Subsidies and social engineering: or why we build roads.
Michael Hesteltine has always talked about the 'excitement' of the entrepreneurial venture:
No Stone Unturned - gov.uk
Heseltine: The Sequel | Business | News | The Independent
Why England's future is bright - Telegraph
And he's now heading the National Infrastructure Commission:
East Devon Watch
Infrastructure at heart of Spending Review as Chancellor launches National Infrastructure Commission - News stories - GOV.UK
Industry backs Chancellor's new Infrastructure Commission appointments | Infrastructure Intelligence
In other words, the NIC has got the Chancellor to commit to spending £100 billion in infrastructure spending by 2020:
Uk infrastructure boost planned through raising billions selling public assets | Daily Mail Online
Osborne's big sell-off to fund infrastructure building spree (From Herald Scotland)
Industry backs Chancellor's new Infrastructure Commission appointments | Infrastructure Intelligence
It seems, then, that entrepreneurs don't always like taking risks:
Ebbsfleet: Model garden city?
By Sanchia Berg: Today programme:
3 November 2015
Image copyright: Land Securities/Erith

Ebbsfleet, in Kent, would appear to be an ideal development opportunity, as estate agents put it. In the Thames Estuary, it's just 17 minutes from central London via high-speed rail, the giant Bluewater shopping centre is a short drive away and there's planning permission for 15,000 new homes in a lovely landscaped setting.

And yet, eight years after construction started, there are only 350 housing units on this giant empty site, which was once four quarries. That's partly down to the recession and partly down to the way property developers work.

In a revealing article published last year, Francis Salway, former chief executive of the largest listed property company in the UK, Land Securities, explained that developers don't relish huge empty sites like the former quarries at Ebbsfleet.

They like "established demand" and "existing communities", he wrote, which prove people really do want to live there. The developers like to "limit the forthcoming supply" - that is, to ration how many homes come on to the market at one time so that the market is not flooded.

They don't like long projects which risk being hit by a downturn and they don't like high "up front" costs - cleaning up sites and building new roads and sewage plants.
Ebbsfleet: Model garden city? - BBC News

New garden city in Kent 'will provide up to 5,000 homes by 2019'

Ebbsfleet Development Corporation chairman says he will use public money to persuade developers to speed up delivery in Thames gateway
Part of the area included in proposals for the garden city near Ebbsfleet, Kent. Photograph: Graham Turner for the Guardian

Robert Booth Tuesday 3 November 2015

Up to 5,000 new homes will be built by 2019 to kickstart the UK's first 21st-century garden city, the man charged with its delivery has said.

Michael Cassidy, the chairman of the Ebbsfleet Development Corporation, which has been tasked by ministers with creating a 15,000-home community in a disused quarry in Kent, said he would marshall public money to help persuade private developers to speed up delivery.

The brownfield site on the Thames estuary has been earmarked for development since 2003 when Tony Blair said it would be the key part of a 120,000-home Thames gateway development. A high-speed rail link to St Pancras station in London opened in 2007, but only a few hundred homes have since been built.

"We would expect to deliver between 3,000 and 5,000 homes in the foreseeable future, I'm talking the next three or four years, but at the moment the delivery rate is much slower than that," Cassidy told BBC Radio 4's Today programme.

Even though the first phase of the development is sold out, the next phase will see just 950 homes built by the private housebuilder, Redrow. It has been inundated with four expressions of interest for every home.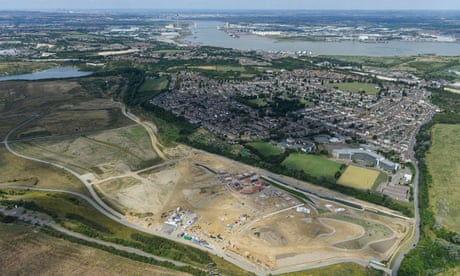 Cassidy admitted the private developers' "instinct would be to take it slowly", but said: "Our job is to get close to them, work hard alongside them and provide government resource to make it worth their while. They are not going to do it as a charitable enterprise."

In March 2014, George Osborne pledged up to £200m in public investment "to support 15,000 new homes and create the first garden city for almost 100 years".

That will be spent on "roads, water, sewerage and hard infrastructure", a spokeswoman for the development corporation said.
New garden city in Kent 'will provide up to 5,000 homes by 2019' | Society | The Guardian
Ebbsfleet garden city: 3,000 to 5,000 homes to be built within five years says development corporation chairman Michael Cassidy
Meanwhile, East Devon has its own garden city:
Futures Forum: Happy news coming out of Cranbrook... churnalism and the partnership between developers and politicians...
And there is the partnership between the entrepreneur and the local authority:
Futures Forum: 'Planning gain' - the replacement for S106 cash from developers - the Community Infrastructure Levy - but is it still 'bribery' by a different name?
Futures Forum: Crony capitalism and lemon socialism in East Devon........ The costs of "substantial growth and expanding business"
Futures Forum: Lobbying: big business and big government in East Devon
Futures Forum: Investing in roads in East Devon: who pays .
.. and who benefits?
.
.
.