In the light of the awful flooding following Storm Desmond, questions are being asked about there have been several studies into the implications for house-building.
FLOOD DEFENCES



Britain's flood defences after Storm Desmond: are they fit for purpose?



Defences are built to withstand 'certain magnitude' of water, but experts want new measures put in place
David Cameron is shown the flood defence system on Warwick Road in Carlisle on Monday. Photograph: Getty Images

Josh Halliday Monday 7 December 2015

Flood defences such as those used in Cumbria were built to withstand flooding "of a certain magnitude", according to the Environment Agency – but they can be overcome in extreme storms or if they have been poorly maintained.

Defences are built to different design standards according to local needs. The 520-metre-wide Thames Barrier, for example, is London's primary flood defence.

In Cockermouth, the storm-ravaged town in Cumbria, the UK's first self-closing barrier opened in 2012 – closing only when the river is flooded. Stretching 390 feet, the £4.4m project was launched after hundreds of people had to be evacuated from their homes in the floods of 2009 and 2005.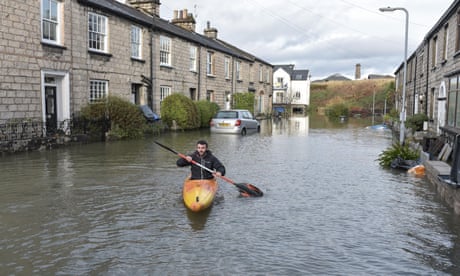 In Keswick, another Cumbrian town flooded in Storm Desmond, the primary flood defence is a reinforced concrete wall made out of local slate and a 122-metre-long glass panel. Further floodgates have been installed across roads in other at-risk areas of Cumbria, rising to 1.8 metres in the most vulnerable places.

But across large swaths of the UK, a combination of floodwalls and embankments stretch for thousands of miles alongside rivers and streams, the traditional way to protect low-lying communities against flooding.

Most major defences in England and Wales are maintained by the Environment Agency, which says there are many walls and embankments owned by third parties who "undertake their maintenance responsibilities with varying degrees of commitment".

Assessments on managing flood risk are taken using various evaluations, chiefly by the National Flood Risk Assessment (NaFRA), which allow Environment Agency analysts to spot trends, determine the effect of climate change, track development on floodplains and keep abreast of the condition of flood defences across the UK.

On Monday, experts called for new measures to be implemented –such as raising new buildings a metre above ground – to help cope with global warming-induced flooding.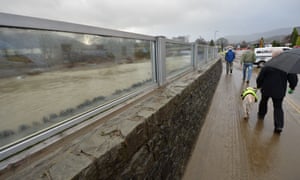 FacebookTwitterPinterest Residents walk by the recently constructed glass flood barrier which failed to stop the rising water in Keswick. Photograph: Paul Ellis/AFP/Getty Images

Prof David Balmforth, a former president of the Institution of Civil Engineers, said that conventional defences, such as the barriers that line the river Greta in Keswick, had to be supplemented with more innovative methods.

"We tend to design defences to a particular standard, to give an annual probability against flooding, which might be, say, a one-in-100- or one-in-200-year chance of the defence being overtopped," he said. "That would be a typical sort of figure that would be used. The question that now remains is: were the events that we've now seen in recent days so excessive that it's reasonable to expect them to overtop defences?"

Suggesting ways of coping with future deluges, Balmforth cited work that was done in Nepal. He said: "They have regulated minimum threshold levels about a metre above surrounding ground for any new major development, whether or not it's in a flood risk area.

"So that sort of method surrounding new properties can make a lot of difference. We can make our entry to properties such that they don't let water in quite as easily, use doors that protect against floodwater, use flood-resistant material so water doesn't get into a property, then it doesn't cause quite so much damage and doesn't take a very long time to dry out. The use of cement-based materials on walls rather than plaster materials, and the use of concrete flooring rather than timber flooring, and so on, can make a really big difference to how people can get back into their accommodation once it's been damaged."
Britain's flood defences after Storm Desmond: are they fit for purpose? | UK news | The Guardian
Flood expert advocates elevating all new UK buildings off ground - E & T Magazine
Development on flood plains | East Devon Watch
BUILDING ON FLOOD PLAINS:
£200 million flagship scheme could see new homes built on floodplains

Exclusive: Thousands of taxpayer-funded houses could be underwater or uninsurable, investigation finds



Photo: 2015 Getty Images

By Luke Heighton 09 Dec 2015


169 Comments

Thousands of new homes are at significant risk of flooding and could be uninsurable, an investigation has found.

Almost most half of the areas earmarked for a £200 million government development scheme are at real risk of flooding, and insurance companies could therefore be likely to refuse cover.



Residents survey the aftermath of Storm Desmond

Up to 9,000 new homes are scheduled for development by local councils on land the Environment Agency says is at either "serious" or "significant" risk of flooding, according to Greenpeace.

Nine out of the 20 schemes were fully or partially exposed to serious risk of flooding from rivers or sea, Greenpeace found. Of the nine, six areas overlapped with high probability flood risk zones meaning they had a 1 in 100 or greater annual probability of river flooding; or a 1 in 200 or greater annual probability of sea flooding.

Councils were advised by the Government to consult with the Environment Agency over any proposals, but are under no obligation to accept their recommendations.

At least 1,000 houses are planned for Hinkley, near Bridgewater, where villages on the Somerset Levels were completely cut off for more than two months last winter.


Before and After: Keswick, Cumbria Photo: Alamy/National Trust

Sedgemoor district council paid out more than £280,000 pounds in grants and council tax relief following the "major incident", but has earmarked a development in a flood plain. The council, which carried out tests to determine how flooding affected the area as part of its application for funds, agreed new flood defence measures to be built by 2035.

Parts of Hamworthy, Dorset, are expected to be submerged by up to four metres of water within the next 125 years, according to Poole borough council's own estimates. Plans to build on the site of a former power station - in a high risk zone – were also accepted by the Government.

However the scheme now appears to be in chaos, after an application to build 1,350 homes was suddenly withdrawn. It was replaced with a "core strategy" involving 1100 dwellings, from which the power station site was excluded.

The Government has also backed Wakefield Metropolitan district council's plans for 1,200 new homes to be constructed close to the Aire River, near Castleford, Yorkshire. Other flood-affected schemes include Slyfield Area Regeneration Project in Guildford, Surrey, Derby City Housing Zone and and Gloucester City.

The House of Lords committee on the built environment will today hear evidence from the Environment Agency, experts and campaign groups on the issue of building on recognised flood plains.

Those who do buy one of the new homes will be unable to safeguard them under the Government's flood -insurance scheme Flood Re, which comes into force next April. It funds a cap on the costs of insurance for houses in high risk areas but is restricted to properties built before 2009.

Dr Doug Parr, Greenpeace's UK chief scientist, said: "Rushing to build thousands of new homes in flood-risk areas whilst at the same time cutting flood protection staff is a recipe for disaster."

A Government spokesman said: "This Government takes flood risks extremely seriously and we are investing £2.3bn in flood defences over the next six years, as well as protecting flood maintenance spending in real terms over this Parliament. We have put in place strong safeguards to stop inappropriate development in areas at risk of flooding, and are delivering the homes this country needs by taking forward plans to build homes on suitable brownfield land. The Environment Agency provides advice on whether or not to grant permission, but final decisions rest with local authorities."
£200 million flagship scheme could see new homes built on floodplains - Telegraph
Most housing zones sites 'in flood risk areas' | Planning Resource
Half the area earmarked for fast-track housing development at risk of flooding, new research finds | Western Morning News
Development on flood plains | East Devon Watch
.
.
.