The Devon Maritime Forum was featured during the Sidmouth Climate Week earlier this year:
Futures Forum: Climate Week in Sidmouth: TOURFISH: Making Coastal Communities Resilient >>> Wednesday 9th March >>> >>> "Responsible Tourism and Blue Economic Growth"
It really is a 'forum':
'…the key strategic partnership for

all

marine and coastal stakeholders in Devon and the wider South West peninsula'

About the Devon Maritime Forum (DMF)
The DMF is an independent, not-for-profit partnership organisation with a unique role: bringing together the broad and diverse range of organisations and individuals who have a stake or interest in marine and coastal issues in Devon and the wider South West peninsula.
We were formed in 2005 with a view to guiding and co-ordinating cross-sectoral cooperation and to act as a point of contact for all maritime sectors, promoting understanding, sharing challenges and building consensus. We operate as a 'champion of the sea', encouraging engagement with a wide range of issues and raising the profile of marine and maritime concerns. We also provide a range of services that improve integration and facilitate communication between our network of marine and coastal stakeholders, promoting debate and working collectively toward sustainability on our coasts and seas.
Our Vision
'To provide an inclusive, integrated and balanced forum for all key interests in the maritime sector with a view to empowering them to deliver sustainable and equitable management of our coasts and seas.'
Bringing People Together
The DMF are able to provide a large suite of different professional
services
but at its core it is concerned with the challenging but critical task of bringing people together. We are uniquely placed at the centre of a large marine and coastal network that extends 'horizontally' to incorporate a diverse range of local stakeholders and 'vertically' to connect to individuals and organisations operating at the forefront of national and international maritime governance.
Membership of the DMF is FREE – Join the Forum today
Devon Maritime Forum | Devon County Council
And at the end of the month, the DMF is holding a conference - and all are invited:
DMF Summer16 Conference
'Progress and Priorities, Conflict and Common Ground:
Working Together for Our Coast and Seas?'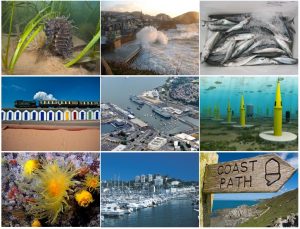 30th June, 2016 – The Robbins Conference Centre, University of Plymouth
The Programme
By the time we convene in Plymouth for our Summer16 conference on the 30
th
June we would have had a week to digest the result and think about the ramifications of the historic EU in/out referendum.
Within the 'maritime community', as with the broader populace, there are powerful, passionate and equally well-made arguments on both sides, which makes the outcome of the result, at least at the time of writing, impossible to predict.
Leave or remain, however, things will be different come the 24
th
, whether we face the prospect of a new legislative landscape and relationship with our maritime neighbours or whether we choose to renew our commitment to an existing course.
Whatever direction is chosen, and wherever our maritime/marine policy emanates from (be it Whitehall or Brussels), it will be imperative that as both a sector and a region that we are strategically positioned to meet the challenges and capitalise on the opportunities that will present themselves over the coming decade; and crucial that we have a clear vision of how we can grow the blue economy, protect our precious marine environment, and build greater community resilience in the face coastal and climate change.
In the relatively calm waters of the immediate aftermath of the referendum result, therefore, we will take a moment to pause, take a collective breath and take stock of the progress (or lack of) that has been made to date in working towards both our individual sectoral goals and shared vision of 'clean, healthy, safe, productive and biologically diverse oceans and seas', both nationally and here in Devon.
Capitalising on its unique role as a cross-sectoral partnership, the DMF's Summer16 Conference will provide an opportunity to hear, at a critical juncture, from
key marine and coastal stakeholders about recent progress, current priorities and future challenges
.
We will address the fundamental issue of
recognising and reconciling the potentially competing and conflicting blue growth, marine conservation and coastal resilience agendas
, while seeking to identify
areas of common ground and consensus
.
We will hear how these key issues and challenges are being addressed locally and how and where, we in Devon, can work closer together to ensure an integrated, sustainable approach to the management our coasts and seas.
Full Programme details are available HERE
How to Register
To guarantee your attendance, registration should be made in good time. The
registration fee is £45
and covers venue hire, lunch, teas and coffees. A discounted rate of
£20
is available for students.
There is no registration form for this event.
To register
and make a payment please contact
Jason Tear
on
01392 382551
e-mail:
jason.tear@devon.gov.uk
Payment can be made by credit card or cheque.
For
credit card
payment please quote '
Devon Maritime Forum Summer16 meeting
' when registering. Please state your name (or the name of the attendee if different), organisation and contact details. If making payment for more than one delegate, please include details for all.
For
cheque
payment please send a cheque payable to 'Devon County Council', to:
Finance Team, Lucombe House, County Hall, Topsham Road, Exeter, EX2 4QW
. Please write on the back of your cheque your name and organisation. If making payment for more than one delegate, please include details for all.
DMF Summer16 Conference | Devon Maritime Forum
.
.
.