The MP for Exeter continues to ask questions:
Futures Forum: Brexit: and Exeter's MP's voicing of "widespread concern over interference"
Futures Forum: Brexit: Legatum and Exeter's MP concern at its 'unprecedented access'
Futures Forum: Brexit: and Exeter's MP still asking for investigations
Last week, he pressed home his case:
Prime Minister Theresa May was asked in the House of Commons by Labour MP Ben Bradshaw whether the newspaper revelations about Mr Banks showed it is "now time for a full police inquiry into the relationship between the Kremlin and the leave campaign in the EU referendum":
Brexit funder Arron Banks expects 'fireworks' at hearing into Russia links - Sky News
Carole Cadwalladr is the investigative journalist who has been looking into all of this the past two years - and gives mention to the Exeter MP's questioning in her latest piece from the Observer:
On 25 October [2017], the Russian embassy directly addressed questions about Russian interference with a statement on its website: "Russia doesn't intervene into internal affairs of other states... I am calling on the unscrupulous journalists and politicians: stop imposing this fake agenda[...]"



Tweets from the embassy's account revealed that the "unscrupulous journalists" seemed to be myself and Hugo Rifkind from the Times, and the politicians, two Labour MPs who'd raised questions on the subject in the house – Ben Bradshaw and Chris Bryant.
Arron Banks, Brexit and the Russia connection | UK news | The Guardian
More questions:
Leave. EU faces new questions over contacts with Russia | UK news | The Guardian
Arron Banks walks out as MPs' questions on Brexit and Russia run late – as it happened | UK news | The Guardian
And yet more:
Why isn't there greater outrage about Russia's involvement in Brexit?
This scandal should cause uproar but the BBC and Labour just change the subject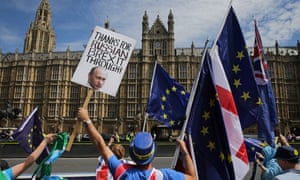 Nick Cohen

Sun 17 Jun 2018
A pro-EU demonstrator holds a placard bearing an image of Russia's President Vladimir Putin, during a protest outside of the Houses of Parliament on 11 June. Photograph: Daniel Leal-Olivas/AFP/Getty Images

The first duty of the leaders and citizens of a democracy is to defend its elections from subversion. Yet a country that boasts of giving the world free parliaments feels no obligation even to look at allegations that Russia subverted British democracy. The government and opposition are compromised and want the scandal closed down. As does an embarrassed rightwing press and a shamefully negligent BBC...
On the Brexit scandal, the BBC offers something worse than fake news: it offers no news. In this, the broadcasters are a true reflection of a compromised political system. Alongside the Electoral Commission, the National Crime Agency and intelligence agencies ought to be investigating. Allegations that foreign states are trying to change the course of a nation's history are too serious to be left to civil servants and junior officers. You only have to raise the possibility of a British version of the Mueller inquiry to realise why Labour and Conservatives, left and right, would hate it.

The Tories are committed to Brexit. They will not push for investigations into a Brexit campaign whose wishes they are now meeting. Psychologically, Tories and the Tory press cannot separate the Russia allegations from Brexit. They fear that, if they look too hard, the legitimacy of the referendum will dissolve before their eyes.

In the US, opposition Democrats want Trump's every dealing with Russia exposed. But in Britain the leaders of the opposition Labour party are as anxious as Farage and May to change the subject. Never forget the far left's soft spot for thieving autocrats. Jeremy Corbyn's spokesman, Seumas Milne, flew to Sochi to bend his knee to Putin.

Emily Thornberry defended Russia's Syrian policy as reliably as Arron Banks. Even if you can put its attraction to dictators to one side, the London far left is in a marriage of convenience with the northern Labour right. Both are determined to stop free movement and keep Britain out of the single market: the Labour right because it fears that the charge of being soft on immigration will be electoral poison; the Corbyn left because it dreams of a "lexit" in which it will be free to build socialism in one country. For reasons of ideology and electoral calculation, we are stuck with an opposition that will not oppose.

Can you begin to see why the scandal is not a scandal? In any other democracy, there would be uproar. But here, the Tory and Labour frontbenches must pretend there's nothing to see. I'll leave you with the Elizabethan courtier Sir John Harington, who explained in the 1590s how Russia has Britain where it wants it, when he said:

Treason doth never prosper; What's the Reason?
Why, if it prosper none dare call it treason.

• Nick Cohen is an Observer columnist
Why isn't there greater outrage about Russia's involvement in Brexit? | Nick Cohen | Opinion | The Guardian
The EU would certainly like a 'full police investigation':
Guy Verhofstadt: We need to know if Russia interfered in Brexit - Business Insider

Whereas Russia clearly would not:
The Latest Establishment Conspiracy Theory: Russia Fixed Brexit! - Sputnik International
.
.
.