UKIP have swept the boards across the country, including the South West.
From the party itself:
UKIP stuns the political class with fantastic Euro results across the country
---
| SOUTH WEST | Votes | % | MEPs | change +/- |
| --- | --- | --- | --- | --- |
| UK Independence Party | 484,184 | 32.29 (+10.23) | 2 | 0 |
| Conservative | 433,151 | 28.89 (-1.36) | 2 | -1 |
| Labour | 206,124 | 13.75 (+6.09) | 1 | +1 |
| Green | 166,447 | 11.10 (+1.80) | 1 | +1 |
| Liberal Democrat | 160,376 | 10.70 (-6.49) | 0 | -1 |
| An Independence From Europe | 23,169 | 1.55 (0.00) | 0 | 0 |
| English Democrats | 15,081 | 1.01 (-0.63) | 0 | 0 |
| British National Party | 10,910 | 0.73 (-3.20) | 0 | 0 |
---
A summary from the Western Daily Press:
And results from the Express & Echo:
RESULTS: UKIP and Conservatives top Southwest European elections as Labour wins in Exeter and UKIP take East Devon



By Exeter Express and Echo | Posted: May 25, 2014

UKIP and The Conservatives have topped the South West European Election polls with two MEPs each.

Prior to tonight's election the South West MEP make-up was three Conservatives, two UKIP and one Lib Dem.

After tonights elections the make-up is: Two UKIP, two Conservatives, one Labour and one Green.

It means the six MEPs representing the South West on the European Parliament are William Dartmouth (UKIP), Julia Reid (UKIP), Ashley Fox (Con), Julie Girling (Con), Claire Moody (Lab) and Molly Cato Scott (Green).


In the South West, UKIP won 24 of 38 areas, Tories won 11, Labour two and Lib Dems one with Gibraltar.

The Conservative vote is believed to be down 1.4% in South West with the UKIP vote up 10.3%.

In Exeter Labour topped the poll with 9608 seats, UKIP came second with 8801 followed by Conservatives with 7587 and Greens with 5244. The Turnout in Exeter was 40.82%.

In East Devon UKIP beat Conservatives with 14475 votes, Tories had 13647 votes followed by Green with 4975, Labour with 3623 and Lib Dems with 3085.

Southwest Turn Out: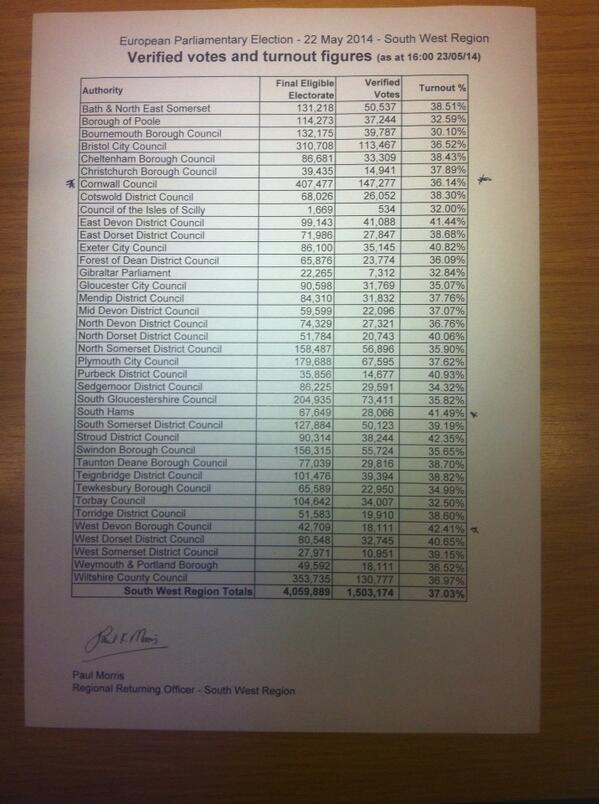 RELATED CONTENT

UKIP take seats on Plymouth City Council but are kept out in Exeter

LIVE: South West England European election results 2014

Live coverage: Exeter City Council election results

RESULTS: Labour tighten hold on Exeter City Council as Conservative leader Yolonda Henson voted out

Greens gain first ever South West MEP
And another 'breakthrough':

Greens gain first ever South West MEP

By Exeter Express and Echo | Posted: May 26, 2014

Dr Molly Scott Cato has made history
by becoming the first Green Party MEP for the South West. The Green Party gained 11.2% of the vote in the European Election, taking the 6th seat out of six.

Speaking shortly after the results were announced, Molly Scott Cato said: "It is fantastic that the South West now has a Green voice in Europe. I would like to thank everyone who voted Green on Thursday, and I am looking forward to representing the South West in Brussels.

"The Greens are the only party with a clear and positive message on EU reform, which I think was attractive to voters and translated into the result we see today. Our 'people before profit' policies have really resonated with voters who have been looking for a viable alternative party which truly represents their values."

Greens across the region celebrated as they saw their vote share
rise from 9.3% in 2009 to 11.2% in 2014.
And another 'earthquake':
The question will be, therefore, what 'political earthquakes' await East Devon next May...
SO, WHAT DO THE EURO ELECTIONS TELL US ABOUT OUR DISTRICT?


26th May

Well, it tells us that, on the right, there are 14,475 people in our district who preferred to vote UKIP to Tory.

It also says that there were 11,683 preferring to vote (in rough political terms) to the left of them.

That means 26,158 who don't want to vote for the current majority party and 13,647 who do.

Rather worrying if you are a majority party member...