The latest issue of Exeter Living
Exeter Living May 2014
sports two young entrepreneurs on its front cover: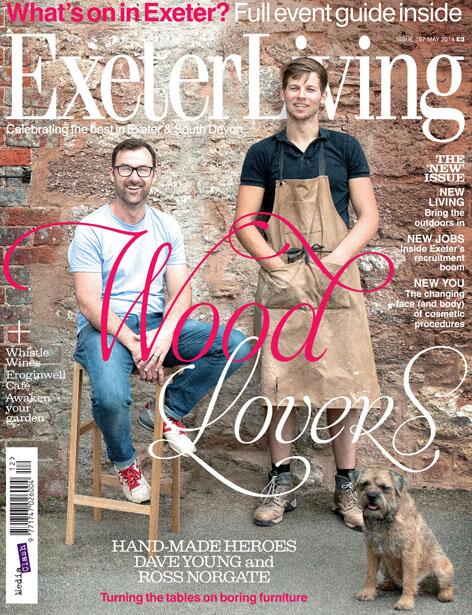 YOUNG & NORGATE (youngandnorgate) on Twitter
The business is based near Budleigh Salterton
South Farm Court - Clinton Devon Estates
where they hope to perpetuate Britain's "rich heritage of good wood craftsmanship".
They have been working with Exeter City on providing apprenticeship places:
Exeter City Council : Apprenticeships
www.exeter.gov.uk/CHttpHandler.ashx?id=17713&p=0
And they have custom both far and wide, including locally of course:
Architect is living the sustainable dream | Western Morning News
Check them out:
ABOUT
HARD CRAFT
In a fast moving world we make slow furniture. Every piece we make has had the luxurious ingredient of time mixed in to its being. Add passion, a good amount of graft and an unhealthy dose of perfectionism and you will get the base ingredients of our furniture.
FOR THE LOVE OF TIMBER
We love the honesty of wood. Its imperfections, its incessant movement years after the tree has been cut down. We want to celebrate this beautiful material in our furniture. By paring it with clean lined designs or contrasting it with colour, we allow it to continue telling its story.
DESIGN RICHNESS THROUGH SIMPLICITY
Our furniture does not need elaborate embellishments to stand out. Design details and clever solutions add personality to the pieces. Paired back designs with a focus on functionality allow the materials we have selected to do the talking, giving your home or workplace a subtle luxuriance.
SERIOUS SKILLS
We pride ourselves in our attention to detail. Our clients most demanding standards are met by our makers relentless perfectionism. Our aim is not to make the most furniture we can but the best furniture we can.
.
About « Young & Norgate
.
.
.