Every year, the incredibly popular Springwatch series shows us how to enjoy and help nature:
BBC Two - Springwatch
From last year:
Futures Forum: Bristol's green corridors @ BBC Springwatch
Futures Forum: Join the Great British Bee Count!
Futures Forum: Do Something Great for nature >>> with BBC Springwatch this weekend
This evening there was an extended piece on the dramatic decline in butterfly numbers:
... we also get a privileged peak into the life story of the orange tip butterfly, a species that is bucking a worrying trend for butterflies up and down the country.
BBC Two - Springwatch, 2017, Springwatch Episode 9
RICHARD WILLIAMSON: The orange-tips marks beginning of butterfly season - Chichester Observer
- why it's happening:
Futures Forum: The Big Butterfly Count results >>> and 'the mystery of a butterfly disaster summer'
- and what we can do about it:
Futures Forum: Greening grey Britain > tackling pollution and flooding
Futures Forum: Plant pots for pollinating bees and butterflies
Futures Forum: Tips for turning your outdoor space into a place that will improve your wellbeing and support wildlife
Futures Forum: Gardens as nature reserves: "Our message to all garden owners is to see your outdoor space as a small-scale nature reserve – part of a network of gardens that link to make a great big, valuable habitat."
This is from the programme's blog:
Plant Pots for Pollinators Campaign
The news that butterflies are declining faster in urban areas than in the countryside comes as no surprise. I live in Brighton, close to the seafront. Every day I see another front garden paved over, another patch of land grabbed to be built upon. Our urban spaces are becoming greyer, more built up, with more buildings, car parking spaces and 'convenient', low-maintenance gardens, with fake turf and few, if any, trees, shrubs and flowers. It's no wonder our butterflies are declining faster here – there's so little for them to eat or lay their eggs on.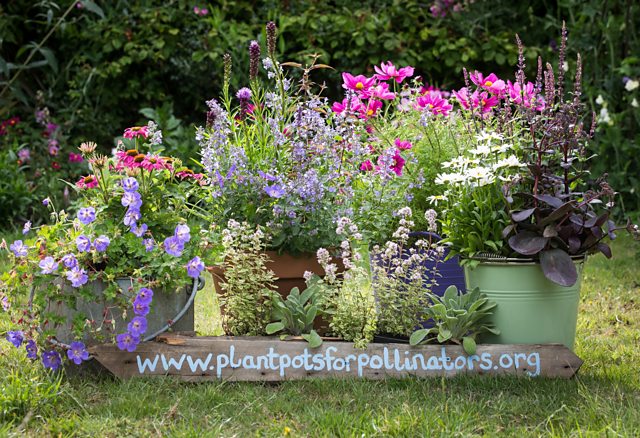 But with Butterfly Conservation's Plant Pots for Pollinators campaign it doesn't have to be like that. My garden is small, but perfectly managed for butterflies and other pollinators, and I'm proud to have seen Holly Blues, whites, skippers and Red Admirals flying in for a feed. I pack as many nectar-rich and caterpillar food plants into this space as possible, but there's another space I manage for butterflies too: the tiny paved area outside the front of my house, where I keep my bike and the recycling bins.
This unpromising grey area is south-facing, so gets the sun all day. Here I've crammed as many pots as you could possibly fit. I grow lavender, perennial wallflower, alliums, poppies. Cosmos and catmint too. It's a pain to water it all but I'm rewarded by the view of butterflies, bees and hoverflies, which appear as if from nowhere to feast on pollen and nectar. There's nowhere for them to lay eggs here, but this tiny space is providing butterflies with the food and fuel they need to travel to the places they can lay eggs – in this instance the enormous patch of nettles on my allotment a mile and a half down the road.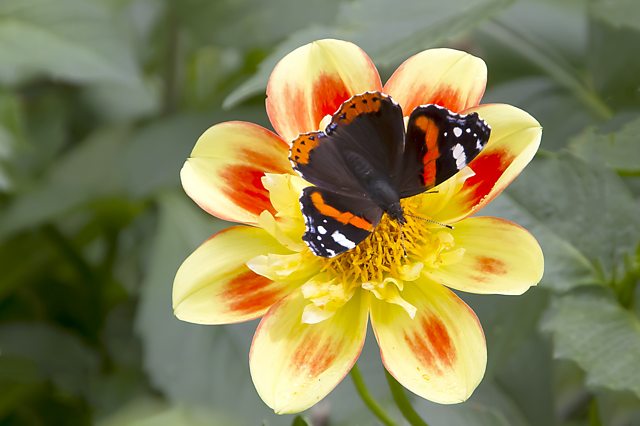 Marcus Whitmore, Butterfly Conservation
Neighbours stop and ask me about the plants I grow in pots. And I tell them about the bees and the butterflies, then dig up little bits of this and that to pass on to them, for them to feed the pollinators too. I dream of one day walking down my road and seeing every doorstep packed with pots for pollinators, and a thousand butterflies flitting among them. All it takes is a few pots, some peat-free compost and some pollinator-friendly plants. The hardest thing is remembering to water them!
To take part in Plant Pots for Pollinators visit plantpots
BBC Blogs - Springwatch - Plant Pots for Pollinators Campaign
.
.
.