A technology which is raising increasing interest is CLT:
Futures Forum: A solution to our housing problems: CLT > cross laminated timber
This is very much connected to the idea of manufacturing housing units 'offsite' - otherwise known as 'prefabrication':
Can prefab homes solve UK's housing crisis?
Modular developments in Manchester and Liverpool are energy efficient and built in quick time, but can they spark national interest?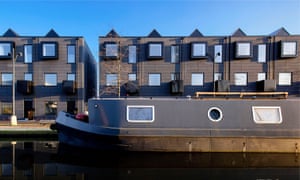 Urban Splash's factory-built homes on the canal at New Islington, Manchester. Photograph: PR

Joey Gardiner

Thursday 26 January 2017

"I've always believed there must be a way to get better quality and build quicker," says Tom Bloxham, chief executive of Urban Splash, a property development company best known for pioneering trendy loft living in Manchester and Liverpool.

With the launch last year of the company's factory-built homes, shipped to site by lorry, Bloxham thinks he's found the answer.

Urban Splash is part of a small but growing number of organisations looking to change the way homes are built through the adoption of off-site – also known as modular construction or prefab homes. From businesses to policymakers, there is growing interest in off-site-built housing as a possible solution to the UK's critical housing shortage.

While timeframes are project dependent, most estimates are that off-site-built homes can be produced in about half the time of traditional construction as the house itself can be built in the factory while foundations are being laid on site. Developers also cite the reduced requirement for scarce skilled labour, fewer construction accidents and more consistent quality of build compared to traditional construction.

FacebookTwitterPinterest Initial concept sketch for Urban Splash's factory-built homes by Shedkm architects. Photograph: PR

There are also sustainability gains to be made. A report by Systemiq and the Ellen MacArthur Foundation, launched at Davos last week, highlights several potential environmental benefits from off-site construction, including more energy efficient homes.

So is now the time for off-site construction to hit the mainstream?

Bloxham thinks so, saying production line precision means his homes are both "extraordinarily" airtight, which improves their energy efficiency, and highly customisable. With his 43-home scheme in New Islington, Manchester, all sold and occupied, he is now aiming to ramp up production to several thousand a year. "We've shown there's a demand for it, we've shown the quality is really good, and now it's building the capacity," he says.
Prefab's bad image

But the off-site manufacture of homes and buildings has been the future of construction before – most notoriously in the 1950s and '60s.

New Labour's John Prescott attempted to revive the idea following a review of the construction industry in the late 1990s but it was killed off in the recession, due largely to its comparatively high cost at the time. Its biggest advantage – speed of construction – wasn't valued by housebuilders who had no interest in building houses any faster than they could sell them.

"For traditional housebuilders that sell homes on the open market, the one thing they don't need is speed," says Richard Jones, partner at building consultant Arcadis. "While that business model has dominated, off-site has always remained a cottage industry."

The sustainability argument is not straightforward either. Prefab homes may be more energy efficient but critics such as Mike Leonard, chief executive of the Building Alliance, say their components are overwhelmingly imported, which adds air miles. In contrast, says Leonard, traditionally-built houses source 80% of materials domestically.

While there is no reliable data on uptake, the most recent estimate by the National House Building Council suggests fewer than one in six homes uses off-site technologies, and maybe one in 20 the kind being pioneered by Bloxham.

There is also the contentious issue of employment. "What you're getting with off-site is not superior, it's imported and it's costing British jobs," says Leonard.
A UK industry

There are, however, examples of a UK off-site construction industry emerging. Last year insurance giant Legal & General set up L&G Homes in a factory near Leeds to build up to 4,000 prefab homes a year. Nick Frankland, L&G Homes chief executive, says the first home will run off its production line in the next three-to-four weeks, dispelling any lingering preconceptions about prefab housing in the process.

"[It] is quite a sexy product," says Frankland. "We are building precision-built homes that are millimetre accurate, that work differently in regards to heat loss, airtightness. We're trying to push what you're able to deliver, and we believe this can be a contributor to the housing supply gap in the UK."

L&G Homes' ambition is to produce the houses as far as possible from domestic materials.

Acting in favour of off-site is a buoyant housebuilding sector which has pushed up traditional construction costs to comparable levels. The growth of a new class of developers building homes for rent, for whom quick construction means they can start making money earlier, is also helping. The Creekside Wharf scheme in Greenwich, London, by build-to-rent developer Essential Living is one example.

The expansion of off-site construction is expected to be a key theme in the government's long-awaited housing white paper, due to be published soon. The report will draw on last year's government-commissioned Farmer Review of construction that warned the industry to "modernise or die" – that the rapid retirement rate of UK construction workers meant it had to embrace new building techniques, not least off-site construction.

"The housing crisis is about production capacity, and innovation is the most important piece in solving this," says report author Mark Farmer.

For Andy Dix, chairman of trade body Build Offsite, innovation in modular housing – and who's doing that innovating – will determine the future of the UK's built environment sector. With virtual construction software (with which designers draw up precise digital models of buildings) being integrated into automated production line processes, Dix thinks the time is ripe for a disruptive new entrant such as a Google or a Tesla to radically rewrite the way the construction industry operates.

"Frankly, if we don't do it quickly then foreign firms will pour in and we'll have lost our domestic industry," he says. Whether the UK industry will be in time, is still open for debate.
Offsite manufactured housing offers an innovative way for housing associations to build more homes



The Accord Local Homes factory demonstrates how we can develop the capacity to build more high quality homes at lower cost

Alan Yates is Executive Director of Regeneration at Accord Group

9 November 2016

The Government has committed to increase housebuilding from 130,000 by at least another 100,000 homes per annum.

Their interest in Offsite Manufacturing follows the publishing of the Farmer Review of UK Construction. This report, produced by the Construction Leadership Council, considers how to reduce the vulnerability of the construction industry to skills shortages and looks specifically at the potential role for offsite manufactured housing in the private rented sector.

The Accord Local Homes factory demonstrates how we can develop the capacity to erect more high quality homes at lower cost than traditional building, with added advantages of reduced waste, fewer defects, speed of construction, fewer vehicle movements and lower running costs.

The Government has been interested in this agenda for some time, as evidenced by visits from former Housing Minister Brandon Lewis MP – who witnessed a pair of semi-detached houses being erected on site in a day – and more recently from current Housing and Planning Minister Gavin Barwell MP, who visited the factory and one of our live sites. Prior to that, I attended round table discussions with Kris Hopkins MP and a number of manufacturers and developers, and he was particularly keen to see an increase in offsite manufacture following the publication of the Offsite Housing Review by the Construction Industry Council in 2013. This report suggested that when a step change in housebuilding is required, this offers an opportunity to do things differently – in fact in order to meet higher build targets you are compelled to do things differently.




For Accord, we had been importing a highly insulated panellised system from Norway and with our own in-house design team now familiar with the product, five years ago we decided to move into offsite manufacturing ourselves. Feedback from our tenants has been great and with such low running costs they are better able to keep warm and healthy – and of course it leaves more money to help pay the rent, so it makes good business sense for a landlord to build these efficient homes too.

Having the ability to design and manufacture our own homes, the last piece of the jigsaw was to erect them. We embarked on this with the establishment of a Construction Team two years ago and the net result is that we are now building higher quality homes for a lower cost than traditional build – a good example of value for money.




In addition to selling homes from our factory to other housing associations and councils, Accord has now developed a replicable 'factory in a box' concept that would result in more factories being established across the country. We can support other developing organisations to quickly move into offsite manufacturing, gaining the benefit of the ten years' work we have put into developing this concept.

The potential market is huge and with the L&G factory in Leeds reportedly able to manufacture 3,000 new homes per year, that leaves another 97,000 still to be manufactured in order to provide the 100,000 additional homes required to meet government aspirations.
Offsite manufactured housing offers an innovative way for housing associations to build more homes | Blog | National Housing Federation
.
.
.