The UK government wants 'clean growth':
Futures Forum: Climate change: and the Clean Growth Strategy
Coal is on the way out in the UK:
Futures Forum: Peak Coal: the end of coal?
Futures Forum: Zero coal in the UK
Futures Forum: Climate change: and coal generation in the UK >>> "The pathway to a low-carbon future"
And possibly in China:
Futures Forum: Behemoth: What coal mining does to us
But the future of coal has become extremely politicised:
4 signs that Trump's furious efforts to save coal are futile - Vox
Adani coal mine 'devastating' for Australia | Australia News | Al Jazeera
And there is a lot of confusion about the 'real picture':
Coal power set for one last hurrah - Telegraph
Th
ere also seems to be a lot of misinformation happening out there:
The world is going slow on coal, but misinformation is distorting the facts
A recent story on 621 plants being built globally was played up in various media – but the figure is way off the mark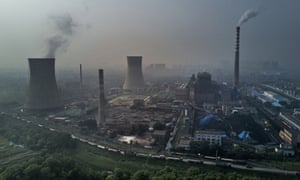 China still uses a stack of coal but data shows it has stopped construction at 33 sites in the past three months. Photograph: Kevin Frayer/Getty Images

Adam Morton

Tuesday 17 October 2017

This is a story about how misinformation can take hold. It's not always down to dishonesty. Sometimes it's just a lack of time, a headline and the multiplying power of ideological certainty.

Last week, China announced it was stopping or postponing work on 151 coal plants that were either under, or earmarked for, construction.

Last month, India reported its national coal fleet on average ran at little more than60% of its capacity – among other things, well below what is generally considered necessary for an individual generator to be financially viable.

Neither of these stories gained much of a foothold in the Australia media. But one story on global coal did: that 621 plants were being built across the planet.

The line was run in print, repeated on national radio and rippled out on social media among likeminded audiences. Some politicians and commentators claimed it showed it was strange, maybe even ridiculous, that MPs, financiers and energy companies said new coal power stations had no role to play in Australia.

But the figure is wrong. Way off, in fact. According to the most recent data, there are 267 coal stations under construction. More than 40% of those are not actually new ones, but expansions of existing generators.
The world is going slow on coal, but misinformation is distorting the facts | Environment | The Guardian
But it does seem that it's days are numbered:
The world is abandoning coal-fired electricity at an astonishing pace — Quartz
As reported yesterday:
Industry leaders say coal-fired power plants becoming obsolete

By Tom Henry | BLADE STAFF WRITER
Published on Oct. 20, 2017




The DTE Monroe Power Plant on Oct. 13. DTE's renewable energy director says that market forces are so strongly in favor natural gas and renewable energy that it makes no economic sense for utilities to invest in coal.

MONROE — Although the Trump administration announced the nation's so-called "war against coal is over," Michigan's largest utility believes there's no future left for such a dirty, carbon-dense fuel and is making plans to phase out all of its coal-based energy production within 23 years — including its massive coal-fired power plant in Monroe, one of America's largest.
Industry leaders say coal-fired power plants becoming obsolete - The Blade
The campaign group Avaaz has its mind set on next month's conference: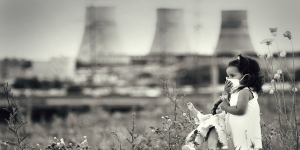 Coal is the single biggest driver of climate change -- now we have a chance to kill it. The UK and Canada are calling on other countries to join them in kicking out coal and massive public pressure could make it happen. Join the call and our demands will go straight to the delegations deciding:

Coal is the single biggest driver of climate change.
Next month we have a chance to kill it.
A few countries like France, the UK, and Canada have set an end date for coal already and are calling on others to join them. Experts have identified a hit list of another 25 countries that could be convinced, but it's going to take a lot of pressure to make it happen.
This is our chance to turbo-charge the drive to a clean energy future. If a million of us call on world leaders to drop coal, allies at next month's climate summit will hand deliver our demands to every country's delegation. Join the call and share with everybody:
Tell the world: time to kill coal
The only way to keep our world safe is to transition to 100% clean energy by 2050 -- a plan set out in the Paris climate treaty. We need to get rid of the worst fuels, especially coal, even faster.
Some countries are on track: France will stop using coal in the next 5 years. Others, like Italy and Germany, are considering it. Still more, including Mexico, South Korea and New Zealand could ban coal too, but aren't yet facing enough pressure to make it happen.
At next month's climate conference, a few countries are planning to announce the end of coal. Together we could turn this announcement from a tiny sideshow to the main event by convincing dozens of countries to join them. Add your name and share widely:
Tell the world: time to kill coal
Avaaz - The World in Action
.
.
.