The New Economics Foundation has a new report out:
Social care: a 'hidden engine' for economic growth
Social care doesn't have to be in crisis. Our recent report showed how a troubled sector could be a real driver of local economic success.
New Economics Foundation | The New Economics Foundation is the only people-powered think tank. We work to build a new economy where people really take control
As reported in the Guardian recently:
Social care: a 'hidden engine' for economic growth
It employs more staff than the NHS and contributes an estimated £50bn to the economy. Could the sector bounce back from cuts to spearhead regional development?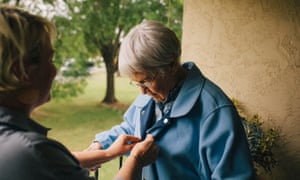 'Care could be an engine of a new approach to economic development that starts with the needs of communities and their assets' Photograph: Shestock/Getty Images/Blend Images
David Brindle
Wednesday 11 October 2017
Social care
statistics are usually alarming. Particularly through the past seven years of austerity, the figures have told a story of relentless cuts in public provision, unmet need and growing dependence on unpaid family carers.
But there's another narrative that can be told with numbers. And that is one that describes the enormous size of the social care sector, its expansion through self-funding and its potential to be an engine of economic growth, both locally and nationally.
New estimates by
Skills for Care
, the adult social care sector's skills agency,
suggest that the adult side contributes no less than £41.8bn a year to the English economy
through pay, profits and supplies.
It employs 1.45m people
– that's more than the NHS – and
the number of jobs has risen by 19% since 2009
.
Getting any kind of equivalent statistics for children's social care has been difficult since the former Children's Workforce Development Council (CWDC) was scrapped in the so-called
"bonfire of the quangos"
in 2012.
The children's side is certainly much smaller, but still substantial. A
CWDC report in 2010
estimated there were 35,000 staff in children's homes, to which can be added 27,000 children and families social workers, 55,000 foster care families and many others.
Cafcass
, which represents children in the family courts, has almost 2,000 staff and is the biggest single employer of social workers.
If better numbers were available for children's services, an extrapolation of Skills for Care's calculations would surely put the overall economic contribution of social care at more than £50bn and growing – which is more than can be said for many other sectors.
This realisation is starting to attract wider attention. Economists and policy-makers are beginning to explore the potential of developing social care in a more planned way, harnessing its growth to yield greater positives, and dealing with some of the issues that tarnish the sector's image – such as low pay, high staff turnover and excessive profit-taking.
"Social care is on a cliff edge. New ideas are desperately needed," says David Powell, subject lead at the New Economics Foundation (Nef) thinktank and author of a
new report on the potential of social care
as a driver of the West Midlands economy.
The perception of social care can be transformed, he believes – from being seen as a dysfunctional system dominated by "too big to fail" care provider groups into "a growing economic sector with the potential to meet a diversity of skills, employment and economic needs for communities that aren't helped by [traditional] economic strategies".
His report, prepared for
Localise West Midlands
, a campaign group and consultancy, estimates social care already contributes more than £4bn a year to the region's economy. It employs 165,000 people there and rising demand from an ageing population may call for another 25,000 jobs by 2025. But things need doing differently.
"Care could be an engine of a new approach to economic development that starts with the needs of communities and their assets," the report says. "It could provide jobs, skills development, wellbeing – and of course quality care – at the very heart of communities across the West Midlands perpetually left behind by city-centre-focused economic strategies."
The report recommends that the West Midlands combined authority, which represents 12 councils, prioritises new models of care and sets up a community care innovation unit. Noting that Andy Street, the elected West Midlands mayor, is committed to fostering not-for-profit delivery of public services, it points to successful start-up providers like those incubated by the
Community Catalysts social enterprise in Somerset
.
The authority should also promote social care as a rewarding career and allocate some of the funding for skills development that has been passed to it under the region's
devolution deal
. Recruitment should be targeted at men and minority ethnic groups currently under-represented in the workforce.
"The region has an opportunity to be visionary if it understands how sectors like social care can provide careers to meet local needs," says Localise West Midlands. Or, as Nef puts it: "A focus on new models of care could be a win-win in difficult times."
In numbers: a sector under strain
Children's services
£11.3bn spending on children's social care, England, 2015-16
£605m overspend on children's services by English councils, 2015-16
Source: Local Government Association
Adult social care
£14.1bn net adult social care spending by English councils, England, 2015-16
£6.3bn cumulative savings by English councils, 2010-18
Sources: Local Government Association, Office for Budget Responsibility
Carers
£132bn estimated yearly value of carers to economy
6.5m carers of family members and friends in the UK
Sources: Association of Directors of Adult Services,
Carers
UK
Social care: a 'hidden engine' for economic growth | Social Care Network | The Guardian
.
.
.