Another interesting talk down on the farm:
Trill Farm: Pioneering Arable Farming - Friday 13 October
The next 'Supper and Conversation' at Trill Farm will feature speaker, Nick Saltmarsh, from Hodmedod's, and his talk entitled 'Pioneering Arable Farming.'

He

is one of the three founders of Hodmedod's, Britain's pulse and grain pioneers - and recent winners of the 2017 BBC Food & Farming Awards Best Food Producer. Nick will tell the story of Hodmedod's, from its origins in East Anglia Food Link's Great British Bean project to the latest trials with new crops like lentils and chia. The initial very simple concept of bringing British-grown fava beans back into British kitchens proved to be the catalyst for an ongoing journey of discovery of the range of arable crops that are or might be grown in the UK.
Hodmedod's work with farmers to produce and source a diverse range of foods from British arable crops, including some of the very first British quinoa, neglected varieties of bean and pea, heritage grains and new trial crops like lentils. Hodmedod's range spans dried pulses and grains for cooking, canned beans and peas, gluten-free pulse and quinoa flours, flaked barley and quinoa, puffed quinoa and ready-to-eat roasted bean and pea snacks. Hodmedod's is committed to providing wholesome quality food with provenance that's more sustainably produced.
Tickets are £5 for the talk only or £30 for the talk and a 3 course supper made with seasonal produce from Trill Farm Garden and of course some delicious Hodmedod's pulses. Bookings can be made through our website or by calling Fran Taylor on 01297 631113.
Trill Farm - TRILL FARM LUNCHES
Hodmedod is a small but growing independent business, founded in 2012 to source and supply beans and other products from British farms. They are committed to providing quality food from British farms that's more sustainably produced and all Hodmedod's pulses and grains are British-grown.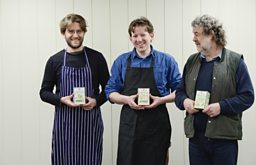 They offer a wide range of British beans and peas, as well as some of the first British-grown quinoa. They have a growing range of ready-to-use canned beans and peas and roast beans and peas to create ready-to-eat snacks.
BBC Radio 4 - Food and Farming Awards - Best Food Producer
.
.
.