We've got a growing problem with homelessness:
Homelessness in East Devon rises dramatically to 'unprecedented' levels - Vision Group for Sidmouth
This is something people privately are trying to help with:
Gateway Homelessness Action Group - Vision Group for Sidmouth
As is the local authority:
Spike in homelessness in East Devon prompts District Council to take urgent action - Vision Group for Sidmouth
There have been complaints about a long-term homeless person who's been living in his car on the seafront, as reported by Devon Live:
Homeless man making threats from car is upsetting seaside town - Devon Live
But should it be a police problem?
Why You Should Think Twice About Calling the Police on Homeless People
And at this time of year we might feel charitable, but homelessness often gets mixed up with debates about begging:
Don't demonise beggars. It won't solve the problem of homelessness - Guardian
But both the Guardian and the Telegraph comment that the 'solution' is housing:
Finland has found the answer to homelessness. It couldn't be simpler
Harry Quilter-Pinner

The number of rough sleepers in Britain is soaring, with deaths now a weekly occurrence. It's time we got over our prejudices

Thu 12 Apr 2018

Comments1,297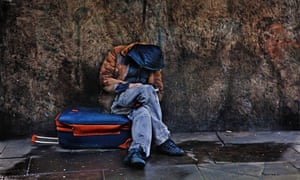 'The tragedy is that it's entirely within our power to do something about it: homelessness is not a choice.' A homeless man in London. Photograph: Barry Lewis / Alamy Stock Photo/Alamy Stock Photo

"I was born in Liverpool and grew up on a council estate. I had a clean home, toys and nice meals as a kid. When I was nine years old, the sexual abuse started. My abusers made me feel special. They gave me gifts, moneys, cigarettes and sweets. When I was 13 I ran away from home and soon found myself in the murky world of prostitution on the streets. My life was out of control." ...


Sceptics will argue that giving homes to homeless people is a recipe for disaster. Aren't we just subsidising addiction? Won't we end up with huge bills when it all goes wrong? Don't people need an incentive to get their lives back on track and engage in services?

Actually, no. The evidence from Finland – as well as numerous other pilot schemes across the world – shows the opposite is true. When people are given homes, homelessness is radically reduced, engagement in support services goes up and recovery rates from addiction are comparable to a "treatment first" approach. Even more impressive is that there are overall savings for government, as people's use of emergency health services and the criminal justice system is lessened.

At the last election, the government committed to pilot a housing first approach in the UK. This isn't good enough – we don't need another pilot. During my time in Finland I didn't see one homeless person. Within a few hours of coming back to London I walked past more than 100 rough sleepers queuing for food in the rain, just a few minutes from parliament. What we need is action. Ending homelessness is eminently achievable if we have the moral capacity and will to take proper action. We must overcome our prejudices and our apathy. The status quo is simply not good enough.

Myths and misunderstandings about homelessness get in the way of solving the problem. What's the best way to help?
Ed Miliband was embroiled in controversy after giving money to a homeless girl in Manchester last year. Photo: Nigel Roddis

By Olivia Rudgard
21 May 2015

Earlier this week an American boy brought his mother - and a whole restaurant - to tears after he persuaded her to buy a homeless man some food.

But branches of the same restaurant in the UK have been embroiled in controversy after claims they have refused to serve homeless people - or even those who look like they might be homeless. A landscape gardener apparently had to persuade staff to serve him after they refused to give him food because he was wearing dirty clothes...
What's the best way to offer long-term support?

Ultimately, it's long-term help that's going to make a difference. If you can, donating to a charity to support their work is a good way to do something deeper to solve the problem. Whom you donate to depends on whose work you feel strongly about.

There are a wide range of homelessness charities, all of which help different groups of people. Centrepoint and DePaul UK work to help young people who end up homeless. Crisis helps single homeless people, while Shelter, the largest of the UK's charities, gives practical advice via its phone line, campaigns for measures to alleviate the housing crisis and trains people who work in the housing sector.

Crisis says the law needs to change so single homeless people can access better help. Matt Downie, director of policy and external affairs, says helping individuals is a good thing to do but won't resolve the issue as a whole. "It is extremely heartening to see how people are moved to help when they see someone who's homeless, but acts of kindness alone won't solve the problem," he says. "We also need the government to review the help single homeless people in England get under the law so that no-one is forced to sleep rough."

The charity argues that better funding for homelessness services and more affordable housing is the best way forward.

If you feel passionately about the issue, joining campaigns like this might be the best way to help. Shelter's push for more affordable homes is another leading effort to tackle the deeper roots of homelessness.