People are losing their homes - cleared out to make way for palm oil plantations:
Futures Forum: Rainforest destruction >>> We've got to restore habitats, reduce consumption and make our
exploitation sustainable
And others are also losing their habitat - all because of the increasing demand for palm oil:
Futures Forum: Palm oil: the secret in your shopping basket - have your say
Back in 2010, Greenpeace ran a campaign directed at Nestle to stop using palm oil produced in former rain forests:
Greenpeace, Nestlé in battle over Kit Kat viral - CNN.com
Have a break? from Greenpeace UK on Vimeo.
It was judged a success at the time:
Success! You made Nestlé drop dodgy palm oil! | Greenpeace UK
Several years on, and not much has in fact changed, as this piece in last October's Guardian showed:
Nestlé, Hershey and Mars 'breaking promises over palm oil use'

This year's Halloween confectionery will contain palm oil grown on land that should lawfully be habitat to orangutans, rhinos and clouded leopards, despite commitment to clean up supply chains


Arthur Neslen

Sat 28 Oct 2017

Nestlé, Mars and Hershey have been accused of breaking pledges to stop using "conflict palm oil" from deforested Indonesian jungles, just days before the annual Halloween confectionery frenzy.

The Rainforest Action Network (RAN) says consumers have been "deceived" by promises from the brands to clean up their supply chains which were subsequently delayed, revised or watered down.

Laurel Sutherlin, a spokesman for the group, told the Guardian: "For too many years, Nestlé, Mars and Hershey have cherry-picked their [palm oil] targets and then moved the goalposts when they don't achieve them. There's just no further room for error to prevent the extinction of tigers, orangutans and elephants."

The last parcel of Sumatran rainforest in which these three species all roam – along with rhinos, clouded leopards and sun bears – is vanishing at a dramatic pace as lucrative palm oil plantations illegally eat into tropical forestland.

The brands source palm oil from this 2.6m hectare Leuser region, via complex supply chains, some involving traders linked to suppliers illegally logging in the region.

Nestlé promised to end deforestation in its supply chain by 2015 in response to Greenpeace's KitKat campaign of 2010. After Ran's "Snack food 20" report, this was upgraded to a pledge of "no sourcing from areas converted from natural forests after 1 February 2013". The target was missed.

"Four years later we can now trace over 90% of our palm oil back to the mill of origin and almost two thirds back to the plantation level," said Nestlé spokeswoman Peggy Diby. "Our ambition is to raise this figure to 100% by 2020, back to plantation."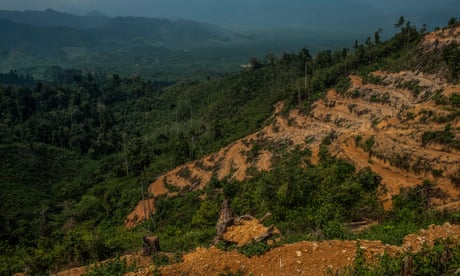 Pepsico, Unilever and Nestlé accused of complicity in illegal rainforest destruction

In July, Nestlé told the Guardian it could only source 47% of its palm oil to plantations, suggesting a big improvement in the last three months.

Hershey's said in 2014 that it would source all of its palm oil back to the mill level by 2015, and to plantations by 2016. But its plantation level sourcing actually fell in 2016 from 27% to 14%, and the commitment has been deferred until 2020.




Greenpeace protestors dressed as orangutans demonstrate against palm oil harvested from rainforest destruction outside a Nestle shareholders' meeting. Photograph: Antoine Antoniol/Bloomberg/Getty Images

Jeff Beckman, Hershey's communications director said: "While we remain deeply committed to pushing all stakeholders to accelerate traceability and bring full transparency to this supply chain along with our supplier partners, we realised it would take more time to achieve this goal than originally anticipated."

Mars had promised to cut conflict palm oil out of its supply chain by 2015. A spokesperson said: "Our traceability levels remain high. In the year to date, 97% of our palm oil is traceable to mill level and 40% traceable to the plantation. The evidence of the challenge in Leuser is clear, and we are already taking steps toward action."

Gemma Tillack, Ran's campaign director said: "It is our view that the brands have deceived consumers by continually claiming to be tackling deforestation when they have not executed the actions required to achieve a moratorium on the forest frontlines of their global supply chains."

• This article was amended on 30 October 2017 to include a response from Mars, which was supplied after publication.
Nestlé, Hershey and Mars 'breaking promises over palm oil use' | Environment | The Guardian
This piece from the New York Times in November looks at the sorts of actions which can be taken:
Endangered Orangutans and the Palm Oil Industry:
An Environmental Science Case Study



By MICHAEL GONCHARNOV. 9, 2017




You can find it nearly everywhere, from pizza dough to detergents to ice cream, and even in biodiesel and instant noodles. In fact, 50 percent of packaged food items in American supermarkets contain it.

But the steadily increasing demand for palm oil, not just in the United States but also around the world, threatens the future of wild orangutans. In Borneo, where the vast majority of orangutans live, their population has declined by 80 percent over the last 75 years.

In this lesson, we present students with an environmental quandary to discuss and debate — a case study about the best way to protect orangutans given the wave of deforestation shrinking their natural habitat in Southeast Asia.

Then in the Going Further section, we suggest additional ideas for taking action to be responsible consumers, researching other environmental and human costs of palm oil production, and weighing the economic benefits of a multibillion-dollar industry against its costs.
Endangered Orangutans and the Palm Oil Industry: An Environmental Science Case Study - The New York Times
And this piece from Yale takes us to the heart of the remaining rain forests:
Vanishing Borneo: Saving One of the World's Last Great Places
BY ALEX SHOUMATOFF • MAY 18, 2017




Borneo's magnificent rain forest is being decimated to make way for oil palm plantations. Consumers of the countless products made with palm oil, from toothpaste to chocolate bars, hold the key to protecting the most ancient forest on earth.

Palm oil is the second-most important oil in the modern consumer society, after petroleum. Producing it is a $50-billion-a-year business. It's in a multitude of the household products in North America, Europe, and Australia: margarine, toothpaste, shampoo, lipstick, cookies, Nutella, you name it. Doritos are saturated with palm oil. It's what gives chocolate bars their appetizing sheen – otherwise, they would look like mud. Palm oil has replaced artery-clogging ghee as India's main cooking oil. India is now the major consumer of this clear, tasteless oil squeezed from the nuts of the oil-palm tree, Elais guyanensis, originally from West Africa, but now grown pantropically, mainly within ten degrees north and south of the Equator.

Indonesia and Malaysia chose palm oil as their main economic engine after independence in the 1960s, and they together account for 85 percent of world production, which is expected to double by 2050. As oils go, palm oil gives you the best bang for your buck. Soy fields yield far less than rows of oil-palm trees and have to be replanted annually, while the palms keep bearing huge clusters of oil-rich nuts for 20 years, and can then be replaced. In 2015 17 million hectares of oil palm yielded a total of 62 million tons of oil, while the 120 million hectares planted in soy yielded 48 million tons. Palm oil doesn't lose its properties when it's heated, or become rancid at room temperature, and it has multiple industrial uses. It is the edible vegetable oil of choice and is not going away.
Vanishing Borneo: Saving One of the World's Last Great Places - Yale E360
Some steps are being taken, so it seems:
Mars to boost $1bn sustainability plan with 'sense of urgency' | News | Eco-Business | Asia Pacific
Candy Giant 'Mars' Wants To Cut Deforestation From Supply Chain - Green Matters
Nestlé Switzerland targets 100% 'responsible sourcing' by 2020 - Food Navigator
.
.
.