The food industry is struggling to find alternatives to plastic:
Tetra Pak plans fightback in war on plastic straws
Packaging giant says alternatives to juice cartons can be more damaging to environment

Pilita Clark and Leslie Hook MAY 25, 2018

Packaging giant Tetra Pak is planning to lobby politicians and regulators about the benefits of plastic straws despite pledging last month to launch a paper straw for its popular juice cartons by the end of this year.

In a letter seen by the Financial Times, Charles Brand, Tetra Pak's head of sales and marketing, told customers the paper straw announcement had been made to address "the rising tide of negative public opinion towards plastic straws and government drives around the world to reduce their use".

However, he added: "For our own part, we will continue to make the case to politicians, regulators and environmental groups that the plastic straws attached to portion-sized carton packages serve an entirely functional purpose. We will also maintain our argument that, from an environmental perspective, their impact is significantly lower than most liquid food packaging alternatives."

Plastic straw crackdowns have mushroomed since David Attenborough's BBC series Blue Planet II jolted fresh life into the war against plastic pollution late last year. The UK government, the Hilton hotel group, the Costa Coffee chain and the city of Seattle are among those calling time on plastic straws, which are blamed for littering the oceans and harming marine life.
Tetra Pak plans fightback in war on plastic straws - Financial Times
But other companies are literally cashing in on 'the rising tide of negative public opinion':
PAYS TO BE GREEN
Here's how you can get paid to recycle plastic bottles in Iceland's 'Reverse Vending Machine'

By Rebecca Curley
27th May 2018


Customers can slot empty plastic bottles into the vending machines at Iceland's Fulham store

The frozen food specialist says it is leading the way by introducing the Deposit Return Scheme. It will test out use of the machines for six months.

Reverse Vending Machines reward people for recycling by providing money or vouchers in return for empty containers. Customers in Fulham are given 10p in Iceland vouchers in return for the empty plastic bottles they slot into the machines at the supermarket.
Here's how you can get paid to recycle plastic bottles in Iceland's 'Reverse Vending Machine
'
- The Sun
Today's Observer looks at the politics of banning plastic:
Gove urged to follow Europe with ban on single-use plastic
Campaigners demand that post-Brexit Britain matches the EU's plan to tackle waste

Daniel Boffey Brussels
Sun 27 May 2018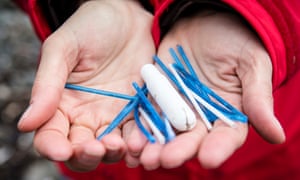 Single-use plastic found on Kilninian beach on the Isle of Mull in Scotland. Photograph: Will Rose/Greenpeace


The EU is to ban plastic straws, stirrers, cutlery, cotton buds and balloon sticks in a bid to tackle the rising tide of plastic waste, a move that has prompted urgent calls for the environment secretary, Michael Gove, to guarantee that the UK will follow Brussels' lead after Brexit.

The restrictions on "single-use" plastic will be launched on Monday by the European commission as part of its plan to ensure that 55% of all plastic is recycled by 2030. About 80-85% of all litter in the oceans is plastic, and half of that is made up of throw-away items such as plastic straws.

A leaked draft of the commission's proposals spells out a step-change in the bloc's attitude to plastic waste. But it is likely to come too late to be part of the bulk of EU legislation due to be transposed into UK law.

The draft document, to be unveiled by commission vice-president Frans Timmermans, states: "Single-use plastic products for which suitable and more sustainable alternatives are readily available should no longer be placed on the union market to limit their impact on the environment."

The plastic items targeted by the ban are cotton buds (except for swabs for medical purposes), forks, knives, spoons, chopsticks, plates, straws, beverage stirrers and sticks for balloons. Where there are no readily available alternatives, such as plastic fast-food containers, the EU says member states must respect a "polluter pays" principle. Companies making such items will have to cover the costs of waste management and the clean-up of marine waste, along with measures to raise awareness to prevent and reduce such litter.Quick guide

EU countries will also have to achieve a significant reduction in the use of such containers and throw-away cups within six years of the proposal being written into national law. The EU would like member states to use deposit schemes to ensure that 90% of plastic bottles are collected separately by 2025.

Caroline Lucas MP, co-leader of the Green party, has called on Gove to meet the EU's standards on plastic waste after Brexit. Gove had a public Twitter spat with Timmermans earlier this year after claiming that EU legislation might get in the way of a UK ban on plastic straws.

Lucas told the Observer: "Once again the EU is way ahead of the UK when it comes to the pace and direction of protecting our environment. We all know that single-use plastic needs to be eradicated but all we've got from this government is a vague promise of action on 'unavoidable' waste by the end of 2042.nIf Brexit goes ahead, we need clarity and certainty that our environment will not be sold down the river and that means a watchdog with real teeth. That's how to help ensure Britain outside of the EU doesn't slide back into its old reputation as the dirty man of Europe."

ClientEarth chemicals lawyer Alice Bernard said: "These measures are essential to stop our wasteful use of plastics and an important first step to tackle plastic pollution. We hope the next steps will be addressing the issue of dangerous chemicals in plastics – such as bisphenols."