Maybe we should try shopping on our high streets - whilst we've still got them:
Futures Forum: Save our high streets > give up Amazon – and embrace shopping on the high street again
MPs are concerned:
MPs launch inquiry into high streets facing threat from online



Committee examines challenges facing England's town centres after shift in shopping habits

Angela Monaghan

Thu 10 May 2018 16.18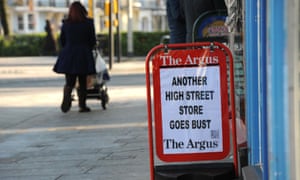 The investigation comes as major high street names on have closed stores or announced closure plans. Many restaurant chains are also facing problems. Photograph: Alamy Stock Photo

A cross-party group of MPs is to investigate how to revive England's ailing town centres which are under increasing threat from online shopping and the financial problems facing some of the biggest high street names. The housing, communities and local government committee has invited submissions to an inquiry that will consider what high streets and town centres could look like by 2030.

Clive Betts, the Labour MP who chairs the committee, said: "Our high streets and town centres have an important social, civic and cultural place in our society. But, many of our high streets are now struggling, facing a range of challenges including the threat posed by online retailers. Changing trends and behaviours in recent decades – driven by a range of economic, demographic, social and technological factors – have affected the prosperity and vibrancy of our high streets."


Sir Ian Cheshire, the chairman of Debenhams who used to run B&Q, warned on Wednesday that onerous leases in UK town centres are "killing more and more retailers".

He told ITV News that the decline of the high street would accelerate unless the government reformed the tax system and landlords showed greater flexibility. Cheshire said the current system, with business rates based on property values and many retailers still wrestling with landlord agreements that include upwards-only rent reviews, gave online-only retailers like Amazon an unfair advantage.

"What you're seeing is retail facing more change in the past three years than in the previous 20 ... It's a big structural shift which is basically saying old models have to be reinvented," he said. "If you're starting out now you'd have much less space, much more online and much more flexibility. No one will now be signing 20-year leases.

As well as examining the challenges facing high streets and town centres, the MPs' inquiry will consider whether councils have the correct planning, licensing, tax-raising and other tools needed to help local areas.

It is not the first time the problems facing UK high streets have been the subject of investigation. In 2011 David Cameron asked the retail guru Mary Portas to come up with a plan to save traditional high streets, then under threat from out-of-town shopping centres and supermarkets moving into non-food sectors. Now, however, supermarkets and out-of-town shopping centres are also feeling the squeeze as a result of a huge change in shopping habits.

Nearly £60bn was spent via smartphones and tablets in 2017 – a figure that equates to more than £1 in every £6 spent on the high street. While the shift is benefitting online-only retailers such as Amazon and Asos, it is forcing radical change on the country's towns and cities as huge swaths of physical retail space becomes redundant.

The committee said it welcomes the views of the public on why their high street matters and what improvements could be made.
MPs launch inquiry into high streets facing threat from online | Business | The Guardian
And following on from another big name retailer cutting back, councils are urging people to use or lose their high streets:
Councils warn locals to use high streets or risk more shop closures

Carly Roberts Thursday May 24th 2018

A number of councils whose high streets will be affected by the Marks and Spencer closures have expressed disappointment at the news, with some showing concern over the future of shopping areas as a result of the change...

Yesterday the head of region for East Midlands South at Marks & Spencer, Zoe Gibbard, said the decision to propose the closure of M&S Northampton "has been a difficult one".

Councillor Hadland added: "The shape of retail is changing and we need to adapt to that. We have a survey underway to help us understand people's current retail and leisure habits, which will help inform our Local Plan. We're also about to launch a survey on how people would like to see our market used.
What the news about M&S demonstrates is that if people don't use shops in their town centre, there's a danger they'll lose them."

Business failures have hit investment returns but prime locations are still in demand

Daniel Thomas MAY 21, 2018Print this page8

When sausage roll sellers start to warn about consumer sentiment, the depth and breadth of the high street's woes become all too evident. The warning from Greggs in the UK — the purveyor of cut-price hot snacks that has been viewed by some analysts as practically recession proof — is only the latest in a relentless series of downbeat reports from the high street.

Retailers are failing at a rapid pace, with almost weekly announcements about restructurings and different forms of administration in the UK.

The picture in the US appears similar, with the demise of Toys R Us the most prominent of the retail failures that have left gaping holes in malls and shopping strips. The collapsed toy seller has come to symbolise the woes hitting traditional retailers: a business model disrupted by the rise of cheaper and easier alternatives available online, not least on Amazon's popular website.

Often the cost is borne by the landlords, forced to accept the financial terms of rescue deals or outright collapse that leave them saddled with empty properties in some of the worst locations.

Tony Christie, head of retail at Aviva Investors, one of the UK's biggest real estate fund managers, says the role of property has changed as retailers now typically need fewer and smaller stores.

"Two of the more visible impacts of these trends and a challenging economy are the increasing number of vacant units on the high street and the number of retailers entering into CVAs [a form of administration] during 2018. This is the symptom of too many retailers unable to meet the challenges of an increasingly competitive landscape," he says.
Warning to retail tenants: adapt or die - Financial Times
.
.
.