It is now two years ago since fears sere expressed that pressure was mounting on 'civil society':
Futures Forum: Concerns about transparency and lobbying continue in East Devon: pt 3
These fears continue to be voiced:
It is the value of a civil society, that's why a society becomes healthy.
Ai Weiwei tells of his lack of support from British government | Art and design | The Guardian

It is an international issue:
Live Q&A: What will it take to build a global civil society movement?
Join a panel of experts for an online discussion on Thursday 1 October 1-3pm BST to debate how civil society can be protected and strengthened across the world
Campaigners against slavery in Mauritania Photograph: JOE PENNEY/JOE PENNEY/Reuters/Corbis

Holly Young @holly_young88

Monday 28 September 2015

"The role of civil society has never been more important," said Ban Ki-moon on the International Day of Democracy earlier this month. Highlighting its role in fostering economic and social progress, holding power to account and ensuring diverse social representation, civil society would be crucial to achieving the sustainable development goals (SDGs), suggested the UN secretary general.

The new global goals are a moment of opportunity for civil society organisations. References to strengthening global partnership and building inclusive and accountable institutions are embedded in the 17 SDGs.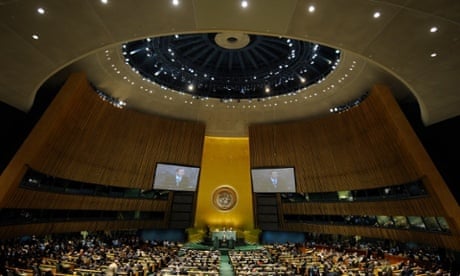 7 reasons the SDGs will be better than the MDGs

Read more

Yet civil society space is shrinking around the world. More than 60 countries have recently passed or drafted laws that stifle the activity of non-governmental and civil society organisations. It is a global trend that James Savage from Amnesty International predicts will "intensify in the coming two to three years".

Can the ambitions of the SDGs be realised in countries where civil society is under attack and in some cases disappearing? What can be done to protect these organisations and amplify the lobbying power of civil society? Is an organised global coalition necessary? And if so, how do we make it happen?

Join a panel of experts discussing these questions and more for an online discussion on Thursday 1 October 1-3pm BST.

The live chat is not video or audio-enabled but will take place in the comments section (below). Get in touch via globaldevpros@theguardian.com or@GuardianGDP on Twitter to recommend someone for our expert panel. Follow the discussion using the hashtag #globaldevlive.
There is a very powerful group out there, campaigning for 'civil society':



Avaaz is a global civic organization launched in January 2007 that promotes activism on issues such as climate change, human rights, animal rights, corruption, poverty, and conflict; it works to "close the gap between the world we have and the world most people everywhere want."[1]
The organization operates in 15 languages and claims over forty million members in 194 countries,[1] and The Guardianconsiders it "the globe's largest and most powerful online activist network".[2]
Avaaz - Wikipedia, the free encyclopedia
Avaaz - The World in Action
It has now become a new item itself:
Avaaz: The Lobbyist that Masquerades as Online Activism | Global Research - Centre for Research on Globalization
Some of which appears rather hysterical:
Avaaz: Pro-Democracy Group Or Facade For American Imperialism In The Middle East?
Avaaz: Imperialist Pimps of Militarism, Protectors of the Oligarchy, Trusted Facilitators of War | Part I, Section I | Wrong Kind of Green
Avaaz: clicktivist heroes or Soros wolf in woolly disguise? | OffGuardian
Whilst there might indeed be question-marks over any 'lobbyist', it is clear, however, that 'civil society' is under threat in many non-authoritarian corners - which goes way beyond the reputation of any one campaigning group:
Avaaz - Stop the crackdown
See also:
Futures Forum: The Freedom of Information Act and East Devon >>> the story continues
Futures Forum: On psychopaths, politicians and doing business
Futures Forum: Managed democracy: "The deliberate undermining of people's perception of the world, by creating confusion and contradiction ... undermining any opposition to existing power structures ... which leaves us feeling helpless and depressed and to which the only response is: 'Oh dear'."
Futures Forum: "Mounting risks for corruption in UK local government"
.
.
.