The Environment Secretary has a very positive vision of farming:
Futures Forum: Brexit: and questioning the brave new world for farming and the countryside
And indeed many beyond government see the future as offering new horizons:
Futures Forum: Brexit: and a moment of opportunity for rural England?
There are loads of issues and areas involved, just to take the more recent ones considered:
Futures Forum: Brexit: and dairy farming
Futures Forum: Brexit: and producing food in the UK
Futures Forum: Brexit: and whether subsidies are bad for sustainable agriculture...
The NFU have been upbeat, but still offer warnings to the government:



Food and farming can power Britain post-Brexit, says NFU President



20 February 2018
Time is running out. To use a farming analogy, those three cornerstones outlined in our vision are three legs of a milking stool. There's a lot of spilt milk if you remove one of them.

We must have frictionless trade with the EU. Everything else, including the final shape of any domestic agricultural policy, is dependent on that. And of course, those who advocate a cheap food policy, of scouring the world for low cost food should bear in mind the price paid in traceability, in standards and in the off-shoring of environmental impact.

And to deliver farming's true potential for Britain we must have a trading environment that helps, not hinders. We must have a food supply chain which shares the risk equally – rather than piling all the risk onto the farmer.

British farmers are extremely proud of the standards they adhere to – most of them linked to the Red Tractor, which ensures the very best in traceability. We mustn't let those standards slip and be undermined by a bad trade deal during Brexit negotiations.
Food and farming can power Britain post-Brexit, says NFU President - The Pig Site
'Frictionless' EU trade is vital post-Brexit for UK farming to survive | Environment | The Guardian
And this has been echoed by a joint statement from the food and farming industries:
UK food and farming sector unites over views on Brexit | HeraldScotland
UK food and farming sector comes together in joint Brexit statement - New Food Magazine
Food and farming sector highlights Brexit impact on home-grown production - Farming UK News
Whilst environmentalists and farmers have also joined forces:
Ecologists and agriculturalists find common ground in the future of farming post Brexit - The Ecologist
Meanwhile, the

Environment, Food and Rural Affairs Committee also warns:
Food standards 'must not be sacrificed to cheap imports' after Brexit, say MPs | The Independent
Farming businesses 'could be wiped out after Brexit transition' | UK news | The Guardian
It depends what sort of Brexit you're looking for, as the non-partisan Farming UK website notes:
Plot emerges 'mistakenly' calling for UK to ditch food standards to secure US deal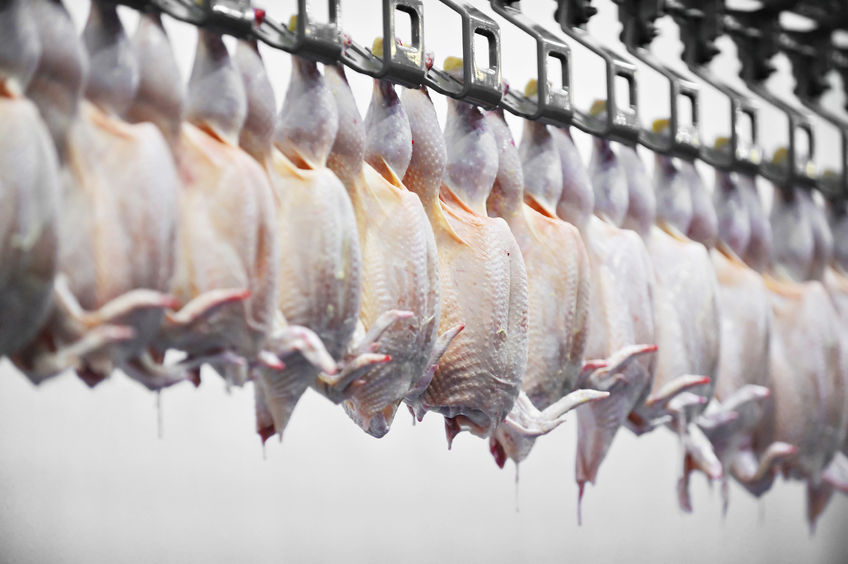 Plot to ditch EU food and safety standards threatens food producers, a Green MEP has said

21 February 2018
A plot has emerged "mistakenly" by leading Brexiteers to ditch EU food and safety standards post-Brexit to secure a US trade deal, according to an MEP. The coalition of conservative think tanks are pushing for a free trade agreement that would allow the import of US meats, drugs and chemicals currently banned in Britain, according to Green MEP, Molly Scott Cato.

Dr Scott Cato said the revelations of the plot "emerged mistakenly" on the website of the Initiative for Free Trade organisation, which was founded by Brexit advocate and Conservative MEP Daniel Hannan. They call for Britain to recognise US standards, which are weaker than those adopted by the EU. The revelation follows worries by the British farming industry that any trade deal between the UK and US could result in chlorinated chicken and hormone-reared beef entering the market.

Dr Scott Cato, a member of the European Parliament's Agriculture Committee, said this confirmed her "worst fears" for farmers and food producers. "For many rightwing conservatives, Brexit has always been about tearing up high EU standards on food safety, environmental protection and animal welfare, under the guise of freeing the UK from 'red tape'," she said. "Farmers and food producers in the South West will rightly feel deeply concerned about pressure to ditch these higher standards. Any trade agreement with the US which allows for the import of food and drugs produced without these current safeguards will threaten the viability of many small-scale farmers and food producers. They simply could not compete with the mega-farms and giant corporations of the US."

Dr Scott Cato said many promises made by Brexiteers during the referendum campaign are being "broken" in "secret talks behind closed doors". She added: "This revelation also destroys the credibility of Michael Gove's promise to ensure a 'Green Brexit'. As more evidence emerges of the risks of a Tory Brexit we continue to demand a referendum on the final deal with the option to retain all the protections that membership of the EU offers."
Plot emerges 'mistakenly' calling for UK to ditch food standards to secure US deal - Farming UK News
This is from Greenpeace itself:



A hard-Brexit think tank accidentally published its plans for US-UK 'shadow trade talks'



The Initiative for Free Trade - which is supported by trade secretary Liam Fox - has now deleted the plans from its website

17.02.2018

Lawrence Carter@lawrencecarter1

A transatlantic network of conservative think tanks accidentally published its secret plans to influence US-UK trade negotiations, Unearthed can reveal. Documents outline plans to form an "unprecedented" coalition of hard-Brexit and libertarian think tanks, which will call for Britain to ditch strict EU safety standards – including rules on food and pharmaceuticals – in order to secure a sweeping US-UK trade deal.

The group will hold "shadow trade talks" in Washington and London to "hash out an 'ideal' US-UK free trade agreement (FTA)." It hopes this will form the "blueprint" for the real negotiations between the British and US governments. The project plan – which was discovered by Unearthed – claimed the talks would be attended by an official from Fox's Department for International Trade (DIT), with the aim of making sure the department feels "ownership" of the process. But a DIT spokesperson told Unearthed the department had not yet received an invitation to the talks and so could not comment on whether an official would attend.

The IFT said the plan was an "internal proposal document that includes some ideas that have not yet been put into practice. It therefore shouldn't have been put online." No US or British government officials have yet been invited, the spokesperson added.

Trade secretary, Liam Fox, has previously told the Initiative for Free Trade (IFT) – which is organising the talks – that his department is "a very, very willing partner in your great and wonderful quest."

The plans, which were presented in a glossy brochure, have now been removed from the IFT's website – but Unearthed is publishing them here in full.

Shadow trade secretary Barry Gardiner told Unearthed: "This looks like another attempt by the IFT to legitimise what is an overtly political agenda by using a government department to sanction their work with right-wing think tanks overseas. There is far too cosy a relationship between some of these organisations and senior Cabinet figures".

Fox's connections

According to the documents, the shadow trade talks are set to include 10 leading right-wing think tanks from the UK and US – including the London-based Institute for Economic Affairs and the Legatum Institute, which has recommended dropping in the EU's precautionary principle to boost trade.

More on Brexit
Brexit: Liam Fox's department signs deal to keep trade talks secret
Trump's top trade nominees lobbied for hormone-meat exports
Brexit: UK trade delegation to Washington had virtually no experience negotiating deals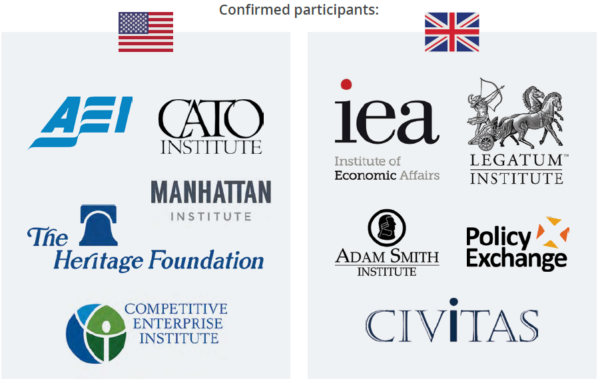 Source: Initiative for Free Trade.

An IFT spokesperson told Unearthed that Policy Exchange, one of the UK think tanks listed in the brochure, had not yet confirmed it would join the trade talks.

On the US side, the American Enterprise Institute and Heritage Foundation are listed as participants. The Cato Institute – which was founded by billionaire oil refiner, Charles Koch – will write the first draft of the "ideal" agreement.

Trade secretary Liam Fox has longstanding links to several of the groups involved in the project, and helped launch the IFT – which is run by Conservative MEP Daniel Hannan – in September 2017. Concluding his speech at the event, Fox told Hannan his department would be "a very, very willing partner in your great and wonderful quest."

Foreign secretary Boris Johnson also spoke at the launch, which was controversially held at the Foreign Office.

The IFT's website boasts of its' "extensive networks within governments", which it will "use to promote new trade agreements and to make sure that they focus on mutual recognition".

Angus MacNeil, chair of the international trade select committee, told Unearthed the shadow trade talks risked handing the DIT an "off the shelf agenda". He added: "The other danger with the libertarian types is that they will drop any form of protection for business.These further plans will absolutely throw agriculture under the bus. The bus with £350m on the side", he continued.

A spokesperson for the Cato Institute said: "Scholars in our Stiefel Center for Trade Policy Studies are currently working on a paper concerning the US-UK trade agreement, which they plan to present at a meeting in London in April."

Libertarian blueprint

The shadow talks aim to shape the negotiations before they have even begun, the brochure says – producing "a blueprint that is looked upon favourably by both governments" and can serve as something "to work towards in the actual US-UK FTA negotiations". The tactic of drafting model legislation and ensuring buy-in from government along the way has long been used by US libertarian groups, such as the American Legislative Exchange Council (ALEC).

The Heritage Foundation boasts that 64% of the 344 policy recommendations it made in its "Mandate for Leadership" document have been adopted by the Trump administration.

The IFT's plan for the shadow talks says a key goal is "to ensure the blueprint reaches as many of the relevant individuals as possible, including government officials, ministers and legislators", through the access enjoyed by the think tanks.

The document explains that although the government officials it planned to invite will not participate directly in the talks, their presence will ensure "that the respective administrations feel some involvement in and ownership of the process." It added that the presence of UK and US officials will "lend greater weight to our endeavour".

Watch
Brexit, trade and the environment: What's the big deal?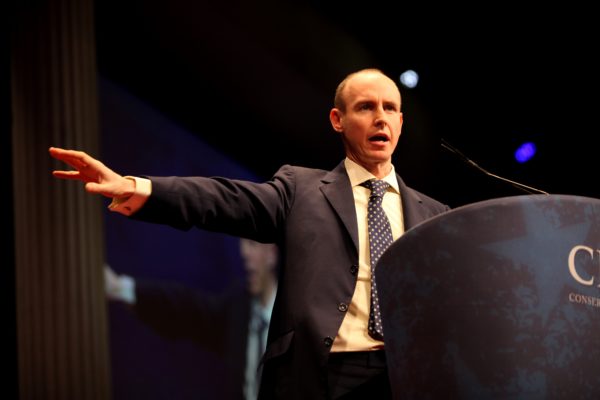 Daniel Hannan MEP is president of the IFT, which accidentally posted the plans. Photo: Wikimedia Commons/Gage Skidmore

Chlorinated chicken

The "ideal" free trade agreement outlined by the IFT in the document could transform the way the safety of imported products – such as food and pharmaceuticals – is regulated. The IFT argues that, by recognising some US standards and dropping some restrictions on the import of US agricultural products, the UK can pivot away from the EU's precautionary principle, saving consumers money through cheaper food imports.

It says a shift away from the EU's approach would mean that "US exporters of agricultural produce – beef, for instance – would have a brand new market to sell to". Imports of US beef are currently restricted by the EU because of a widespread use of growth hormones that the European Commission deems unsafe.

This type of regulatory change would also allow for imports of chlorinated chicken, an issue that caused huge controversy during Liam Fox's visit to Washington in July 2017. During an event at the American Enterprise Institute, Fox dismissed the issue as a sideshow: "the British media are obsessed with chlorine-washed chickens, a detail of the very end-stage of one sector of a potential free trade agreement. I say no more than that".

However, documents obtained by DeSmog under freedom of information and seen by Unearthed, reveal that the chlorinated chicken issue was one of the first things Fox was lobbied about when he met with the Heritage Foundation – just a week after his appointment as trade secretary.

According to a summary of a July 2016 lunch with 16 representatives of Heritage – including his former special advisor, Luke Coffey: "participants highlighted the political significant [sic] of chlorine-washed chicken (banned in the EU) to US agriculture (COMMENT: a long-standing restriction that the US argues is without scientific basis)".

Unearthed contacted the Heritage Foundation for comment and will update the story when we receive a response.