There has been a lot of talk about how the likes of the North East will suffer the most from Brexit:
Leave-voting areas to be hit hardest by Brexit
Impact report says UK growth will be reduced regardless of talks outcome
Vote Leave campaigners during the referendum on EU membership in 2015 © AFP

George Parker, Political Editor FEBRUARY 7, 2018

Parts of the UK that voted Leave in the 2016 EU referendum will suffer most as a result of Brexit, according to a government impact assessment.

The study found that the north-east and the West Midlands would suffer the biggest hit to growth, while London, which voted heavily for Remain, would be the least affected. The regional data are part of an analysis compiled by government economists that found growth would be reduced over the next 15 years, whatever the results of Brexit negotiations.

Pro-Brexit Tory MPs have criticised the analysis, with Jacob Rees-Mogg, a prominent Eurosceptic, claiming that the Treasury had "fiddled the figures". The government said the report did not model for Theresa May's unspecified "bespoke" trade deal. The study was intended to be shown to cabinet ministers in private but a leak was obtained by BuzzFeed. Now MPs are being allowed to view the detailed contents.

The full report concludes that growth would be slowed by 2 per cent if Britain agreed a Norway-style single market deal, by 5 per cent if it agreed a Canada-style free trade agreement, and 8 per cent if it left on World Trade Organization terms.

But regional variations were significant. London's growth rate would fall by 1 per cent, 2 per cent and 3.5 per cent under the three scenarios, suggesting the impact on the capital's economy would be half that of the national average. By contrast, Northern Ireland's economy would lose 2.5 per cent, 8 per cent and 12 per cent of growth under the three Brexit outcomes, with a similar outcome for the West Midlands; the north-east would lose 3 per cent, 11 per cent and 16 per cent.
Why Brexit is a double blow to the regions that voted to leave the EU
February 20, 2018 3.29pm GMT

Olivier Sykes
Lecturer in European spatial planning, University of Liverpool
Philip O'Brien
Lecturer in Urban Planning, University of Liverpool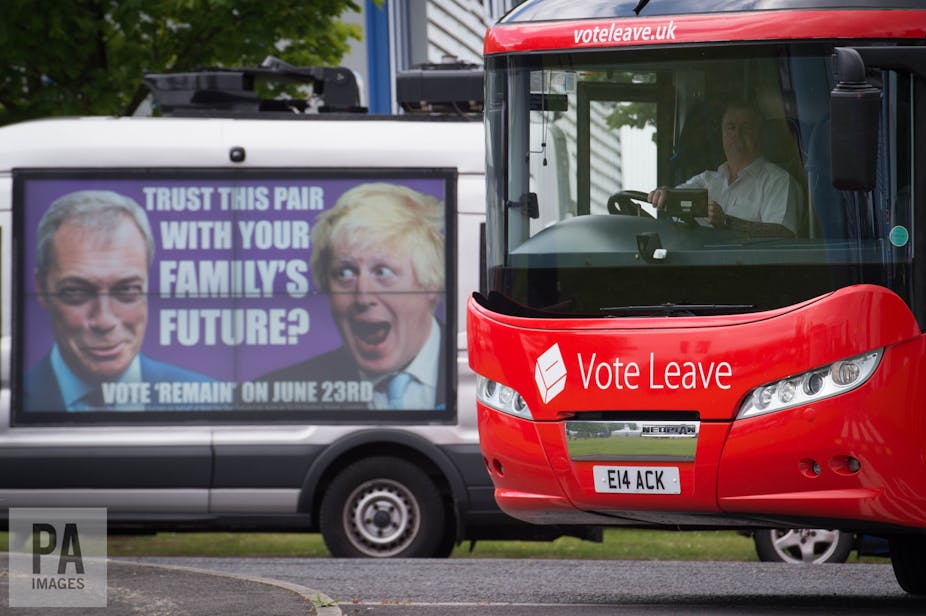 Vote Leave won the Brexit vote in areas that will be worst affected. Stefan Rousseau/PA Archive/PA Images
Impact studies have
revealed
how different parts of the UK will suffer from Brexit more than others. One irony, as
many have pointed out
, is that a lot of these regions voted for Brexit. Another irony, which is less talked about, is that these are also regions that
benefit a great deal
from EU regional policy.
The UK is an unevenly developed state. Some territories (such as London) are much more well off than others (such as the northeast of England) as a result of decades of investment (or under-investment) in their economies. Others benefit from varying levels of devolution, which gives them a relatively greater autonomy to tailor policy to their own needs, and stronger political representation within Britain and the EU.
Over recent decades, when the UK government has fallen short in terms of regional policy to address the needs of less economically favoured regions, the EU has provided much-needed support. So the key question now is what will happen to the regions which have relied on this in the event of any Brexit? So far this remains unanswered.
A further irony here is the fact that the UK was instrumental
in the foundation of a European regional policy
, working alongside Ireland and Italy to place the idea firmly on the agenda. This was one of the many influences the UK exerted over the direction of the EEC and its successor, the EU. And it is a contribution that is well recognised and appreciated across Europe.
The creation of such a policy at European level in the mid-1970s was timely for the UK's economically depressed areas. It was soon to coincide with a Conservative government led by Margaret Thatcher that was
inclined to let regions fend for themselves
.
But the EEC and forceful UK politicians like Michael Heseltine still believed the state and targeted public investment had a role to play in giving places that were suffering economic, social and environmental challenges a fighting chance to regenerate themselves. European regional policy emphasised the importance of "territorial cohesion". This is the idea that all regions and their people should have a chance to grow and enjoy a good quality of life. Nobody and no place should be left behind...
Why Brexit is a double blow to the regions that voted to leave the EU
It now seems that it will be the South West which will suffer the most:
South West 'could suffer more than other regions' after Brexit

Dominic Brady
26 Feb 18

The South West could be hit harder than other parts of England when the UK leaves the EU, according to panel members at a one-off Brexit discussion convened by CIPFA in Bristol.

High numbers of EU workers could be lost from industries in the region, which must get better at 'fighting its own corner', attendees at the event on Friday last week heard.

Kate Kennally, chief executive of Cornwall Council, pointed out the South West had a growing number of tech start-ups but it was not good at promoting its own industries. "We have a big part of the UK that doesn't have a big voice," she said. She added Cornwall voted leave because of "a sense of profound insecurities about public services" and that "this could be a moment where there needs to be a good deal of bravery".

Kennally also pointed out: "Exeter, Bristol, Plymouth are the cities most reliant on exporting to the EU."

Nigel Costley, regional secretary of the trade union federation the TUC, said: "I don't think we are well equipped to respond to [Brexit]. I fear we are going to be the losers in the South West. I do not see us fighting our corner very well." Costley added the TUC would prioritise the protection of jobs and workers' rights but that "parts of the South West [were] very vulnerable to a sudden shock that may come from [Brexit]".

Matt Griffith, head of policy for not-for-profit company Business West, which helps businesses in the area grow, said the South West would be the area most affected by changes to exports. He added: "The automotive sector and aerospace sector [in the region] have a high number of EU workers".

Automotive manufacturers in the South West include Eberspacher, Goodridge Fluid Transfer Systems and Honda, according to the Automotive Council UK. The South West 'aerospace cluster' – with aerospace companies and their supply chains based there - is reportedly worth more than £7bn and one of the largest in Europe.

Alan Greer, professor of public policy at the University of West England, also pointed out that "80% of slaughterhouse vets are EU nationals". He highlighted the difficulty in producing a unified position on public spending for a region as large and diverse as the South West. Greer explained: "There is a tension between big South West cities such as Bristol and the region as a whole."

Kennally said the South West "has got to be competitive" in bidding for migrant labour. She suggested some sort of "regional immigration allowances" might help the region.

Labour suggested a regionalised immigration system at the start of last year, although deputy leader Tom Watson said this would allow higher immigration to London but tighter restrictions for other parts of the country.

Kennally added: "[The UK] shouldn't have [an] immigration based on what is right for London".

Julia Goldsworthy, chair of the panel and CIPFA's Brexit Advisory Commission for Public Services, asked what devolution opportunities leaving the EU presented for the South West.

Kennally answered: "Local government is seeing this as being a huge area for making a play for devolution".

The panel's concerns over Whitehall-centric Brexit negotiations echoed those expressed by leaders of the UK's largest cities last week, when they lead a delegation to Brussels to highlight the interests of local authorities in the talks.

CIPFA organised the event in Bristol to discuss the impact of Brext on public services in the South West.
South West 'could suffer more than other regions' after Brexit | Public Finance
.
.
.