There are very different messages coming out as to what the energy sector will look like post-Brexit:
Siemens boss: My confidence in Britain's future after Brexit
Joe Kaeser, chief executive of the German industrial giant, sees big opportunities and thinks the PM is listening to concerns.

Thursday 30 March 2017

... It recently invested more than £300m into a renewable energy project in Hull, and Kaeser told me he still sees the UK as one of the "two most powerful economic environments in Europe", along with Germany.

... So what did he talk about with Mrs May?

"There was no specific area," said Mr Kaeser. "We talked about economic conditions, about skills and renewable energy. We wanted to understand the policy about renewables going forward. As a great employer, one of things we prize is political consistency and clear policy."

I understand he found consensus on issues such as skills training and education in the energy sector.

Risk of energy sector being denied entry to Europe's internal energy market looms large – with Brexit also likely to exacerbate industry skills shortages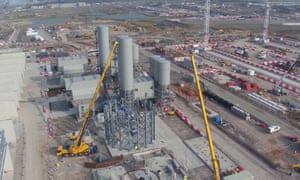 There are concerns that Brexit will make it harder to import skilled EU nationals to build Hinkley, which is slated to provide 7% of UK electricity. Photograph: EDF Energy