Our air quality is much to be desired:
Futures Forum: Air pollution: "So, are we facing up to what's being called an urgent public health crisis?"
With campaigns pushing central government to do something about it:
Futures Forum: Campaigning for a new Clean Air Act
Local authorities can do something to help:
Futures Forum: Brexit: and the County Council protecting Devon's nature
Because the situation is pretty dire:
Futures Forum: "Roadside verges are helping some of the rarest wildflowers in the UK survive, but are under siege, thanks to a combination of mismanagement and pollution"
And it's not made easier by our modern way of living and shopping:
Futures Forum: Are on-line shopping delivery vans creating more pollution?
This has been going on for some time - as this piece in the Telegraph from a couple of years ago testifies:
We've all been taken for a ride over diesel - Telegraph
In a piece from two weeks ago, the Telegraph reports on what Neil Parish, Honiton MP and chair of the environment committee has to say:



Exclusive: Ministers considering 'postcode' diesel car scrappage scheme to target most polluted areas



Christopher Hope, chief political correspondent 15 APRIL 2017 • 7:00PM

Anew diesel car scrappage scheme will be targeted at the most polluted areas under plans being considered by ministers, The Telegraph can disclose.

Car owners will only be able to qualify for cash to scrap their diesel vehicles if they are old enough and registered at an address where air pollution is already at dangerous levels. Ministers are hoping that this "postcode" diesel scrappage scheme will be cheaper than a general scheme open to all owners of diesel cars. They also do not want to "demonise diesel drivers", one source said, adding: "Older diesel cars are disproportionately driven by those who are less well off."

Uptake of diesel cars rocketed over the past decade, after they were taxed less than petrol cars, with the proportion of diesel vehicles on British roads increasing from 20 per cent in 2005 to 37.8 per cent in 2015. This was a deliberate policy because diesel cars emitted less carbon dioxide. However, it ignored their nitrogen dioxide emissions, which cause or worsen health conditions like asthma and bronchitis. Last year four in 10 local authorities breached legal NO2 limits.

Ministers have now been given until April 24 to publish court-mandated new plans for tackling illegal levels of air pollution. They are expected to unveil plans for new clean air zones and extra charges to enter some towns and cities in peak periods. Number 10 has pushed back against calls for a national scrappage scheme for polluting diesel vehicles on cost grounds, despite it being backed by Transport Secretary Chris Grayling in February.

But Tory MPs will urge the Government to commit to a targeted scheme in the House of Commons debate on Wednesday next week.

Neil Parish, Conservative chairman of the environment, food and rural affairs select committee, will say: "I know there are concerns about the costs of any scheme. That's why any proposed scheme should be targeted and proportionate. It should be a key weapon in the armoury of the Government in tackling air pollution problems."

He will say the scheme could be limited to the 5.6million diesel cars which were registered before 2005 and "geographically" targeted in "pollution hot spots". He will say: "Limiting the scheme to these hotspots could potentially take as many as half of these dirtiest diesels out of these pollution hotspots."

Scrappage schemes have proved to be very popular, with seven in 10 AA members supporting the policy. A previous scheme in 2009/10 allowed a vehicle to be scrapped for a £2,000 discount on a new car, with £1,000 from the manufacturer and £1,000 from the Government.

Mr Parish will propose that the new scheme follows the same rules but should be means-tested so that it does not become "a subsidy of the middle class".

He will say: "Households should not just be able to trade in multiple diesels for a cash subsidy. Instead the Government should particularly consider targeting a scrappage scheme at poorer households or those earning less than 60 per cent of the median UK household income." He will say: "If the Government ear-marked £500million for this scheme, it would take nearly 10 per cent of the five million dirtiest diesels off our roads."

Families would have to swap their polluting cars for low emission-producing vehicles, public transport tickets, a car club membership or even a new bicycle, he will suggest. A similar pollution reduction vouchers scheme in southern California has proved to be popular, he will say.

In February, Mr Grayling said: "People should take a long, hard think about what they need, about where they're going to be driving and should make best endeavours to buy the least polluting vehicle they can. I don't think diesel is going to disappear but someone who is buying a car to drive around a busy city may think about buying a low-emission vehicle rather than a diesel."

Anna Jones, head of Greenpeace's clean air campaign, welcomed the idea, saying: "A really progressive scrappage scheme will help kick start the shift to electric vehicles, as well encourage a shift to car sharing and public transport. Even the newest diesel cars are heavily polluting, and the majority aren't meeting pollution standards. So they shouldn't be promoted by government as a clean option in any scrappage scheme. To sort out this health crisis, we need to remove all diesel from our roads and transition to full electric."

But Oliver Hayes, air pollution campaigner at Friends of the Earth, said the scrappage scheme did not go far enough. He said: "Neither tax payers nor drivers should pay for clearing up the mess created by car makers who lobbied hard for diesel incentives and then sold us vehicles totally incapable of delivering the claimed cuts to emissions. Targeting scrappage schemes only at the worst polluting areas somewhat overlooks the fact that nine out of 10 air quality zones are breaking legal limits for toxic NOx emissions. Britain needs full-blooded policy to address its air pollution crisis, not a half-baked post code lottery."
Exclusive: Ministers considering 'postcode' diesel car scrappage scheme to target most polluted areas - Telegraph
This is how the Rural Services Network has reported the story: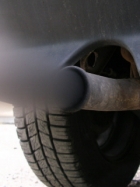 Don't punish diesel drivers - rural MP
Written by Ruralcity Media

Thursday, 20 April 2017 10:54

The government must not punish motorists who drive diesel vehicles, a prominent rural MP has warned. Diesel vehicles emit far higher levels of nitrogen oxides than petrol vehicles – prompting increasing calls for their use to be curtailed in an effort to improve air quality. But any move could hit rural communities particularly hard because many rural residents use diesel vehicles as opposed to other forms of transport.

Neil Parish, who chairs the House of Commons rural select committee, said a scrappage scheme should be introduced if the government wanted to get rid of the most polluting cars.

Poor air quality was a "public health emergency," said Mr Parish on Wednesday (19 April). But it would be wrong for the government to punish diesel drivers for taking the advice of a previous Labour government which encouraged motorists to buy the vehicles.

Instead, the government should offer a 'carrot and stick approach' to get the dirtiest diesels off the road, Mr Parish suggested. Any scheme should be targeted, providing money towards newer cleaner forms of transport, particularly in the pollution hot spots, he said.

Air quality is more of a problem in inner city areas than the countryside. Some 60% of the nitric oxide in inner cities comes from transport, said Mr Parish.

"It is quite difficult to break that down and say how much comes from buses, taxies, lorries, delivery vans and cars," he said. "But there is no doubt that tackling the private car, particularly in those spots, will help to make a real difference in reducing NOx emissions. Transport is a particular issue, as is the older diesel engine. We cannot ignore what is going on; we need to take action."

Mr Parish said motorists were encouraged to switch to diesel through changes to the vehicle taxation system under a previous government.

"We now know that that was a policy mistake. The uptake of diesel cars rocketed. The proportion of diesel vehicles on British roads increased from 20% in 2005 to 37.8% in 2015. That was a deliberate government policy. Between 2005 and 2015, we did see cleaner diesel vehicles, but naturally they still give off particulates and NOx."

In turn, the number of extra diesel vehicles had caused a host of air quality problems. Diesel engines emitted a higher level of nitrogen oxides. Those gases caused or worsened health conditions such as asthma and bronchitis and even increased the risk of heart attacks and strokes.

"They are linked to tens of thousands of premature deaths in Britain every year," said Mr Parish. "As a result, the Select Committee on Environment, Food and Rural Affairs, which I chair, branded poor air quality a "public health emergency" in our recent report to the Government. Four in 10 local authorities breached legal nitrogen dioxide limits last year. That shocking statistic shows the scale of the problem.
"
Don't punish diesel drivers - rural MP
.
.
.