On Earth Day we looked at how we can 'look after' our planet in all sorts of ways:
Futures Forum: Surviving Earth Day: "As long as Earth Day focuses on emotional romanticism about nature and dismisses the role of science and technology in protecting and even improving our world, it is a threat to agriculture and to food security."
As suggested, one of these ways to look after the planet can be to take a scientific outlook - and that is exactly what happened with a parallel series of events stressing the importance of science today:
The March for Science stretched all the way to the North Pole
The Trump administration's assault on scientific evidence and research funding may have triggered the March for Science, but the more than 500 events around the world on Saturday demonstrated that the movement is truly global.
The marches began Friday night in Oceania, with events in New Zealand and Australia. As Saturday dawned, the marches spread to Europe, with major gatherings in Berlin, Geneva, and London, among other locations.
There were even marches, albeit small ones, in Greenland and the North Pole, where climate scientists are deployed studying the rapidly melting land and sea ice.
Here are some scenes from around the world.
Uganda:
The North Pole:
It remains to be seen how this global show of support for science, reason, and facts can be channeled into action going forward, but the turnout on Saturday has been impressive by any measure.
The March for Science stretched all the way to the North Pole
With the event covered across the board:
Thousands turn out for Washington March for Science - BBC News
Why we joined the March for Science | Science | The Guardian
March for Science: Thousands in London join global protest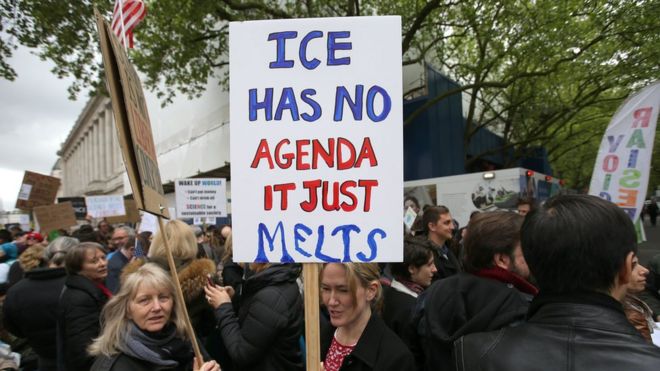 Thousands of people have gathered in London to join a celebration of science amid fears research is under threat from a "post-truth" age and Brexit.
Scientists and celebrities were among those who turned out for the first March for Science, part of a string of events across the UK and the world.
Organisers said the growth of fake news and misinformation made it crucial to highlight science's "vital role".
It took place on Earth Day, which promotes environmental protection.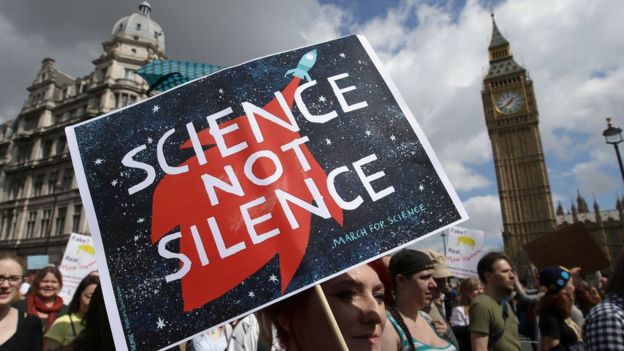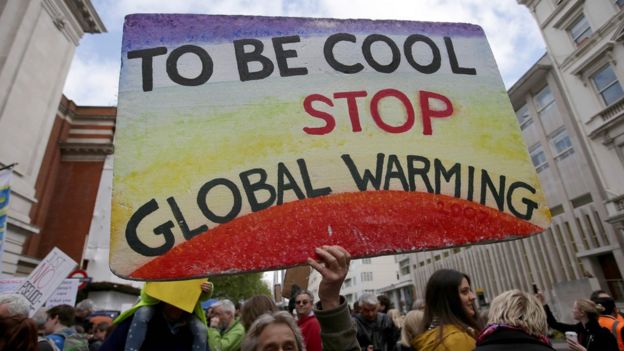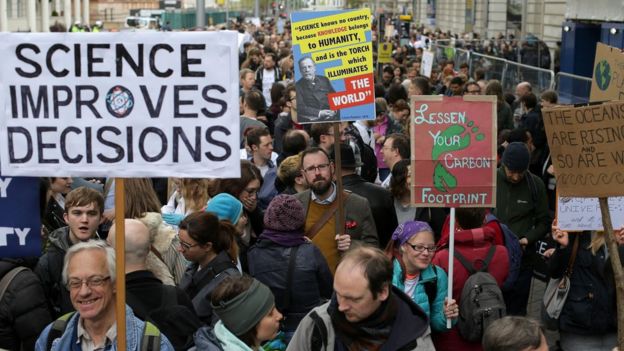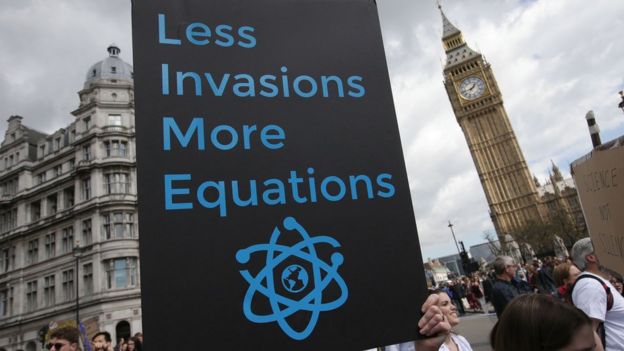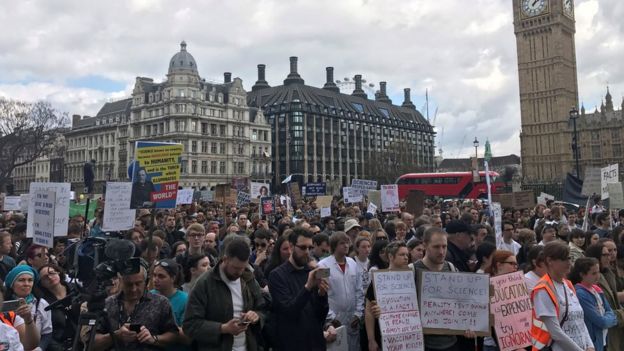 Supporters gathered outside the Science Museum in Kensington, bearing placards on which double helices and chemical symbols sat alongside political slogans.
Thousands then marched to Parliament Square passing institutions such as the Royal Society.
Many of them were protesting against what they see as a trend among politicians for discrediting scientific research.
Concerns that rhetoric threatens to override research flared in the UK last summer when former cabinet minister Michael Gove claimed during the EU referendum campaign that the public had "had enough of experts".
In the US, President Donald Trump has previously called climate change a "hoax", raising concern in the scientific community there that the public were beginning to doubt the facts provided as scientific evidence.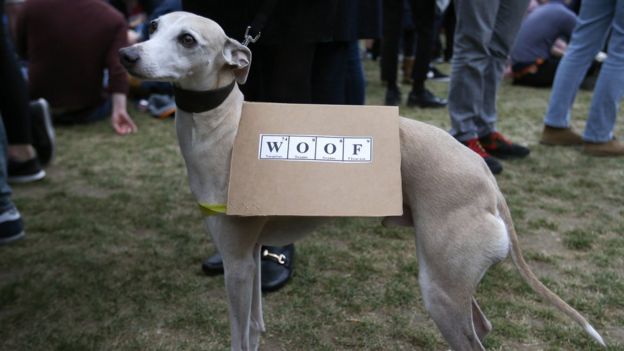 Organisers said the events were also a celebration of science and a call to support and safeguard the scientific community.
Doctor Who star Peter Capaldi and comedian Robin Ince were among those who joined activists in London.
Mr Ince, who hosts the scientific podcast The Infinite Monkey Cage, said: "I think there are many reasons people are out here.
"I think we're worried about the fact there seems to be a reigniting of parochialism in politics...
"I think the idea of deriding experts, the idea of deriding people that spend their entire life researching and experimenting, is a return to charlatanism if we start doing that."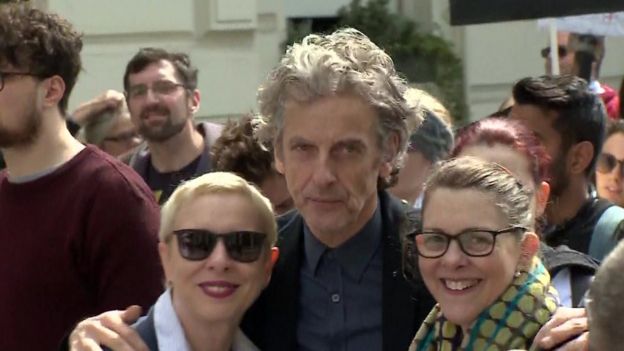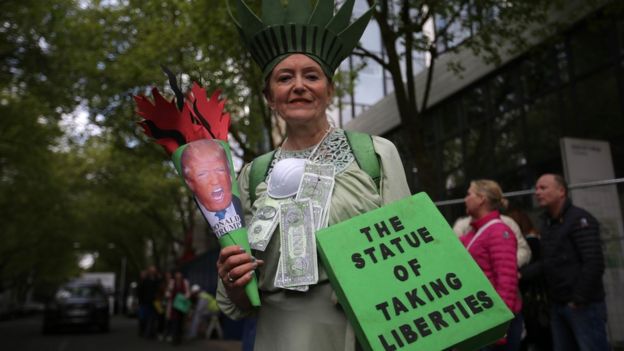 The Commons Science and Technology Committee this month stressed the importance of allowing scientists and experts to come to the UK following Brexit.
It followed a host of warnings from influential figures in the scientific community that divorce from the continent could have a crippling impact on research and provoke an exodus of talent.
In March, Nobel Prize winning scientist Sir Paul Nurse said: "I don't think there's anything in Brexit that helps universities, either in teaching or research, but we are where we are... we have to make the best of it."
Parallel marches were hosted across the UK, including in Manchester, Bristol, Cardiff and Edinburgh.
A government spokesman said: "As we prepare to exit the EU we will maximise our potential by building on our achievements so we remain a leading destination for the brightest and best minds at all stages of their careers."
March for Science: Thousands in London join global protest - BBC News
And finally:
'I'll interview you in a minute,' a man with a dictaphone said to me at the entrance to the Science Museum on Saturday. A sociologist from Brunel University, he was there to conduct field research, asking people why they were on the March for Science. The crowd – archaeologists and neuroscientists, physicists and psychologists, academics and the 'sci-curious' – was quieter than the average London protest, chanting occasionally: 'What do we want? Evidence-based research. When do we want it? After peer review.'
Other slogans included 'Science not silence', 'Respect existence – or expect resistance' and 'Politics = opinion, science = facts'. 'The oceans are rising and so are we' was someone's Earth Day message; LGBT activists were 'Showing off the entire spectrum'. There were people from Science Is Vital, Scientists for EU and a group with the banner 'Liberal Democrats: A Voice for Science'. A philosopher carried a placard that said: 'Reason'.
The organisers of the event, which took place in more than 500 cities around the world, called it non-partisan but political:
Politics and science are intertwined, whether we face a travel ban that restricts the free flow of scientific ideas, changes in education policy that diminish students' exposure to science, or budget cuts that restrict the availability of science for making policy decisions.
The US government has proposed a 31 per cent cut to the Environmental Protection Agency's budget. British scientists expect the US cuts to affect their work. Budget allocations in the UK notwithstanding, a physicist from the Joint European Torus, an EU nuclear fusion research facility in Oxfordshire, said their post-Brexit future looked uncertain. The march wasn't billed as anti-Brexit (or indeed anti-anything), but some people wrapped themselves in EU flags. A marine researcher, whose companion had 'Science not censorship' on her placard, said: 'I'd rather it was just about science.'
Explicitly political stuff – 'Stop Trump' posters, copies of Peace News and Socialist Equality Party leaflets – didn't appear until Piccadilly. Further down the route, in Trafalgar Square, the 'Feast of St George' was kicking off. 'I thought it was for us,' a woman next to me said, pointing at the stage, 'but it's not.'
At the rally in Parliament Square, the speakers mocked headlines like 'Scientists discover brain area that likes Ferrari'; lamented the lack of funding for health research and space exploration; and criticised the British government for not doing enough to secure collaboration with European institutions. 'How did we populate the planet?' the astronomer Francisco Diego asked. 'By migration!' The physicist Jon Butterworth talked about international research at CERN and raised a 'cheer for the Higgs boson'.
On the March for Science « LRB blog
.
.
.