Globally, it is clear that climate change is having an effect on the amount, duration and impact of flooding:
Futures Forum: Climate change: a significant impact on flooding
Futures Forum: Climate change and flooding: last winter's floods "were a powerful reminder that we need to work with nature to reduce flood risk – and ministers wholeheartedly agreed".
Meanwhile, in East Devon, there are two very controversial development sites which have their own flooding issues:
... at Knowle:
Futures Forum: Knowle relocation project: and flooding
Futures Forum: Knowle relocation project: and ''minimalist flood prevention measures''
Futures Forum: Knowle relocation project: dealing with flood risk from over-development is 'not technically feasible'
... and at Port Royal:
Futures Forum: Plans for Port Royal: anticipating a Regeneration Board >> Scoping Study consultation >> "a stitch-up"
Futures Forum: New plans for Alma Bridge - and a sea defence wall to protect Sidmouth's eastern town from flooding
The District Council needs to be transparent about these issues:
Futures Forum: Flooding and East Devon... ... and riding roughshod over the concerns of locals
As do other authorities:
Futures Forum: Sidford business park > Fords planning application >>> 16/0669/MOUT >>> Environment Agency appears to contradict its own guidance on flooding and climate change
The County Council has some policies in place:
Sustainable Drainage Systems (SuDS) | Flood Risk Management
Current legislation | Flood Risk Management
Meanwhile, looking to events across the Atlantic, the East Devon Watch blog notes it's all about building in the wrong place due to regulation - or the lack of it:
Flood standards – a familiar tale with shades of Grenfell Tower – what happens when business trumps safety | East Devon Watch
Here is the full piece from the Independent:

Donald Trump scrapped Barack Obama's flood protection standards days before Hurricane Harvey

Changes are designed to speed up new infrastructure projects but critics described them as 'dangerous'

Ben Kentish, Emily Shugerman New York 5 hours ago

Donald Trump signed an executive order just days before Hurricane Harvey that scrapped many of the flood protections introduced by Barack Obama. Harvey has caused huge damage in Texas as 30 inches of rain in less than 48 hours resulted in massive flooding.

The current US President, however, has abolished a number of flood standards in an attempt to get infrastructure projects approved more quickly. The Federal Flood Risk Management Standard is among those to have been rolled back.

In 2015, Mr Obama introduced measures that made it harder to build roads, bridges and other infrastructure in areas that were susceptible to flooding. Plans for such projects would legally have to take into account the impact of climate change and be built to withstand future changes.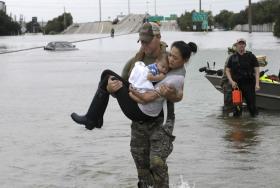 While the new regulations had not yet come into effect, they have now been scrapped entirely after Mr Trump decided they were too likely to slow down plans for new infrastructure.

Announcing the decision earlier in August, the billionaire businessman said: "We're going to get infrastructure built quickly, inexpensively, relatively speaking, and the permitting process will go very, very quickly. It's going to be a very streamlined process, and by the way, if it doesn't meet environmental safeguards, we're not going to approve it."

However, some of those safeguards have now been removed. The order also introduces a two-year time limit for permission to be granted for major infrastructure projects, in which Mr Trump has pledged to invest $1 trillion.

The move was praised by business groups but strongly opposed by environmentalists.

Rachel Cleetus of the Union of Concerned Scientists warned even before the executive order was issued that it would "put vital infrastructure that communities depend on at greater risk of flooding".

"It will lead to more costly and damaging consequences of these floods," she told The Independent, "And frankly, it's a waste of taxpayer dollars if money is invested in projects that will just get washed away. Even as we're seeing flood risk growing in many places around the country – due to sea level rise, heavy rainfall, and other types of factors – it just flies in the face of common sense to turn back progress on greater flood prevention that communities depend on."

Hurricane Harvey has caused devastating flooding in Texas. At least five people have been reported dead and as many as 2,000 had to be rescued after the area received a year's rainfall within the space a week.

"The breadth and intensity of this rainfall are beyond anything experienced before," the US National Weather Service said on Twitter. "Catastrophic flooding is now underway and expected to continue for days."

Returning to the topic of storm Harvey, Ms Cleetus said: "It would be a serious mistake to rebuild without taking account of future flood risks in the wake of terrible tragedies such as Texas is currently experiencing with Hurricane Harvey."
Donald Trump scrapped Barack Obama's flood protection standards days before Hurricane Harvey | The Independent
In the meantime, back in the UK, more developments are being approved, despite flooding risk:
'Dangerous and flawed' plan for new homes in Mark divided community - now it's back after being shelved - Somerset Live
And more is going to be built, as this piece from the i paper shows - despite warnings from the insurance industry:
Hundreds of homes are built each year despite flood risk objections - The i newspaper online iNews
With encouragement from government advisers:
Build on flood plains despite the risks, say UK government advisers | Environment | The Guardian
.
.
.