There are plans for tourism post-Brexit:
Futures Forum: Brexit: and the Tourism Action Plan
Futures Forum: Brexit: and investing in tourism >>> "plans to establish 20 new coastal communities teams in our seaside towns"
The only problem is that much of the tourist industry depends on EU workers:
Futures Forum: Brexit: and cheap labour for the hospitality and care industries
Futures Forum: Brexit: and East Europeans in the West Country
The UK's hospitality industry is worried:
Brexit Could Set Britain's Hospitality Industry Back a Decade | Food & Wine
Hospitality industry faces uncertain future for EU staff - Big Hospitality
This is a report from the Telegraph last month:
Tough job to replace hospitality industry's critical EU workers

Bradley Gerrard 21 FEBRUARY 2017 • 6:13PM

Replacing critical EU workers within the hospitality industry if their rights are not protected post-Brexit would be a major struggle, industry experts have warned.

Tourism trade bodies told MPs at the Culture, Media and Sport Select Committee there has been anecdotal evidence suggesting that recruiting from the Continent has already become more challenging.

This was because potential workers reportedly felt unwelcome or unwanted. They warned that the situation could become even more dire if the UK leaves the EU without protecting overseas workers' rights.

Ufi Ibrahim, chief executive of the British Hospitality Association, which represents more than 40,000 businesses including hotels, restaurants and attractions, said replacing European workers with domestic employees would be extremely difficult and take years.

"Replacement of the numbers, given [that] unemployment figures are the lowest they have been, will require our industry to reach the economically inactive and long-term unemployed, which will take time," Ms Ibrahim said.

She said 67,000 new careers for long-term unemployed Brits had already been created by the hospitality industry in the past three years thanks to a scheme launched with the Department for Work and Pensions.

But EU migrant workers in the hospitality sector account for approximately 15pc of its 4.5m strong workforce - equivalent to roughly 700,000 people - suggesting plugging the potential gap would be extremely challenging.

"We would like to see the government give assurances that after Article 50 is triggered, their position in the UK would be secure," Ms Ibrahim said. "It is becoming harder to attract the people we need," she added. "We are very concerned." She also asked for the "tonality of the government's message" to overseas workers to communicate that the UK was a hospitable nation.

Deidre Wells, chief executive of UKInbound, which focuses on the country's inbound tourism sector, echoed the fears. "There is a big concern around migrant workers," she said. "Giving workers some assurances about what their future will be is important for our businesses to be able to plan for the next 18 months."

Ms Ibrahim added there were some businesses in London which were 90pc dependent on migrant workers but there were small- and medium-sized enterprises beyond the capital with high proportions of overseas nationals employed.
Tough job to replace hospitality industry's critical EU workers
And this is from the Independent
Hotels and restaurants will need 10 years to replace EU workers because 'Brits don't want the jobs' | The Independent
... and Guardian this week:
Replacing EU hospitality workers after Brexit 'will take 10 years'

British Hospitality Association says hotels and restaurants could go bust unless ministers allow staff from EU countries to remain in jobs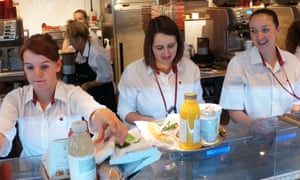 Pret a Manger's HR director said this week that just one in 50 job applicants were British. Photograph: Alamy

Lisa O'Carroll Brexit correspondent

Saturday 11 March 2017

The shortage of British workers in UK hotels and restaurants is so severe that chains such as Pret a Manger will need 10 years to replace EU staff after Brexit, the British Hospitality Association has warned.

Days after Pret's human resources director told MPs that just one in 50 applicants for jobs at the company were British, the BHA predicted that hotels and restaurants would go bust unless ministers allowed EU migrants to continue to work in low-skilled jobs after the UK leaves the bloc.

"It is going to be very, very tough indeed," says Ufi Ibrahim, the BHA's chair. "It will be a very long time for businesses like Pret a Manger to replace EU staff because they are largely based in the south-east," she added. "I think it will take 10 years to build a future talent pipeline."

With its cosmopolitan young workforce, free food, paid breaks – and what the company itself describes as "legendary" staff parties – the question raised in the House of Lords this week was: why don't Brits want to work at Pret a Manger?

Pret's head of HR, Andrea Wareham, told the economic affairs committee on Wednesday that 65% of the company's staff were from EU countries not including the UK. Raising wages, she said, would not attract more British staff.

"It really is a case of do people want to work in our industry? We are not seen always as a desirable place to work," she told peers when challenged about why so few Britons work alongside the 109 other nationalities in Pret's 330 stores.

At the company's recruitment centre at London's Victoria station this week there was no shortage of foreign applicants queuing up for interviews. "Sometimes we can go a whole day here without having a single Brit," said one young Pret executive.

Nadia Amato, an Italian economics graduate, arrived in London 10 days ago and is trying her luck at Pret and rival Cafe Nero. "I think it's a good job. In Italy working as a barista is not a bad thing," she said, adding that her first mission was to learn English.

For Congo-born Elie Kankolongdu, 20, who has been in the UK for five years, Pret is a step up from working in warehouses for Tesco and Asda. "It's one of the best restaurants in London," Kankolongdu said. "They do nice sandwiches and I think it's a nice place to work."

Mourid Bouderun, a French Algerian, is currently a team leader at All Bar One but is looking for a change. "British people don't want to work in the kitchen," he says. "It's too hard; it's a big problem for restaurants all over London. At All Bar One the people in the kitchen are all foreign."

Bouderun's theory is supported by the anecdotal evidence of an elusive British Pret employee who contacted the Guardian. Steve (not his real name) says he has seen British workers walk out after a few weeks because they can't take the pressure.

"We can make 250 coffees an hour and with just me on the coffee and six tills shouting their orders it can be absolutely insane," he said. "I've never experienced stress like it. It's not a hard job, but they do push you and push you. Towards customers I have a permanent smile on my face, but sometimes I've been close to tears; it's just very intense.

John, another Briton, tells a similar story. "In the first month it was very difficult. You're supposed to serve the coffee within a minute. After a month you get used to it," he said. "I know people in Starbucks or McDonalds; [Pret] is the best of the bad jobs."

Four years ago, when Pret was under fire from ministers for not hiring enough Britons, it set up a school-leaver's programme, with some success. But now, with more than two-thirds of its 7,500 staff potentially out of reach in post-Brexit Britain, the company is facing a much bigger challenge.

The BHA is calling on the government to bolster its newly announced technical qualifications with better promotion within schools of non-academic careers, including hospitality. "We have to go back into the schools and present hospitality as a career option. to children between the ages of 11 and 14," Ibrahim said.

In the meantime, she says Britain has to have continued access to a low-skilled EU workforce otherwise businesses face bankruptcy.

Kathy Dyball, head of marketing at the hospitality job site Caterer.com, says parental attitude is also a challenge. "If a child says 'I want to be a chef' parents often dissuade them, because they believe the hours are long, the pay is low, it's not a secure career. It's a similar reaction to a child announcing they want to be an actor.

"But the fact is, a job in hospitality often evolves into a highly paid and exciting career with international opportunities. It is just not as simplistic as saying British people don't want to work in hospitality, there are lots of layers to the challenge around the ongoing skills shortage."
Replacing EU hospitality workers after Brexit 'will take 10 years' | Business | The Guardian
.
.
.