Sidmouth's hospital is saved:
Futures Forum: The future of Sidmouth's hospital >>> secured - but other community hospitals to lose beds >>> further reports
But care at home services look even more uncertain:
Futures Forum: The future of care services: 'at breaking point'
The picture is of course more nuanced - if not very complicated.
HOSPITAL BEDS:
Seaton's hosptial is not saved - and they're not going quietly:
Seaton and Colyton GPs condemn hospital bed closures - News - Midweek Herald
And Neil Parrish MP has called the consultation a 'sham':
CCG remove more hospital beds in East Devon - View News
Meanwhile, things are happening very quickly in other parts of the county:
This is when South Devon community hospitals will stop taking patients | Devon Live
This is how fast our community hospitals can close | East Devon Watch
And the County's health committee met with health officials yesterday, failing to get the answers they wanted and threatening to take things much further:



Hospital bed cuts to be referred to Secretary of State for Health unless raft of assurances given



Tuesday, 07 March 2017 8 Comments by Claire

A decision to halve the remaining hospital beds in Eastern Devon will be referred to the Secretary of State for Health, unless a raft of assurances are provided. A review of all community hospital bed closures across Devon since 2014, will also take place, including examining the role of social care. I made the proposal at Devon County Council's health and wellbeing scrutiny committee this afternoon and it was voted through by seven votes to five.
Comment:

7. 08th Mar Roger Giles wrote:

NEWDevon CCG carried out a consultation on its proposal to slash the number of hospital beds and to close several community hospitals in Eastern Devon. There were 2,000 responses. The CCG spent several weeks analysing the responses. The CCG made a planned visit to the Health and Wellbeing Scrutiny Committee to explain their closure plans following the consultation. Yet when you asked how many of the responses were objections, the CCG chief officer claimed not to know!! If one were looking for compelling evidence of the CCG complete lack of credibility its own chief officer provided it at the Health and Wellbeing Scrutiny Committee on 7 March 2017.
Hospital bed cuts to be referred to Secretary of State for Health unless raft of assurances given - Claire Wright
East Devon Watch lists several articles from the Rural Services Network which show real concern about the future of care services:
Meanwhile, the Guardian today looks at the situation across the country:
UK social care sector in crisis due to staff shortages



A lack of qualified people is hitting many public services hard – and the majority of employees are women. Why do so many want to leave?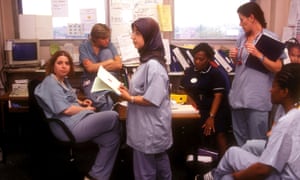 Figures from NHS Employers show that 77% of the workforce is female – and there are currently 24,000 nursing vacancies. Photograph: Janine Wiedel Photolibrary/Alamy

Nicola Slawson

Wednesday 8 March 2017

Last month, a care home in Leeds was forced to close its nursing wing, not because of funding cuts or lack of demand, but because of staff shortages. Donisthorpe Hall's chair of trustees, Robert Ross, released a statement at the time citing "the current climate of nursing shortages", which meant they had been forced to rely on a "constant turnover of short-term" agency staff. Days later, Hawkesgarth Lodge care home in Whitby also had to shut as a result of the "national shortage of trained nursing and care staff".

And last August, the social care regulator, the Care Quality Commission (CQC), found that a care home in Derbyshire was so short-staffed that residents had resorted to caring for each other. Local papers are littered with stories like these. The main cause of these shortages is the sheer number of unfilled vacancies, although sickness absence and failure to cover parental leave are also factors. Latest figures from the Office for National Statistics show that of the 751,000 externally advertised job vacancies in the UK for the three months to January 2017 across the whole economy, more than 15% – about 117,000 – were in the health and social work sectors.

On any one day, there are 90,000 vacancies for social care jobs in England, according to Skills for Care, which on Thursdayholds a conference on the issue. And NHS Jobs has more than 15,000 vacancies on its website.
UK social care: staff shortages put sector in crisis | Society | The Guardian
Hospital care at home? Are you sure that's what is best? | East Devon Watch
Today, the Chancellor has just announced that there will be extra funds for social care:
Philip Hammond unveils £2billion for social care in huge Budget 2017 U-turn after months of pressure
BY BEN GLAZE 8 MAR 2017

Philip Hammond found £2billion to ease the social care crisis but clobbered the self-employed in a Budget which slashed growth forecasts and predicts rising prices as Brexit bites. Growth will slow as Britain quits the EU with the UK scheduled to borrow an extra £100billion than forecast just one year ago.

But he bowed to pressure to tackle the mounting crisis in the care sector - and promised to issue a new funding plan to be set out later this year. He announced a £2billion handout to social care in England over the next three years. Of that, £1bn will be available in 2017/18. But he insisted: "Of course this is not only about money."