Sidmouth is going to keep its hospital beds:
Futures Forum: BREAKING NEWS: The future of Sidmouth's hospital >>> secured - but other community hospitals to lose beds
Unfortunately, other towns have not been so lucky.
Here is the press release from the
NEW Devon CCG, the
body responsible for the decision:
Public consultation influences doctors' decision on Your Future Care
Here is comment from Cllr Claire Wright who sits on the County's Health committee:
Sidmouth wins out over Seaton in final decision on hospital bed closures


Thursday, 02 March 2017

Sidmouth Hospital has unexpectedly won the battle to retain its beds.

This is good news for Sidmouth, but it comes at a price. Seaton Hospital will instead lose its beds, in the farcical choice NEW Devon CCG presented communities with, which resembled a dutch auction.

All beds at Whipton, Okehampton and Honiton Hospitals (except maternity) will go, as they were not even included within the consultation options.

Community was once again (it happened in 2015 with Ottery Hospital) pitted against community with choices of various options of hospitals being able to keep their beds.

The CCG's preferred option had been to save the beds at Tiverton, Seaton and Exmouth, but they say that they have listened to residents who made a case for Sidmouth on the basis of its demographics including a mainly elderly population.

But surely if this is the case, then the CCG has implicitly accepted that older people need hospital beds more than younger people. And Devon, especially Eastern Devon, is an area of a growing elderly population so why has this scheme ever been proposed in the first place? Devon is becoming more and more elderly while more more and more hospital beds are closed.

And that's not even getting on to the issue of the state of social care with its massive government funding cuts….
Sidmouth wins out over Seaton in final decision on hospital bed closures - Claire Wright
And at a further posting, there is sharp comment on where we should be going:
My suggestion is simple - and costs nothing.
The Success Regime can tell Simon Stevens [England NHS CEO] now that he needs to run a bigger deficit for Devon until the funds can be found to implement such elements of the STP [
Sustainability and Transformation Plan
] as seems to the CCG, after some genuine consultations, workable and useful.
Then Carnall Farrer [
management consultancy dedicated to improve health:
Carnall Farrar Ltd
]
can be disposed of, followed by a ban on all future employment of private consultants.
Devon's health scrutiny committee debate bed cuts decision next Tuesday - Claire Wright
Which takes us directly to the CEO of NHS England:
NHS England chief brings in new rules on ward bed closures



Hospitals to prove quality of patient care in community before losing beds, under criteria to be introduced by Simon Stevens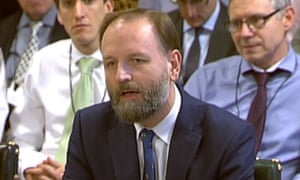 NHS England CEO Simon Stevens, who says a loss of thousands of hospital beds cannot occur until there are alternatives for patients. Photograph: PA

Denis Campbell Health policy editor Thursday 2 March 2017

Simon Stevens, the chief executive of NHS England, has acted to make it much more difficult for hospitals to slash their supply of beds, after the dramatic loss of the facilities in recent years was widely blamed for exacerbating the winter crisis.


Stevens is introducing tough rules for hospitals concerning bed closures from April to ensure that patient care does not suffer.

His move comes after heavy criticism of the NHS for allowing the number of hospital beds in England to fall by 20% over the past 10 years at a time of growing demand. About 15,000 beds disappeared between 2010-11 and 2016-17, official NHS figures show.

Stevens stressed that his edict would not mean a complete moratorium on hospitals shrinking their tally of beds, but there was a need for tough criteria given the increasingly large number of beds being used by patients who could not be discharged yet were medically fit to leave.
This should have been brought in years ago. If it was, we may have saved Ottery, Crediton and Axminster Hospitals…
NHS England chief brings in new rules on ward bed closures - Claire Wright