Developers would like to build a shopping centre on the outskirts of Exeter - which would have a direct impact on any shopping in the centre of new town Cranbrook:
Futures Forum: Giving proposals for an Exeter shopping centre 'a greater local touch' 'puts a damper on those retail ventures willing to open up in secondary, nearby areas such as Cranbrook'
Because Cranbrook is struggling to establish its own town centre:
Futures Forum: An ever-expanding Cranbrook: "There are significant issues to resolve around how services and facilities are to be provided in the town in the future and how these are to be paid for."
Futures Forum: Thousands of new housing at Cranbrook - and still the District Council says "it is a it is a difficult and uncertain time to be planning a new town centre"
But all of this development would impact on Exeter too - noticeably on its air quality:
Futures Forum: Air pollution and over-development: Exeter and East Devon "recording high readings" of nitrogen dioxide emissions
Futures Forum: Improving Exeter's air quality and public transport through congestion-charging
Certain things are happening:
Futures Forum: Co-cars - the hire by the hour car club for Exeter and the South West > a not for profit co-operative social enterprise
Futures Forum: Ride-sharing with BlaBlaCar
Futures Forum: Exeter is the UK's first city to launch an electric bike-sharing scheme
People want something to be done, as reported on Radio Exe:
Public says cut Exeter car journeys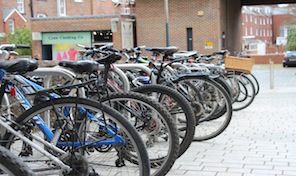 The results of a major public consultation on proposals to improve air quality and cut traffic congestion in Exeter have been revealed.
Thousands of people took part in the three month consultation earlier this year.
Exeter City Council wanted to find out how to discourage car journeys and increase use of public transport, walking and cycling, by asking people in the city.
Nearly three thousand surveys were completed and the results reveal nearly 9 in 10 people agree that air quality should be a public health priority and two-thirds backed a cut in car journeys.
The results will help the city council to create a Draft Air Quality Action Plan, which will look at how to improve air quality, reduce pollution and improve health and quality of life.
Public says cut Exeter car journeys - Radio Exe
This issue is conflating with the push to build further retail on Exeter's outskirts, however:
Police HQ shops could be turned down
Tuesday, September 25th, 2018
New shops on land at police headquarters at Middlemoor would cause traffic chaos, according to city planners who have recommended it be refused.
Devon and Cornwall Police have sold eight acres to help pay for what they call a new criminal justice hub. Work began this summer on building work.
Now developers want to build eight shops, three fast-food restaurants and a gym, but Devon County Council say that traffic access isn't safe enough.
Exeter City Council planners will debate it next week, but have been recommended to turn it down.
Police HQ shops could be turned down - Radio Exe
Indeed, officers have called for these plans to be rejected as it will result in a severe impact on the local highway network in terms of its capacity and safety:
Exeter retail park recommend for refusal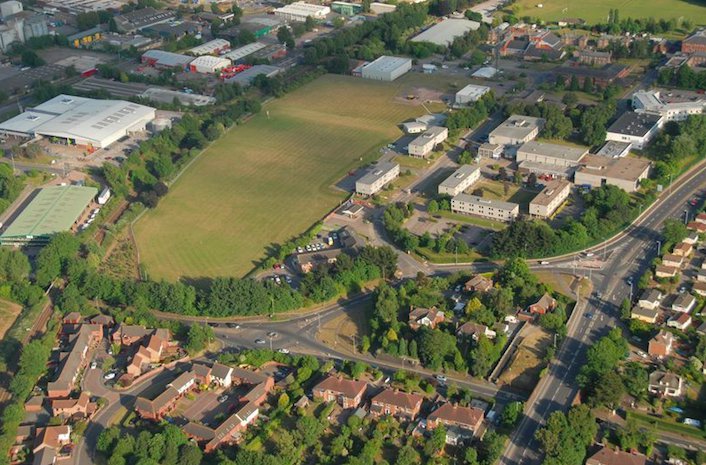 Credit: Office of the Police and Crime Commissioner
It would be on police HQ land in Exeter
An eight-acre plot of land is set to be turned into eight new retail units along with three food and drink restaurants with drive-through facilities, and a gym is also proposed along with 417 car park spaces and toilet facilities.
But Exeter City Council planners, when they meet next Monday night, are being recommended to refuse the application as the proposed access to the site, off a new fifth arm to the Honiton Road/A3015/Wilton Way roundabout, will result in a severe impact on the local highway network in terms of its capacity and safety.
A planning statement, submitted with the application, said: "The proposal has been designed to primarily meet the business model requirements of national multiple bulky goods retailers in the furniture, furnishings and homewares sectors. Other bulky goods retailer interest may come from the hobbies, sports, and toys sectors.
"The site is in an out of centre location and is not allocated for retail development albeit, as noted, it already has permission for retail development in the form of the extant foodstore consent. The retail assessment has also shown that there is no other existing, committed or planned investment in any town centres, including the city centre, that would be significantly adversely impacted by the application proposals."
Exeter City Council's planning committee meets on Monday, October 1, to consider the application.
Exeter retail park recommend for refusal - Radio Exe
.
.
.