Monty Don is trying to cut down on the plastic:
BBC Gardeners' World to cut the plastic as Monty Don admits programme uses too much non-recyclable material behind the scenes
Gardening Without Plastic - gardenersworld.com
BBC Two - Gardeners' World, 2018, Episode 1, Looking at alternatives to plastic in the garden
This evening's programme looked at the issues:
Arit Anderson gets to grips with growing concerns about the use of plastics in the horticultural industry, and we find out from environment minister Michael Gove about any future plans for controlling its use and improving recycling.
BBC iPlayer - Gardeners World - 2018: Episode 25
BBC Two - Gardeners' World, 2018, Episode 25
And the industry is working on it:
BBC Gardeners' World to feature taupe plastic plant pot
Lovania and Aeroplas are among those being interviewed on the BBC gardening show by presenter Arit Anderson about the recyclable pots that many growers are planning to introduce.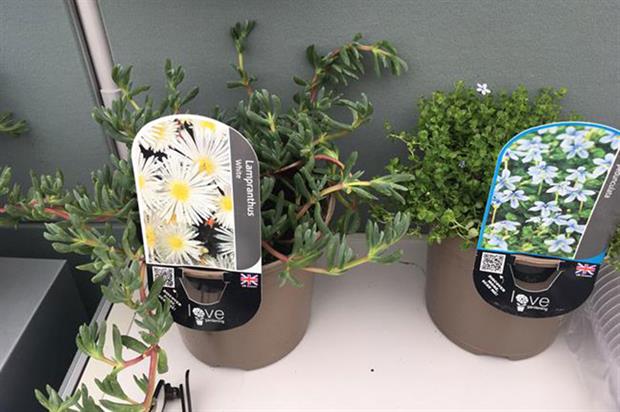 Aeroplas's Alex Everett will talk about the issue from the supplier side.
The taupe pot initiative launched in June, with Bransford Webbs bringing together growers to discuss a united plastic scheme to reduce single use. Several growers have committed to the scheme since. Two-thirds of Gardeners World magazine readers say they would pay more to reduce plastic use in their gardens. Half say responsibility for reduction lies with retailers. Some 500m pots are used in the UK a year.
Rossington told Horticulture Week in June that a "closed-loop system" is a more realistic aim than replacing plastic in the short term. Lovania started work on reducing plastics a couple of years before it became a big issue, he adds. Plastics that the grower uses are recyclable but it is "how you deal with it" that is the issue. Customers might have limited recycling and local authorities may not be able to recycle what they are given, but if the plastic comes back to the grower there is more scope.
He says a "phased approach" is required and plastic reduction cannot happen overnight. The nursery waste plastic is washed and chipped at the recycler and reused but there is no longer any money to be made from sending old plastic for recycling, he explains. There have been talks with Modiform, TEKU, Aeroplas and other manufacturers.
The plastic pot keeps the root intact and coloured plastic pots are great for promotion and sales, but the reality is "most will end up being put in the bin".
Lovania will fully launch the new pots in 2020. Plants for 2019 were already being grown when the scheme was floated this June. They say retailers are expecting and are open to absorbing any cost increase.
Everett has told Horticulture Week that the company has been working on the material since 2014 and the potential for the taupe pot is "huge — a massive opportunity for the industry to make a change for the better". He says all nurseries Aeroplas deals with are aware of the taupe roadside recyclable pots and many are getting prices and talking to their customers about retail introduction. He says prices depend on sizes and volumes. Everett says the carbon pigment-free material is ready to go and nurseries could introduce plants in the pots to market in spring 2019. He adds: "What's important for us is that we are a UK manufacturer using UK waste streams and this will help with our waste issues."
Local authorities use waste management companies such as Biffa, Veolia and Viridor and there are regional differences in how they approach recycling. Waste Resource Action Plan (WRAP) has changed its guidelines to say consumers can put plant pots into waste bins. WRAP's UK Plastic Pact, a collaborative initiative between brands, retailers, manufacturers, NGOs and governments, has pledged to make all UK packaging recyclable by 2025.
Aeroplas is working with RECycling Of Used Plastics Limited (RECOUP), a charity and not-for-profit member-based organisation, to ensure horticultural packaging can go into recycling streams. He says polypropylene is easily recyclable and there is a good market for it and while money is to be made, that market will remain.
BBC Gardeners' World to feature taupe plastic plant pot | Horticulture Week
.
.
.