Councils are under increasing financial pressure:
Futures Forum: Local government and austerity
Futures Forum: The pulverisation of local government
Futures Forum: The impact of 'the big society' and 'the small state' on local government
The County Council Network says it's going to get worse:
Home - County Councils Network
At the beginning of the month, the Network issued further warnings:
WATCH: CCN warns that more councils will struggle without new funding on prime-time BBC News - County Councils Network
And at the end of last week, it was doing much the same:
'£1bn in unpalatable county council cuts' ahead in England
The County Council Network predicts "unpalatable cutbacks" next year as the councils identify at least £1bn savings to plug a £1.5bn shortfall by 2020.
It also warns the risk of some councils stripping their services back to a minimum 'core offer' is growing.
The government said councils will get a real term funding increase in 2018-19.
It insists its approach strikes the right balance between relieving pressure on local government and ensuring taxpayers do not face excessive bills.
'Cost-pressures'
But town hall bosses say local government funding from central government, through the revenue support grant, will have been cut by around 60% by 2020.
Cllr Paul Carter, chairman of the County Council Network and leader of Kent County Council said: "Counties will work hard to deliver the savings required, but the scope for making deliverable savings has dramatically reduced, and decisions for next year will be truly unpalatable if we are to fulfil our statutory duties.
"Without additional resource, the worst is yet to come."
The County Council Network, which represents 36 larger authorities, surveyed its members about their budgets and what they planned to cut next year.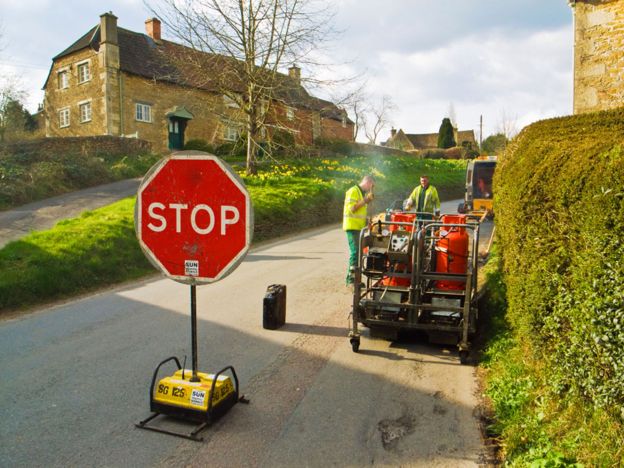 All 36 responded said they faced significant cost pressures, including a growth in demand in some areas - particularly children's and adult social care, inflation and rising costs outside of their control.
The survey revealed council bosses had already ear-marked £1bn worth of services as potential sources of savings.
Some £685m of those are to balance the books going forward.
Twenty five councils who responded to a separate survey, set out what they were planning to cut, moderately or severely:
58% said highways and transport (including road improvements, streetlights, pothole filling)

47% said libraries

45% said early years and youth clubs.

44% ear-marked public health services like smoking cessation, sexual health, substance misuse

36% said children's services.
Councils say they are expecting to have to switch funds from non-statutory services - the ones they are not obliged to provide by law - to ensure statutory services are provided.
Councillor Nick Rushton, CCN finance spokesman and leader of Leicestershire County Council, said authorities were in a "serious and extremely challenging financial position" and further cuts and rising costs would make a "bad situation even worse".
"County councils across the country have no choice but to find a further £1bn of savings next year," he said.
"There is not enough money today to run vital services. Next year there is even less from the drop in government funding."
He added that councils were again at the point where council tax rises alone would not protect services.
Councillor Martin Hill, leader of Lincolnshire County Council, said his authority had to save £25m a year since 2010.
He said it would soon come to a point where the council would have to consider whether it can operate safely with regard to its responsibilities to vulnerable children and adults.
A Ministry of Housing, Communities & Local Government spokesman said local authorities were responsible for their own funding decisions, "but over the next two years, we are providing councils with £90.7bn to help them meet the needs of their residents".
They said local councils would have the power to retain the growth in income from business rates and develop a system for the future.
'£1bn in unpalatable county council cuts' ahead in England - BBC News
This story is being picked up in the States:
U.K. Councils Struggle With Services, and Warn of Bigger Cuts
LONDON — Streets littered with potholes and garbage. Alcohol and drug treatment centers shut down. Vulnerable adults and children left without care.

That is the grim picture of Britain's future painted by the County Councils Network, which warned on Thursday that local councils will be forced to slash more than $1 billion from their budgets next year in cuts that will very likely result in services being whittled to the bone.

Councils are Britain's fundamental unit of local government, dealing with an array of basic needs: trash collection, public transport, libraries, town planning, caring for people in need, among other things. They levy a tax on homes and charge fees for some services. They also collect a nationally set tax on commercial real estate, and keep an increasing share of it.

But they are struggling to make ends meet, mainly because of a sharp reduction over the past decade in the central government funding that makes up a large portion of their income, at a time when a rising elderly population has strained local finances. At the same time, years of government-mandated caps on tax increases have made it hard for local authorities to replenish their coffers, forcing them instead to cut services.

This year, the local Conservative-run government in Northamptonshire filed for a de facto bankruptcy twice, when selling off assets and outsourcing services failed to make the savings required to balance its books. Other counties, like East Sussex, Somerset and Surrey, are also warning that they may be able to provide only those services required by law.
U.K. Councils Struggle With Services, and Warn of Bigger Cuts - The New York Times
.
.
.