It's called hubris:
Hubris (/ˈhjuːbrɪs/ from ancient Greek ὕβρις) describes a personality quality of extreme or foolish pride or dangerous overconfidence,[1] often in combination with (or synonymous with) arrogance.[2] In its ancient Greek context, it typically describes behavior that defies the norms of behavior or challenges the gods, and which in turn brings about the downfall, or nemesis, of the perpetrator of hubris.
Hubris - Wikipedia
It's happened spectacularly in Northampton:
Futures Forum: Knowle relocation project: and the Northamptonshire relocation project > "New council HQ could save taxpayers £xm in x years authority claims"
And the East Devon Watch blog has picked up what's happening in the Scottish Highlands:
Next domino down: UK's geographically largest council (one-third of Scotland, no overall control) | East Devon Watch
Matters have not been made easier by wanting to move into a pile of concrete:
Highland Council buys 'sensationally ugly' Inverness buildings



5 July 2018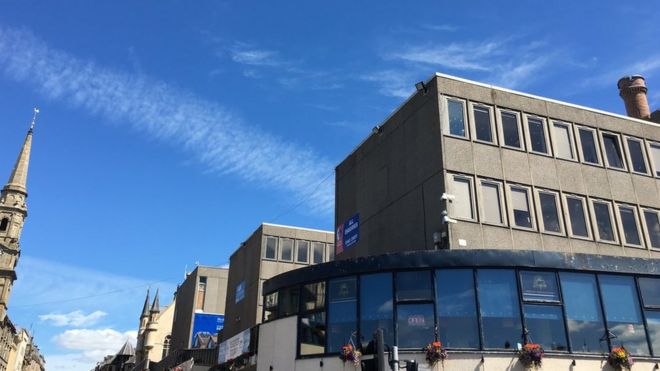 The local authority has acquired the site in Bridge Street

Highland Council has completed the purchase of buildings, described as "sensationally ugly" in Inverness.

The concrete office blocks were constructed during a period of development on the banks of the River Ness in the 1950s and 1960s. The local authority has bought the site in the centre of Inverness for £5.2m by borrowing and using £1.5m from the Scottish government.

Highland Council is expected to consult the public on the site's future. A revamp of the site could take 10 years, they said.

'Great grey lumps'

The buildings' design has been frequently criticised. US travel writer Bill Bryson described the blocks on Bridge Street as "sensationally ugly", and last month Highland Council's leader Margaret Davidson described them as "great grey lumps".

The buildings previously served as a headquarters for the Highlands and Islands Development Board and Crofting Commission. Highland Council's takeover of the site forms part of the redevelopment of Inverness Castle and the nearby museum.

The Scottish Courts and Tribunals Service occupies most of the castle, but is to move out and relocate to a new complex by about 2020. Inverness Castle is to then be turned into a major tourist attraction.
Highland Council buys 'sensationally ugly' Inverness buildings - BBC News
And so we are where we are:
Biggest UK council defers spending and recruitment to handle 'serious' looming deficit
31.08.18


The geographically largest local authority in the UK will be forced to defer non-essential spending, accelerate savings and cut back further on staff recruitment in order to tackle an urgent projected deficit.

In papers submitted to its Corporate Resources Committee this week, Highland Council—which serves a third of the land area of Scotland—revealed a plan to reduce expenditure in face of an expected overspend of £5.1m.

To make matters worse, the council's reserves, at around £8m, are "well below the minimum level" recommended by Audit Scotland. Budget leader Cllr Alister Mackinnon stressed that it is vital this money isn't depleted further by a year-end deficit...

Highland Council is the latest in a string of Scottish local authorities struggling to balance the books. Earlier this year, Audit Scotland said more councils have drawn on reserves than in previous years to fund change programmes and routine service delivery in what indicates "increasing financial stress." Some risk running out of general reserves within two to three years if they continue to use them at current levels.

The situation in England is no different, with several councils reaching breaking point and proposing hefty service and job cuts in order to manage this year.
Biggest UK council defers spending and recruitment to handle 'serious' looming deficit
.
.
.