The first 'State of Nature' report was launched by David Attenborough in 2013:
Futures Forum: State of Nature
Things didn't really improve a year later:
Futures Forum: State of Nature: one year on ....... the Conference for Nature
By last year, it was clear that nature was not a particular priority:
Futures Forum: State of Nature ... and paving paradise
Although local projects have done their bit:
Futures Forum: Devonshire verges >>> extending wildflower projects across the county
The national press reports on this year's 'State of Nature' report:
State Of Nature report warns more than 120 wildlife species face extinction in the UK | Daily Mail Online
UK's State of Nature report: Must try harder... | Nature | News | Daily Express
Loss of species and habitats highlighted in national report | Channel - ITV News
This is from today's Independent:
UK one of 'least natural countries in the world' with one in seven species facing extinction
'The natural world is in serious trouble and it needs our help as never before,' Sir David Attenborough says
A kingfisher at Hampstead Heath's birding pond Getty Images

The UK is now one of the "most nature-depleted countries in the world" with more than one in seven species facing extinction and more than half in decline, according to the State of Nature 2016 report.

Britain's farmers are given most of the blame by the report, which was produced by more than 50 different organisations including the Royal Society for the Protection of Birds (RSPB), the National Trust, the Marine Conservation Society and the Natural History Museum. It found modern agricultural techniques had had a major impact on wildlife over the last four decades – and it had been "overwhelmingly negative".

While climate change has had some negative consequences, the loss of species in the north was off-set in a sense by the arrival of species expanding their range into the UK from the south, the report said. But it warned as the temperature continues to rise, the effects "may not continue to be positive".

READ MORE

Wilderness land set to disappear from planet by 2100 as humans move in
Rate of species decline 'no longer within safe limit' for humans, experts warn
One in five of all plant species threatened with extinction

The National Farmers Union (NFU) dismissed the report's suggestion that the "intensification of agriculture" was killing off Britain's wildlife, saying this had not been a factor for 25 years. The union insisted farmers had "embraced the conservation agenda", replanting hedgerows, sowing wildflowers on the borders of their fields and "using less fertiliser and pesticides than ever".

However, broadcaster and naturalist Sir David Attenborough, who wrote the foreword to the report, said there was a pressing need to take action to help Britain's wildlife. "The natural world is in serious trouble and it needs our help as never before," he said. "The future of nature is under threat and we must work together; Governments, conservationists, businesses and individuals, to help it. Millions of people in the UK care very passionately about nature and the environment and I believe that we can work together to turn around the fortunes of wildlife."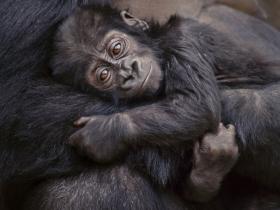 READ MORE
Gorillas are now all critically endangered amid 'extinction crisis'

Species at risk of extinction include one of the icons of the British countryside: the kingfisher. Other animals in decline include the water vole, curlew, hedgehog, turtle dove and willow tit.

The State of Nature report painted a bleak picture:
"Between 1970 and 2013, 56 per cent of species declined, with 40 per cent showing strong or moderate declines," it said. "Of the nearly 8,000 species assessed using modern Red List criteria, 15 per cent are threatened with extinction from Great Britain.

"A new measure that assesses how intact a country's biodiversity is, suggests that the UK has lost significantly more nature over the long-term than the global average. The index suggests that we are among the most nature-depleted countries in the world."

The report listed 10 different ways the natural world had been affected from 1970 to 2012, such as climate change, urbanisation, habitat creation, changes to forest cover and management, and the drainage of wetland areas.

Intensive agriculture had by far the largest negative effect on wildlife, accounting for nearly 25 per cent of the total. "The intensification of agriculture has had the biggest impact on wildlife, and this has been overwhelmingly negative," the report said. "Over the period of our study, farming has changed dramatically, with new technologies boosting yields, often at the expense of nature."

The report said 52 per cent of farmland species had declined and 48 per cent had increased. But a measure of how abundant farmland species were showed there had been a 20 per cent decline. In particular, farmland birds have reduced by 54 per cent since 1970 and butterflies have declined by 41 per cent since 1976.

But there was some good news – bats living in farmland areas have increased by 23 per cent since 1999.

About 75 per cent of the UK's land is used for agriculture, although the report concentrated on enclosed farmland, which makes up about 40 per cent.

"Our review of the factors driving changes to the UK's wildlife found that the intensive management of agricultural land had by far the largest negative impact on nature, across all habitats and species," the report said. "In one sense, it is no surprise that changes to our farmed environment have had more impact than any other, simply because the habitat covers so much of the UK.

"However, we know that government farming policies led to dramatic changes in farming practices, almost doubling wheat and milk yields since the 1970s, whilst simultaneously having wide-reaching consequences for wildlife. This increase in agricultural productivity has been achieved through changes such as a switch from spring to autumn sowing of crops; the production of silage, rather than hay, in our pastoral farmland; and the increased use of chemicals over the long term."

While the use of fertilisers, pesticides and herbicides had increased, according to the report, "many marginal habitats, such as hedgerows and farm ponds, have been lost".

However Guy Smith, the NFU's vice-president, said the days of simply trying to maximise food produce – an official policy after World War II – were gone. "Since the early 1990s, in terms of inputs and in terms of numbers of livestock and area of crops grown, British agriculture has not intensified – in fact it's the reverse," he said. "Therefore it makes little sense to attribute cause and effect to 'the intensification of agriculture' in the UK in the last quarter of a century when there hasn't been any.

"Other causes acknowledged in the report, such as urbanisation, climate change or increasing predator pressure need greater attention. Farming in the present day is a living, breathing and dynamic industry; it produces food, delivers for the economy and takes responsibility for the iconic British countryside. British farmers have embraced the conservation agenda."

He pointed to the rise in some farmland bird populations, but admitted some were "struggling", saying "farmers are keen to work to reverse these trends". Mr Smith said there was general agreement that the world needed to produce more food as the population grows. "This increased demand for food will have to be met using finite agricultural land, while our climate continues to change, which will inevitably place further constraints on production in many parts of the world," he said. He said the NFU believed there needed to be what he called a "sustainable intensification of agriculture" to ensure "domestic and global food security".

The CLA, which represents country landowners and businesses in England and Wales, called for farmers and conservationists to work together. Its deputy president, Tim Breitmeyer, said: "The report makes sobering reading and paints a clear picture of significant decline over 40 years. It reminds us how much there is to do to reintroduce habitats and species into our natural environment and protect them."

Glyn Davis, director of global programmes at conservation group WWF-UK, said Britain's wildlife were "under unprecedented pressure from human activity. Nature can recover with the right incentives to help restore species, reduce habitat loss, prevent pollution and develop green energy and infrastructure," he said. "These can be incorporated into the Government's promised 25-year plan for nature, which should be strong enough to put the health of our rivers, seas, forests and farmland at the heart of policymaking across Whitehall."
UK one of 'least natural countries in the world' with one in seven species facing extinction | The Independent
.
.
.