Back in December 2015, a new project was launched to help flora and fauna on the brink:
Bringing England's wildlife 'back from the brink' of extinction



More than 100 species of England's most threatened wildlife could be saved from extinction thanks to a new £4.6M grant from the Heritage Lottery Fund.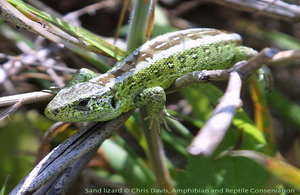 Sand lizard © Chris Davis, ARC

Heritage Lottery Fund (HLF) has approved the development stage and provided initial funding for 'Back from the Brink', a partnership project that brings together a range of conservation organisations to focus on protecting key threatened species – such as the grey long-eared bat, pasque flower, sand lizard, and Duke of Burgundy butterfly – from extinction.

The programme is being run by Natural England and the Partnership for Species Conservation – a coalition of seven of the UK's leading wildlife charities (Amphibian and Reptile Conservation, Bat Conservation Trust, Buglife, Bumblebee Conservation Trust, Butterfly Conservation, Plantlife, and the Royal Society for the Protection of Birds). By working together at sites across the country, 'Back from the Brink' will save 20 species from extinction and help another 118 species that are under threat move to a more certain future.
Bringing England's wildlife 'back from the brink' of extinction - GOV.UK
A message from the lead of the Sid Valley Bat Project has just come in:
Craig Dunton has been given the post of the Grey Long Eared Bat Project Officer for the Bat Conservation Trusts role in the Lottery Funded Back From the Brink Project

This is not a bat that we have encountered in the Sid Valley yet and it maybe that the habitat is not suitable for this species here. I will be doing some surveys over in Kenton in the Exe Valley over the summer where I survey a breeding colony.

Below is a little intro from him and if you would like to get involved with this project please let myself or Craig know. cdunton@bats.org.uk

Many thanks

Louise

Louise Woolley BSc (Hons) MCIEEM - Ecological Services
louise@devonecologyandwildlife.co.uk
www.devonecologyandwildlife.co.uk

INTRODUCING THE GREY LONG-EARED BAT



Starting this project has been an exciting time for me. Not only because the whole idea of Back from the Brink is so innovative, with conservation organisations working collaboratively at this scale, but because this project is so close to home.

Growing up in South Devon inspired my passion for bats and wildlife conservation, and now I am working to protect one of the rarest bat species in the country – that just happens to live on my doorstep (almost literally)!

The project will seek to engage with the landowners and managers who look after this complex and beautiful landscape, from the deep wooded valleys, to the wildflower meadows, to the marshes and wetlands – that are all vital to the future survival of the Grey Long-eared Bat. So far, it has been inspiring, with many landowners fully committed to the importance of managing the landscape in a sensitive and balanced way. Managing land for bats not only cares for the bats themselves – it also takes care of a vast array of other wildlife, whilst providing resources to support important crop pollinators, contributing to soil, water and nutrient conservation and providing a host of other ecosystem services that are difficult to quantify. Bat-friendly land management secures the land for future generations, not just ours.

The project will also be aiming to raise awareness of this enigmatic species with the wider community – through a range of walks, talks and other batty events. So, watch this space for opportunities to learn more about bats and other wildlife, learn new skills and get involved with biodiversity conservation on your doorstep.

Craig Dunton
Introducing the Grey Long-eared Bat - Back From The Brink
Where have all the bats gone? - Back From The Brink
There have been sightings in East Devon:
Rare bat discovered roosting in East Devon | Honiton, Axminster and Seaton news - Midweek Herald
Second discovery of rare bat in East Devon | Breaking news & sport in East Devon | East Devon24
New Grey Long-eared Bat Roost Confirmed | Acorn Ecology | Ecologists for Wildlife Surveys - Exeter | Devon | Bristol | Guildford
Bats in Devon – Devon Bat Group
.
.
.