Yesterday saw big fanfares over the government banning certain plastics:
Theresa May to ban sale of plastic straws by the end of the year | Daily Mail Online
Plastic straws are set to be banned in England - and that's fantastic - iNews
But why the rush, when alternative plastics are about to be introduced, says the Telegraph:
We will soon develop biodegradable super-plastics – so why ban cotton buds now?
ROSS CLARK
The last time I encountered a cotton bud was when my mother cleaned out my ears when I was about three. That must be around about the last time I used a plastic straw, too. As for a "stirrer" I don't recall having stirred anything with anything other than a spoon.

I am sure such things exist, and that they are capable of bringing an albatross to its knees, as seen on David Attenborough's Blue Planet II. It is just that I suspect the ban on these items proposed by Michael Gove yesterday is hardly scratching the surface of the problem of waste plastic in the environment.
We will soon develop biodegradable super-plastics – so why ban cotton buds now? - Telegraph
Indeed, many more are saying more needs to be done, as in this excellent piece quoting the Ellen MacArthur Foundation:
'We need to rethink the entire plastics industry': Why banning plastic straws isn't enough
Banning straws is an easy win but 300 million tonnes of plastic are made each year and very little is straws

Emily Chung · CBC News · Posted: Apr 20, 2018
Beyond the bans

Those who study plastic pollution and solutions to tackle it say that discussion needs to go beyond straw bans in order to make a real difference.

Rob Opsomer leads an initiative at the U.K.-based Ellen MacArthur Foundation that aims to find ways to reduce, reuse and recycle all plastic so it never becomes waste — a concept known as the circular economy that the foundation advocates for.

He notes that while banning straws is a logical place to start, 300 million tonnes of plastic are produced each year, and very little of that is straws.

"Given they are such a tiny fraction of the overall market, we cannot stop at straws," he said. "We need to rethink the entire plastics industry."


Drinking straws protrude from a glass in a illustration picture in Loughborough. According to Rob Opsomer of the Ellen MacArthur Foundation, 300 million tonnes of plastic are produced each year and very little of that is straws. (Darren Staples/Reuters)

Opsomer said while a ban may be an option for straws, which are rarely essential, it isn't for many of the other plastics in our lives that we use to build cars and electronics, package food and deliver modern medicine: "It's hard to imagine a world where we ban all the plastics from all the uses we use today."

In those cases, broader, systemic changes are needed to make plastic products more easily reused, recycled or safely decomposed so they don't pollute the environment, he said. Opsomer added that "with something as drastic as a ban, there may be be unintended consequences."
Josh Gabbatiss Science Correspondent
@josh_gabbatiss
21 hours ago


Campaigners have welcomed the announcement that the UK is set to ban the sale of plastic straws, drinks stirrers and cotton buds, while calling for more action to deal with all forms of "problem plastic".

Environment secretary Michael Gove has highlighted the urgency of tackling single-use items with the potential to pollute waterways and oceans.

But after implementing these measures, environmental groups have urged government and businesses to go beyond tackling these "low hanging fruit".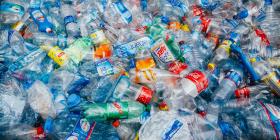 READ MORE
UK to ban sale of plastic straws and drinks stirrers

Specifically, they have emphasised the need for a radical re-think on plastic packaging.

"If you look at what the UK has done as a package of measures, we are very much at the forefront and showing global leadership," WWF spokesperson Nicole Itano told The Independent. "But I think the next stage – and this is slightly unchartered territory – is how do we then start to tackle the harder things like packaging. We would like to see the UK go even further, and we think ultimately we should be moving towards a ban on all single-use plastic by 2025."

Such a ban would not mean no plastic would be used whatsoever, but all plastics would be part of a circular economy in which everything is recycled.

A similar call is coming from Greenpeace, which is pushing for a ban on non-recyclable "problem plastic" in all its forms "at the earliest opportunity".

"What we are calling for is basically a dramatic reduction in the overall use of single-use plastic, and within that there are some relatively low hanging fruit items like stirrers and straws," Louise Edge, senior oceans campaigner at Greenpeace UK, told The Independent. "We would be looking at extending that list of unnecessary items.

Besides targeting specific plastic items like straws for outright bans, Greenpeace is calling for the elimination of all non-recyclable plastic within the next year.

As it stands, many items of plastic packaging are either non-recyclable, or marked as recyclable despite the lack of infrastructure in place to deal with them properly. Items made of PVC or polystyrene are particularly problematic. Examples of unrecyclable products that frequently appear in supermarket trollies, according to Ms Edge, include yoghurt pots, ready-meal trays and salad bags.

Environmental groups have emphasised the need for legislation to be accompanied by a search for materials that can be used to replace non-recyclable plastics. The government has recently committed to funding research and innovation in this area, with over £60m set aside to deal with plastic waste. Of this, £16m will be spent specifically on improving waste management.

The announcement of the intended ban, which will be subject to a consultation starting later this year, came at the start of the Commonwealth Heads of Government Meeting, emphasising the global nature of the fight against plastic.

"The reality is that if we want to solve this problem we have top solve it on a global scale," said Ms Itano. "If we completely tackled our plastic problem here in the UK, which we hope we will get to in the near future, that doesn't save our oceans if India and China and America continue to pour plastic waste into the environment and our oceans."
UK plastic ban: packaging must be next in sight for legislation, say campaigners | The Independent
.
.
.